CRI Holds Annual Convention
The Carpet and Rug Institute (CRI) recently held its 33rd annual convention in Dalton, Ga., at the NorthWest Georgia Trade & Convention Center. Prior to the meeting, a media appreciation luncheon was held. Luncheon attendees viewed CRI's new video, Carpet for Cleaner Air. Convention keynote speaker, US Congressman Nathan Deal, Georgia's Ninth District representative, discussed the federal budget, national security, the unfinished appropriations bill and Iraq.

CRI Chairman Daniel K. Frierson of The Dixie Group Inc. welcomed attendees. President Werner Braun gave an overview of CRI's goals. He said barriers to profitability and growth are caused by misperceptions of carpet, international government and trade issues, legislative and regulatory issues, cost, and other issues. He also discussed environmental stewardship and other items.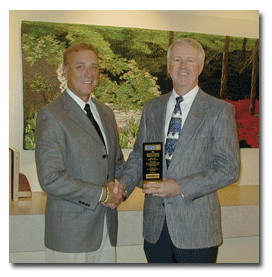 Werner Braun (left) presents Jim Jolly, J&J Industries, with the Joseph J. Smrekar Memorial Award, which recognizes unusual dedication and exemplary serviceto the carpet and rug industry.
"Members have given us a very clear direction," he continued. "The issues they want CRI to work on are growth and profitability in the industry." Braun said two issues stand out as being most important. "The misperception that carpet is somehow unhealthy is clearly something that we need to address," he said. "The second issue is that of mold . If you keep carpet clean and dry, there will be no mold problem."
Comparing carpet to hard surfaces, Braun noted carpet acts as a filter and takes dust out of the air. Other misperceptions, he said, are that carpet is not sustainable and is not competitive floor covering. "We will soon have a new marketing strategy in place, and it is our intention to actively reach out to allies as we advocate the necessary messages to attack these newly defined sets of barriers," Braun added. He said objectives for 2003 include: distribute information to doctors; publish Michael Berry, Ph.D.'s mold research report; form a mold coalition; distribute cleaning cost comparison data; reconcile the apparent duplication of Green Label standards; and develop market-based solutions to land-filling of carpet.
By Peggy Whaley, Carpet Editor


January 2003
Advertisement