Smart Protection
Wet suits made with Midé's SmartSkin™ hydrogel-containing materials provide thermal protection in a wide range of diving conditions.
Janet Bealer Rodie, Assistant Editor
T he water may be cold outside, but comfortable, flexible thermal wet suit protection will soon be available for divers and surfers, thanks to recent military-supported research.

The US Special Operations Command, MacDill Air Force Base, Fla., and the US Navy Clothing and Textile Research Facility, an installation partner at the US Army Soldier Systems Center, Natick, Mass., are working with Midé Technology Corp., Medford, Mass., to develop a wet suit that offers thermal protection in a wide range of environments by responding to both external and internal conditions.
Marco Serra, a senior engineer at Midé, said the technology involves SmartSkin™ hydrogel, Midé's hydrophilic/hydrophobic copolymer embedded in an open-cell foam layer bonded to the inside of a closed-cell neoprene layer in a composite wet suit fabric with nylon or nylon/Lycra® outer and inner layers.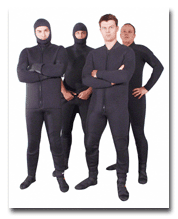 SmartSkin™ wet suits can be made using standard machinery and processes, and with current wet suit materials and sealing technology.
SmartSkin absorbs cold water that has flushed into the suit and expands to close openings at the hands, feet and neck, preventing more water from entering. Water trapped inside the suit heats up upon body contact. If the water warms up past a transition temperature determined by the proportion of hydrophilic to hydrophobic components, the hydrogel releases water and contracts, allowing more water to flush through the suit. This passive system constantly regulates the internal temperature - no batteries or mechanical action are needed.
SmartSkin can be used throughout the wet suit, but the most economic configuration uses it around the torso, calves and forearms, where it is most effective in controlling water movement. Cleveland Heath, textile technologist and the contracting officer's technical representative for the project at the Navy facility, said SmartSkin enables the use of thinner layers of neoprene in the suit. "We can improve user comfort in a cold water environment while potentially reducing the thickness of the suit, which reduces the weight of the suit and improves flexibility and ease of movement," he said. "Until now, there have been very few advancements in wet suit technology."
Navy tests using a submersible thermal manikin in a wave generator show the SmartSkin wet suit provides 70 percent more thermal protection in cold water than a baseline wet suit in the same configuration. Heath said drying time is about equal for both suits, and skin toxicity tests show no evidence of adverse reactions to SmartSkin.

Commercial applications include wet suits for surface swimmers, surfers and water sports in general. The suits can be made using standard machinery and processes. Serra described the technology as complementary in any current wet suit application. He added that Midé is seeking a partner to take the technology further.
---
For more information about SmartSkin™, contact Marco Serra (781) 306-0609, Ext. 226; or Cleveland Heath (508) 233-4785, Ext. 212.
---
January 2003
Advertisement