Material World
Material World's new semiannual format includes new IT event.
TW Special Report
A
tlanta-based Urban Expositions will present the fourth edition of Material World, March 17-19 at the Miami Beach Convention Center in Miami Beach, Fla. The "event for all things from design to delivery" once again blends fabric, yarn and trim manufacturers with a mix of apparel contractors and full-package producers.
This is Material World's first showing as a semi-annual event, departing from its traditional annual fall cycle. "Launching the new Spring edition of Material World is in response to the seasonality of fabric and trim components," said Tim von Gal, executive vice president, marketing and development, Urban Expositions. "These products require semi-annual opportunities (Spring/Summer and Fall/Winter) for our major mills and fabric providers to present their lines to the Material World community of fabric purchasers and sourcing managers."
The Spring show also will allow contractors and full-package providers to extend their sourcing services.
The Arlington, Va.-based American Apparel and Footwear Association (AAFA), sponsor of Material World, will provide seminar and conference components during the three-day event. Targeted attendees are from the fabric purchasing, sourcing and information technology (IT) profile of AAFA's membership.
The American Apparel Producers Network (AAPNetwork), regular exhibitors at Material World in the past, will exhibit at this new edition of the show as well. The AAPNetwork aisle traditionally provides ample industry networking opportunities.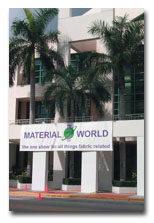 The Miami Beach Convention Center, Miami Beach, Fla., will host the Spring edition of Material World.
Mill Participation
North American manufacturers, as well as international suppliers looking for a high volume of marketing opportunities, are sure to find them at the new Spring edition. Fabric, sourcing and full-package providers will get a good look at the apparel supply chain. The Andean nations will showcase and promote their diverse fabric offerings and needling capabilities in a 50-booth pavilion.
Technology Solutions
In addition to the fabric and sourcing categories, Urban Expositions and the Supplier and Resource Division of AAFA will debut Material World Technology Solutions - an annual conference that promises to feature the latest innovations in information technology solutions for the sewn products industry.
The conference will begin each day with an analyst's overview of IT solutions, followed by a series of case studies presented by the customers who use these solutions to manage their businesses. They will address the ever-changing challenges presented in the global sourcing environment.
The new event targets executive-level and IT-related personnel from branded apparel companies and private label retailers.
Material World Technology Solutions will provide impetus for a new triennial sewn products machinery and technology event that will debut in April 2004 in conjunction with Material World.
The Fall edition of Material World will take place Sept. 29-Oct. 1.
February 2003
Advertisement