Ingeo Used In New Bedding Blanket Products
Cargill Dow LLC, Minnetonka, Minn., is to work with Austria-based Lenzing AG to develop and market products featuring blends of Cargill Dows Ingeo and Lenzings Lyocell® fibers. Bedding products including filling fiber for duvets, and duvet and mattress tickings are currently in development.In other Ingeo news, Faribault Woolen Mills Co., Faribault, Minn., has introduced to the retail sector blankets made from 100-percent Ingeo fiber and a blend of Ingeo and merino wool. Faribault is the first North American company to launch products featuring Ingeo.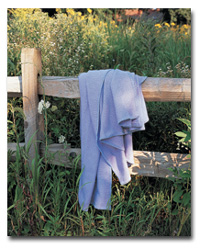 Faribault Woolen Mills has introduced blankets featuring Ingeo fiber.Since our companys inception in the 1800s, we have prided ourselves in making premium woolen blankets, said Michael Harris, president. Now, we add the benefits of a natural-based, man-made fiber to make our blankets even better.
December 2003
Advertisement