Executive Forum US Representative Charles W Norwood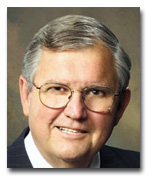 TextilesandTrade
:The View From WashingtonRecently,
Textile World
included a review of the 103rd annual conference of The Association of Georgias Textile, Carpet and Consumer Products Manufacturers (GTMA). As a member of Congress from Georgia who has always maintained a close bond with and strong appreciation for our nations textile manufacturers, having the opportunity to attend and speak at this years GTMA conference was a real privilege. As for the conference, it was absolutely terrific! In fact, my only regret with this years event was that there wasnt better news to report from Washington. As I mentioned in my speech to GTMA, Americas textile manufacturers continue to suffer at the hands of our national trade policies. The good news is: Weve entered into a number of trade deals in recent years that protect and grow the manufacturing job market. The bad news: The manufacturing job market these deals protect and grow is that of other countries, not the United States! Make no mistake, Im a conservative Republican and strongly support our president and believe he is doing a fine job. But, Ive often said that I dont even agree with my wife all of the time. While I am in absolute agreement with the president roughly 90 percent of the time, I just dont see eye-to-eye with this administration when the issue turns to trade deals. I believe were continuing to give away the store and doing real harm to our manufacturing and textile markets. Sadly, instead of putting American jobs first, the administration folks in Washington continue to promote trade policies that put Chinese, Mexican, Caribbean, Vietnamese, and virtually every other nations job market ahead of ours. For the past two years, the manufacturing industry has continued to lose millions of dollars, and our country has lost thousands of jobs. In fact, since January of 2001, almost 200,000 US textile and apparel workers have lost their jobs! According to the US Department of Labors Bureau of Labor Statistics, my home state of Georgia has seen its fair share of this loss. Since January of 2001, the total number of manufacturing jobs has fallen from 517,100 to 449,000 a total loss of 68,100 jobs (or 13.2 percent). Meanwhile, total textile jobs in Georgia have gone from 49,400 to 37,100 during the same period of time accounting for a loss of 12,300 jobs (or 24.9 percent).While the discouraging numbers have been building steadily in Georgia and across the country, the real free fall for the manufacturing and textile markets began following the January 2002 admittance of China into the World Trade Organization (WTO). Since that action, exports of textile and apparel products from China to the United States have gone off the charts. In 2002, Chinas access to the US textile and apparel markets grew by an unbelievable 117 percent! The rise of textile imports from China was the greatest surge by any country ever! The news isnt much better this year, with Chinese textile exports up an astounding 114 percent thus far in 2003! The fact is, this sad situation has become a crisis and a critical threat to the very survival of our manufacturing and textile industries. Something has to be done to reverse this before its too late. Along with numerous congressional colleagues who share my concerns, I have continued to push the administration about this crisis and the need to initiate the textile trade safeguard provision with China. The safeguard provision is an option maintained by the United States and other WTO member nations. It has been put in place to allow these countries to impose textile-specific quotas in the event that Chinese imports cause or threaten to cause market disruption. And if the staggering rise in Chinese textile imports, coupled with the mounting domestic job losses and plant closings, doesnt qualify as a market disruption, nothing ever will. This summer, the various organizations representing the US textile industry united to speak with one voice, and send a strong message to the administration plainly and simply that the flood of Chinese textile imports is absolutely killing our American textile industry. In the midst of a terrible situation, this [coalition] is good news and an encouraging development. A focused and united industry, along with constant pressure from myself and other like-minded members of Congress, bodes well for our effort to initiate the textile trade safeguard provision and begin putting this important American industry and its jobs first. Editors Note: Beginning his fifth term, Congressman Charles W. Norwood represents the people of Georgias 9th District. He is chairman of the Subcommittee on Workforce Protections of the Education and Workforce Committee, and vice chairman of the Subcommittee on Health of the Energy and Commerce Committee. He is also the former chairman of the G-8 Organization, comprising Georgias eight Republican congressmen.
Textile World
encourages executives to speak out on matters affecting todays textile industry. To participate in
TW
s executive forum, e-mail:jborneman@textileindustries.com.


August 2003
Advertisement