Armored Knights Lose To Fabric Computers
Lightweight, conductive fibers are expanding possibilities for protective, intelligent clothing.
John E. Luke, Technical Editor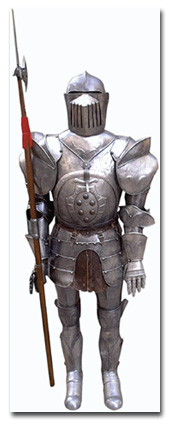 Readers of this space will recognize
Textile World
s constant urging to the man-made fiber industry to find domestic value by entering niche markets to insulate sales from the continuing, and likely unstoppable, impact of garment, fabric and fiber imports. A recent research excursion into the world of electromagnetic and electrostatic materials revealed a conductive fiber material making headway in the world of silver, copper and gold connectors, cables and flat electro-displays; truly a partner with high-speed electro-technology.Rare is the person who has not read, or was forced to read, stories about the Middle Ages; Days of old, knights were bold and wore protective garments chain mail in defense of their personal Maid Marion. A young man imagined a pledge of undying fealty to the lovely maid, promising to protect her forever, or at least until he realized that the protective vest he wore was quite heavy, uncomfortable, unattractive and, after its role as a chest protector, quite useless. Clothing in the Middle Ages left much to be desired. Fast forward to the present. Rare is the citizen who did not feel pride in our troops during the recent war in Iraq. The sight of well-trained young bodies trudging through the desert heat with hundreds of pounds of equipment struck a chord of pride in everyone, particularly those who took some part in supplying modern, high-technology military equipment, including uniforms adaptable to the rigors of a hostile desert environment. The helmet containing night vision aids, a radio and other communications devices is big, bulky and heavy. Can suppliers of fabric use technology to improve the communications load and reduce the basic soldiers loadThe current military vest compares to the knights mail with one very important difference. Technology in the past several years has given the soldier and others in protective occupations increasing hope that the uniform may graduate into a more efficient, multiple-use proactive garment, reducing the number of individual protective and communicative devices that also must be carried into battle. The Army is remodeling around smaller, faster units that must travel light and be prepared for every contingency on the battlefield. The uniform is under serious investigation for more, but non-weight-adding, uses to replace some traditional uniform add-ons. Conductive MaterialsHistorically, textiles have labored to manage electrical activities in fibers, fabrics and made-up items in all areas of fabric use including apparel, home fashions such as carpet, and industrial markets. Memorable examples are wires for resistance heating in blankets, and electric circuits in carpets for dissipation of unpleasant doorknob static shock. Most electro-magnetic/static solutions to date have been passive countermeasures designed to dissipate electrostatic discharges and have provided substrate structures to hold passive, and a few active, electromagnetic interference-shielding devices composed usually of metal wires interwoven with inert textile materials. The industry must investigate active electronic measures involving fabric technology to present light, moldable and effective electronic protections/emissions.Electronic technology continues to advance at an increasing rate. Witness the eerie green night vision images sent directly to living rooms from the goggles of a soldier on the ground in Iraq, and the images of rows of laptops in the Qatar war room, which rivaled/exceeded the finest academic computer laboratory. Individual soldiers and Marines now carry electronic identification cards and personal identification devices that enable multiple levels of command to follow their military units across a desolate, enormous landscape, tracking positions and receiving up-to-date information on the well-being of the unit, collectively and individually.Unfortunately, metal wires woven or knitted into body shape, the modern equivalent of the chain mail vest, have proven too heavy and burdensome for modern warfare. Enter Wilmington, Del.-based DuPont with Aracon®, a material that incorporates electro-metal technologies with the textile properties of Kevlar®, suitable for formation into cables and fabrics. DuPont has taken a niche material, Kevlar, and combined it with conductive metals to provide a substitute for and an improvement on traditional metal fiber and fabric structures.Aracon®DuPont claims that Aracon provides the strength of Kevlar with the conductivity of metals combin[ing] the conductivity of an outer metal coating with the strength, light weight and flexibility of aramid [aromatic polyamide] fibers. With the addition of nickel, copper and silver coatings of varying thicknesses, Aracon fibers provide a versatile combination of physical and electrical properties for demanding end-uses. DuPont also claims Aracon provides increased flex life, increased strength and increased shielding coverage all at a decreased weight of 30 to 40 percent in the final product. The specific gravity of aramid fibers is 1.44 grams per cubic centimeters (g/cc) compared to the iron used in the knights mail at approximately 7.8 g/cc, an aramid advantage approaching 80 percent. At the same time, the tensile strength of the aramid core yarn is three to 10 times stronger than traditional copper cores.Aracon achieves its wide range of properties by varying the base fiber size and filament count, and the type and thickness of the metal cladding. Strands from 38 to larger than 24 American Wire Gauge (AWG) can be made from single or multiple bundles of Aracon fibers. Similarly, the innate resistance of the Aracon core material can be tailored to meet customer requirements.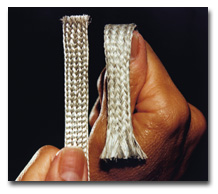 DuPont's Aracon® offers various end-use propertiesdepending on the ratio of Kevlar® to metal.According to John D. Ross, Aracon business manager, and James Ranson, Aracon new business development manager, in a recent interview, Aracon metal-clad fibers have achieved particular acceptance in two electro end-uses, Electromagnetic Interference (EMI) shielding and specialized conducting. In these applications, the strength, flexibility and light weight of the Kevlar base and the electrical conductivity of the metal cladding offer unique solutions to common engineering problems. Particularly useful in EMI shielding is the high surface-to-volume ratio, which yields improved high-frequency protection. In specialized conducting, Aracons strength and flexibility under extreme stress allow the materials to withstand high-vibration, high-force applications. Unfortunately, these attribute increases come with a price in conductivity. Under certain circumstances, DuPont reports that resistance reduction is achievable by shifting material specifications to a larger gauge conductor. Ross and Ranson detailed Aracons market position as niche, targeted for the specialty fiber level in the next five to 10 years. Originally developed for space applications needing conductivity and light weight, Aracon is currently composed of between 25-percent and 75-percent metal, depending on the application. Grades destined for resistance heating contain a lower metal percentage, while fibers used in EMI-shielding and signal-conducting applications contain a higher metal percentage. Pressed for relative economics vis-is competitive materials, most notably silver- and nickel-coated copper wires, both Ross and Ranson focused on Aracons costs being very application-specific. On a unit basis, Aracon is more expensive than its wire competitors, but since those competitors cannot provide Aracons strength and flex capacity, high-flex applications fall naturally to Aracon. Examples such as heated seats, which need flex and recovery, are under consideration.Ross detailed many of the material investigations conducted by DuPont to ascertain that Kevlar was the best substrate material. DuPont discovered that Kevlar, silver and nickel share similar modulus curves. This means that the cladding and the substrate have similar extensibility and flex characteristics, giving the Kevlar/metal combination a leg up on alternative, albeit sometimes cheaper, substrates.It appears that Aracon has many of the properties necessary to expand into trend-setting uses. Active and passive clothing with built-in communications devices; lightweight, vibration-resistant fabric and cables; fold-up and washable computers made from fabrics; and moldable controllers and keypads are just a few of the possibilities.The FutureMany personal computing trials have entailed little more than bolting a small/miniature computer to some part of the subjects anatomy hardly creative and certainly not a technology advancement. Industry must change the shape of the computer, make it more reliable in hostile environments, and make it an even more active participant in the conduct of war and business.

Cables manufactured by Calmont WireandCable, Santa Ana, Calif., are shielded from electromagnetic interference by Aracon®.Research reveals several creative fabric-related conductive/resistance developments winding through the electronic world. DuPont has announced the development of lightweight cables for space satellite use. Aracon fibers and DuPonts Tefzel® a Teflon® derivative coating have been combined to form transmission cables for the US anti-missile defense system. Aracons strength and flexibility, insulated and jacketed with Tefzel, provide EMI shielding for cables transmitting received data to processors in the central electronics bay. DuPont reports that the Aracon antenna harness saves approximately one pound of payload weight, which, while it doesnt sound like much, decreases satellite program costs by more than $95,000.Michael S. Shur, Ph.D., a physicist at the Rensselaer Polytechnic Institute, Troy, N.Y., stated recently in a New York Times article, [T]he clothing we wear now doesnt contain electronic elements but every type of clothing will have electronic functions in 10 years. He further envisioned materials incorporating global positioning elements; medical sensors to monitor conditions such as blood pressure; and chameleon-like materials that change appearance, color and texture depending on either the wearers preferences or the environment.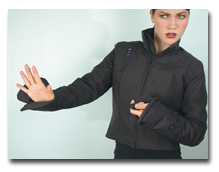 Some of these activities currently are in the military pipeline, but few, if any, are available to the consumer. Researchers at the Massachusetts Institute of Technology (MIT), Cambridge, Mass., have developed a stylish protective jacket for women that delivers an 80,000-volt electric shock to a potential attacker. Powered by the equivalent of a 9-volt battery, the jacket is equipped with a hand-held switch that actuates the shock. Currently priced at more than $900, the coat has a long way to go before it is in every wardrobe, but the development statement is interesting.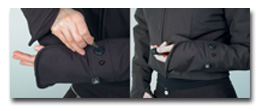 The No-Contact protective jacket was developed byAdam Whiton, a MIT research, and Yolita Nugent,an apparel researcher.The most interesting developments have occurred in the area of fabric computers. Eleksen, England, has developed a fabric keyboard, an add-on for hand-held computers. The firm claims that Elektex fabric, made by incorporating conductive fibers into ordinary cloth, is fully washable and ironable, and can be rolled into a ball without harming its conductive properties. Among the uses envisioned by the inventors are television remote keypads woven into the arm of a chair, computer keyboards and communication antennae woven into shirts or trousers, and health monitors integrated into clothing and bed linens.In 2002, France Telecom, the giant European communications company, announced development of a flexible fiber optic screen that can be incorporated into clothes, allowing the transmission of animated graphics. Using technology similar to that which generates the highlighted yard line in televised football or the display-changing logos and advertising messages on the baseball backstop wall, the France Telecom invention will permit downloads of Internet messages, computer images, advertising, public safety messages and other types of general interest communications. A France Telecom news release quotes the Gartner Group, Stamford, Conn., a market consulting organization, as predicting that 60 percent of the population are likely to own a communicating garment by 2010. Imagine wearing a conductive screen-surfaced jacket, and listening to the latest MP3 download, which is simultaneously being transmitted across your back for passers-by to enjoy.Other intriguing developments have been reported by four MIT researchers in the IBM Systems Journal. Among several research projects, the group developed a row and column fabric keyboard composed of a fabric switch matrix sewn from conducting and non-conducting fabrics. Simplistically, the fabric achieves a multi-planar configuration with a scrim insulator separating two conductive fabrics. Pressure on either side of the fabric presses one conductive fabric through the holes in the separator scrim, making contact with the other outer conductive fabric. Properly constructed, the fabric structure becomes programmable and, voil44; a computer. The inventors claim the fabric can be rolled up, crushed, or washed without affecting the electrical properties.Smart Fabrics Grow UpElectronically smart fabrics are mere babies, but their infancy is scheduled to be dramatically short. Electronic technology is highballing down the consumer products pipeline, and the next logical step is to remove communications from its hard-box presence. Why should electronics packaging be limited to hard plastic, uncomfortable in a pocket or purse Why not stuff a computer into a corner and retrieve it with a slight smoothing Three-dimensional weaving is a reality, embroidering contributes extraordinary control over yarn placement in a non-orthogonal placement, and DuPont is creating new variants on Aracon to adapt to the rapidly changing demands of a growing marketplace. Today, this is a niche market, but, if the prognosticators are to be believed, tomorrows way-of-life will be unburdened by the weight of the armor of traditional cases, metals and packaging.


August 2003
Advertisement