Gaston County Selects Adaptive Controls Systems
Houston-based Adaptive Controls Inc., manufacturer of Windows®-based dyehouse control systems, has been selected by Gaston County Dyeing Machine Co., Stanley, N.C., designer and producer of wet processing machines and control systems, to provide control systems for all of Gaston Countys processing machinery.We looked across the spectrum of control systems and found Adaptive to have the best, hands down, said Scott Davis, Gaston County. Adaptive systems are solid, reliable, and represent all that technology has to offer, he said.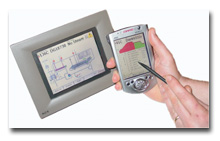 Adaptive Controls systems chosen by Gaston County for its processing machines inlcude touch-screen PC devices that monitor performance and machine status.


August 2003
Advertisement