All Things Color
AATCC annual conference stresses innovative color communication.
Jennifer Dennard ,Assistant Editor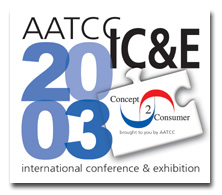 All Things
Color
The AATCC annual conference and exhibition stresses innovative color communication and development.
The 2003 American Association of Textile Chemists and Colorists (AATCC) International Conference and Exhibition (IC&E) will take place at the Palmetto Expo Center in Greenville, September 9-12.The Research Triangle Park, N.C.-based associations annual show once again highlights the necessity of strong communication, color management and concept innovation in the field of color chemistry.According to Sherri Satterwhite, AATCC publications director, this years show will be well-attended. In 2002 we had approximately 900 total registrants, which was an increase from the year before. For 2003, were projecting that an even larger number of industry professionals from around the world will attend, she said.Janet Littrell, director of consumer marketing at VF Corp., will deliver this years keynote address, entitled Speed to Market, the morning of Wednesday, Sept. 10. She will focus on implementing new color management processes to reduce cost and time-to-market, and improve product quality.Following Littrells address, attendees may choose from a variety of sessions offered as part of the Concept 2 Consumer (C2C) track and the concurrent Technical track.The C2C track returns this year following its inaugural success in 2002. Five sessions will be offered Wednesday, Sept. 10, through Friday, Sept. 12. Seminars and roundtable discussions will cover such topics as improving the color approval and sampling process, digital color communications, 3D visual merchandising, trends in nanotechnology and high-tech fabrics, and body scanning and virtual clothing.A highlight of this years C2C track is the co-located event of Apparel Magazine a roundtable discussion of color management that will feature a number of footwear and apparel color management professionals. The Technical track will offer eleven sessions Wednesday through Friday. Topics covered will include digital textile printing, color science, technical textiles and advances in dyeing, among others.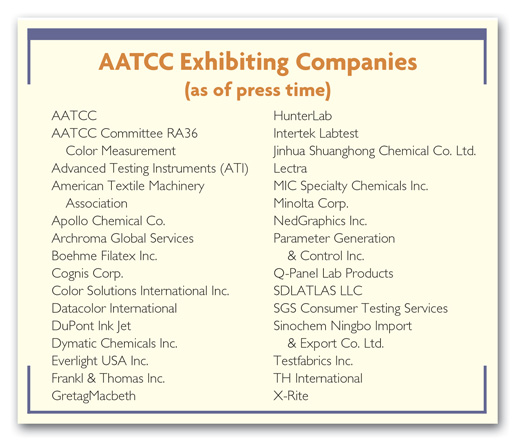 Papers presented in both tracks will be available on CD-ROM and are included in the registration fee.Visitors to this years show can view 80,000 square feet of exhibits Wednesday and Thursday. Exhibits will feature chemicals, color science, color management, dyes, and testing services for the apparel and textile wet processing industry. Exhibitor demonstrations showcasing product services and innovations will take place Wednesday.Thirty poster presentations will be on view Wednesday and Thursday. Presenters will be on hand both days, from 3:00 to 4:00 p.m.The annual Herman and Myrtle Goldstein Student Paper Competition, conducted by AATCCs Textile Education Committee, will take place Wednesday. The Textile Bowl student competition also will take place Wednesday. Teams of college and university student chapter members will compete for prizes. Ann Laidlaw of GretagMacbeth will serve as the competitions master of ceremonies.The 2003 Olney Medal Address will be presented Thursday morning. The medal is awarded each year for outstanding achievement in textile chemistry.Textile Bowl and student paper competition awards will be presented Thursday evening at a banquet, which will be preceded by a reception. Both events will take place at the nearby Hyatt Regency Hotel.During the banquet, the Olney Medal, the Harold C. Chapin Award for service to AATCC, the Henry E. Millson Award for Invention, and the AATCC Outstanding College Graduate of the Year Award also will be presented.AATCCs charitable organization, the AATCC Foundation Inc., once again will host a golf outing Tuesday at the Verdae Greens Golf Club, also located in Greenville. This event is open to the general public.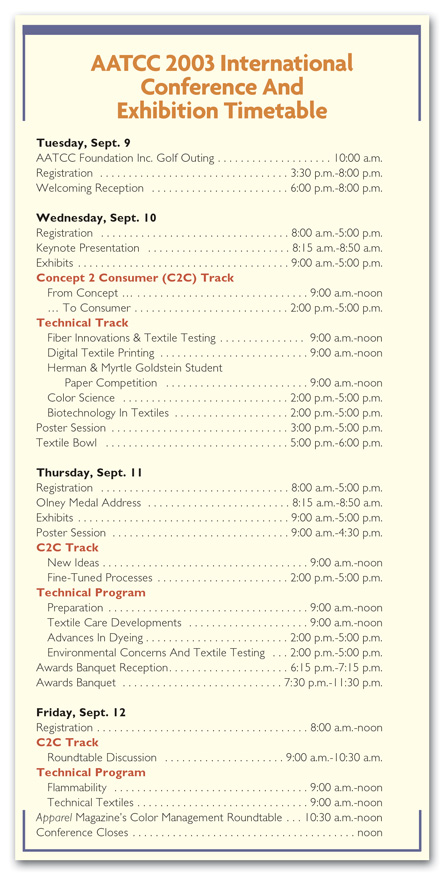 For more information about the AATCC 2003 International ConferenceandExhibition, contact AATCC, P.O. Box 12215, Research Triangle Park, N.C. 27709-2215; (919) 549-8141; fax (919) 549-8933;
www.aatcc.org/ice/index.cfm
.
August 2003
Advertisement