August 2003
Online Development Inc. , Knoxville, Tenn., has made available EZ-1131™ automation software for TECLA™ programmable data processors. The new software is Microsoft® Windows® CE.NET operating system-compliant, and interacts directly with Allen-Bradley® Compact, Flex, Flex Ex and Integra I/O; and TECLA's embedded I/O.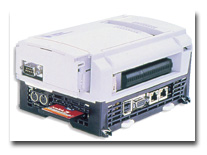 EZ-1131™ automation software for TECLA™ programmable data processors
The ApliMatec 2004 Organizing Committee has issued a call for papers to be presented at the International Congress of Technical Applications of Textile Materials , to be held in conjunction with ApliMatec 2004, which will take place May 11-13, 2004, in Spain. Papers must be submitted by October 30 to Joaquim Detrell 34 639721975; jdetrell@telefonica.net.The ApliMatec 2004 Scientific Committee has issued a call for entries for the ApliMatec 2004 Awards for Innovation in Technical Textiles , to be presented May 11, 2004, at ApliMatec 2004. Entries must be mailed by January 31, 2004, to: Sr. Secretario del Comité Científico del Congreso ApliMatec, AITEX, Plaza Emilio Sala 1, E-03801 ALCOY, Spain. For more information, visit www.feriavalencia.com/ApliMatec/ing/index.html.

Danaher Motion , Mayfield Heights, Ohio, has published " Mechanical and Electro-Mechanical Products Overview," a six-page, four-color brochure featuring such brands as Thomson, Thomson BSA, Micron, Harowe, Deltran PT, Superior Electric and SECO.

A Hydra-Cell Industrial Pumps catalog is available from Wanner Engineering Inc. , Minneapolis.

The new LX series of high-speed, high-resolution part-sensing light screens from Minneapolis-based Banner Engineering Corp. can detect objects as small as 0.22 inch.

Shuford Mills Inc. , Hickory, N.C., has added bindings to its line of Outdura™ woven acrylic fabrics targeted to the furniture, awning, marine, umbrella and cushion markets.

Nylstar Inc. has relocated its North American corporate offices to: 4100 Mendenhall Oaks Pkwy., Suite 130, High Point, N.C. 27265. All other contact information remains the same.
The MicroVibe™ card-type vibration test and measurement instrument from SKF Reliability Systems , Norristown, Pa., is designed to fit the Springboard™ expansion slot of a Handspring™ Visor handheld personal digital assistant (PDA). Features include user-selectable English or metric measurement units; and Vibration, Timewaveform and FFT Spectrum Plots.
Export, Pa.-based Versa-Matic Pump Co. now offers a brochure detailing its complete line of next-generation Elima-Matic® pumps and pump accessories.

A 56-page catalog released by RBC Bearings , Fairfield, Conn., details RBC Roller® cam followers, needle roller cam followers, caged roller followers, material handling rollers and sheaves, airframe track rollers and needle bearings.

The eight-page "Designing Your Compressed Air System" guide from Kaeser Compressors , Fredericksburg, Va., offers conversion formulas, rules of thumb and a compressed air glossary.

BYK-Gardner USA , Columbia, Md., has introduced byko charts for testing coatings and plastics. The charts are moisture- and warp-resistant; offer consistent gloss values; and have an environmentally friendly topcoat. They are available in a variety of forms and styles, and can be sized to order.

Burgmann Seals America , Houston, now offers a capabilities guide that describes the company"s mechanical seal service for seals in every process industry. The service is provided by the company"s Multi-Vendor Services Group.

The Association of the Nonwoven Fabrics Industry (INDA) , Cary, N.C., has issued a call for nominations for its 2004 Visionary Awards. The awards will be presented at the Vision 2004 Consumer Products Conference, to be held in Las Vegas January 25-28, 2004. For more information, contact Michael Jacobsen (201) 612-6601; mjacobsen@inda.org.

Great Lakes Chemical Corp. has relocated to: 9025 North River Road, Suite 400, Indianapolis, Ind. 46240. The company's main telephone and fax numbers remain the same.
August 2003




Advertisement