Loepfe Completes Expansion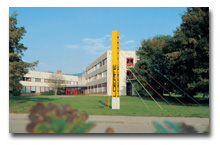 Looking toward the future, Loepfe Brothers Ltd. has expanded its operations with the completion of a new building. The Switzerland-based provider of electronic on-line quality control systems for spinning and weaving reports the new facility "strengthens the entrepreneurial infrastructure and opens up new perspectives for Loepfe.
The new building has increased the company's office, laboratory and production space and improved its production flows, enabling increased reaction speed and reduced throughput times, according to Loepfe. The company anticipates the expansion will allow it to reduce costs while continuing to grow.
March 2003
Advertisement