Looking Good, Feeling Great
From high fashion to high performance, textile chemistry suppliers are offering more value-adding products to textile dyers, printers and finishers.
Rachael S. Dunn, Associate Editor
N
o longer is the business of textiles just about high fashion. Nowadays, it's also about high performance. Consumers today demand that clothes and other textile products smell nice, stay fresh, feel comfortable, keep clean and are easy to care for, all the while looking great.
"Consumers are looking for easy-care effects and fabric protection, including the easy-care finishing of upholstery textiles," said Susan Cellura, manager, marketing communications, NAFTA, Ciba Specialty Chemicals. "The demand for easy-care properties is due to increased awareness, altered way of life and advertising."
Textiles that offer convenience are appealing to consumers. Imagine clothes that can go from the laundry hamper into the washing machine, to the dryer and on to the office. Ironing is a chore, and dry cleaning is an expensive, time-consuming direction mandated by a garment care label.
Other "bonus" properties offer advantages for manufacturers, retailers and consumers alike. What about clothing that can protect from fire or the sun's harmful ultraviolet (UV) rays, hosiery and undergarments that moisturize skin, or carpet that kills mold and dust mites?
Bundling performance properties offers even more added value - antimicrobial medical dressings that deliver antibiotics, or stretch athletic wear with odor-absorbing abilities and built-in aromatherapy capabilities - all are available thanks to the research and development efforts of chemical companies.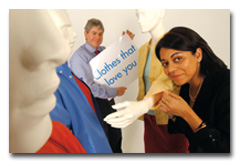 Checking out sensory benefits added to clothing are Shibani Mohindra (right), new business development director, Quest International, and David Hellens, marketing director, The Woolmark Co.
Tall Orders
Meeting consumer demands, helping manufacturers add value to their products and meeting environmental regulations - it all sounds like a large challenge for the textile industry's chemical suppliers. But many companies are meeting the challenge and stepping forward with inventions that add these amazing properties and more to textile products.
Microencapsulation technologies are taking off, as are new odor-eliminating finishes and moisture-management products. Dyes are becoming more and more sophisticated, and there have been developments in anti-wrinkle and anti-soil products.
In addition to "new" finishes, in some cases new auxiliaries have to be created to aid the application of the new chemicals during manufacturing. Other chemical manufacturers continue to update their product lines with traditional textile chemicals that are more efficient, more economical and more environmentally friendly than their predecessors.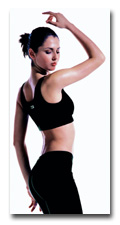 In addition to skin care products and fragrances, Bayer's Bayscent® range includes an odor eliminator, which helps keep sportswear smelling fresh.
Microencapsulation
Imagine waking up late and having no time to apply moisturizer after a shower, only to be able to throw on undergarments and hosiery that provide moisturizing properties all day long. England-based Quest International, part of the ICI Group of companies, imagined such a scenario, and working in partnership with The Woolmark Co., England, has developed Sensory Perception Technologies™ (SPT). SPT enables textile manufacturers to apply tiny "microencapsulated" particles to textiles that offer various benefits to the wearer.
In simple terms, Quest defines a capsule as "a miniature container that protects its contents from evaporation, oxidation and contamination until its release is triggered by gentle rubbing or shaking." During encapsulation, tiny droplets of benefit-laden products such as moisturizers, fragrances, deodorizers, vitamins, or repellents are wrapped with a protective coating to form a capsule.
"Until now, textiles have only utilized the senses of vision and touch, but a new way of looking at the impact of senses on our lives, Sensism, will revolutionize the textile industry," said Shibani Mohindra, new business development director, Quest. "The first practical application is SPT, which creates '3-D fabrics;' and clothes that look good, feel good and do good will be the norm in the future."
According to the companies, SPT is a total system that can be applied to any fabric, soft furnishing or flooring product as part of the textile finishing process. In addition, SPT can withstand machine washing cycles and is long-lasting."
SPT brings huge new benefits to the consumer through offering people new ways to use fabrics, while having the potential to add considerable value to the textile industry," said David Hellens, marketing director, Woolmark.
Bayer Chemicals, a division of Germany-based Bayer AG, recently introduced Bayscent® microencapsulated aromatherapy products to the marketplace. The product features fragrances or Bayscent Neutralizer enclosed in a patented polyurethane microcapsule largely impermeable to diffusion. Fragrances range from fruity to flowery, while the neutralizer is designed to eliminate unpleasant odors.
Bayscent is supplied in a 50-percent aqueous dispersion, which can be freely diluted with water before use in standard textile finishing processes. Italian manufacturers of lingerie, sportswear and upholstery fabrics have already incorporated Bayscent into their textile products.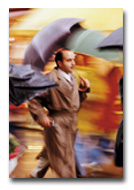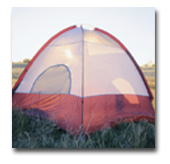 Noveon's Permax® products extend the moisture vapor transport properties of fabrics and have a wide range of potential applications.
A Multitude Of Options
Cellura said Switzerland-based Ciba offers the know-how and a complete product range for achieving the desired handle, comfort, performance and appearance of the end-product, including moisture management, handle modification, stain repellency and soil release, flame resistance and UV protection.
The Ciba® DriFX™ moisture management system has been a successful product in the marketplace for the company. When applied to man-made or cellulosic textiles, the system, comprising Ciba® ULTRAPHIL® products in combination or alone, provides wicking and moisture transport properties that leave the body feeling dry and comfortable. The product has found applications in hosiery, sportswear, sleepwear and towels; and even in aramid underwear for race car drivers. Ciba claims the system also can increase comfort and softness, while reducing static cling.
Another successful product for Ciba is OLEOPHOBOL®/Zonyl®, a key ingredient in DuPont's Teflon® soil repellent and soil release finish.
Ciba offers its customers a wide range of softening agents. A variety of handles can be achieved, depending on the type of softener selected. "In addition to modifying handle, softening agents strongly influence the performance of the end product, so, for this reason, they must be carefully selected," said Cellura. Ciba ULTRATEX®, Ciba MEGASOFT®, Ciba ULTRASOF®, Ciba DICRYLAN® and Ciba SAPAMINE® are all available for different end-uses. According to the company, its softeners have high mechanical stability and low-foaming properties, and can endure vigorous mechanical action in jets.
Odor Control, Moisture Management
TrapTek LLC, Longmont, Colo., provides TRAPTEK carbon-based fabric treatment technology that offers three major performance features: odor management; moisture management; and UV protection. The treatment is already in use in numerous apparel and home furnishings applications, and the company plans to introduce it to five new markets in 2003 - pet beds, infant care, nursing home/senior care, hunting apparel and bullet-proof vests. Flexi-Mat, a supplier of pet care products in the United States, is set to introduce TRAPTEK-treated fabric as an insert specifically to absorb odor in new and existing pet beds. TrapTek claims its product retains effectiveness after extensive home laundering.
Another company working on moisture-management technologies is Noveon Inc., Cleveland.
"The United States apparel market continues to thirst for new fabric finishes that provide enhanced wear performance and that improve fabric aesthetic properties such as breathability and moisture wicking," said Mark Carlough, marketing manager, apparel and technical fabrics.
Noveon's newest patent-pending, waterborne nonionic polymers are Permax® 120 and Permax 200. According to Carlough, these products extend the moisture vapor transport properties and durability of breathable fabrics for sportswear, protective and military apparel, and other technical fabrics.
Freepel® SR-83 is a new soil-release agent available from Noveon. The agent, through increased wicking properties, also offers an additional degree of comfort, as well as maintaining excellent soil- and stain-release properties when washed, according to Carlough.
At The Molecular Level
Initially applied to apparel and home furnishings, Emeryville, Calif.-based Nano-Tex LLC's nanotechnology is moving toward automotive, industrial and medical applications.
Nano-Tex says its modified chemistries are different from traditional textile finishes because they work at the nano, or sub-micron, scale, and are revolutionary in their ability to attach to fibers and permanently bond to fabric at the molecular level.
This ability "is so flexible, it opens the door to opportunities for the development of new, never-before-seen performance properties," said Renee Hultin, president, North America.
Products currently available from Nano-Tex are: NANO-CARE® for stain resistance and liquid repellency on cotton; NANO-PEL™ for fabric that breathes, yet remains liquid- and stain-repellent; NANO-DRY® for enhanced fabrics able to move perspiration away from the body, while drying quickly; and NANO-TOUCH™, which gives man-made fabrics the feel and comfort of natural fabrics. Another product designed to capture body odor, NANO-FRESH™, is in the works.
Nano-Tex says its products are flexible and can be applied in combination with an existing finishing process, or as a stand-alone step. No special application process, machinery or equipment is necessary.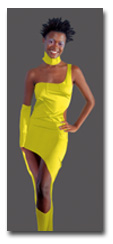 In addition to fashion applications, DyStar's new fluorescent dye meets the standards for high-visibility workwear.
FR, UV Barriers
And Other Value-Adding Chemicals
Apex Chemical Corp., Spartanburg, specializes in the development of flame-resistant (FR) products. Currently, the company is working to develop FR products that do not contain regulated compounds or compounds with questionable environmental effects, such as antimony and bromine. According to Jeffrey Chamberlain, technical sales manager, Apex offers several FR products that do not contain antimony or bromine that are direct substitutes for traditional products that currently use such chemicals.
In addition to FR products, Apex is promoting its fluorinated water and oil repellents (WORs), as well as UV light absorbers. Chamberlain said that because of excellent oligmer and dye dispersion characteristics, Apex's UV absorbers allow for more efficient dyeing in addition to lightfastness protection.
Reidsville, N.C.-based Boehme Filatex Inc. specializes in multifunctional processing additives. Its recent acquisition of High Point Textile Auxiliaries LLC has enabled the company to offer a more versatile and value-added, focused product line.
Discoloration of spandex during heat processing is a major concern for manufacturers. Fiber manufacturers are developing non-yellowing types of spandex fiber, and Boehme Filatex has designed a family of antioxidant products that also can help prevent yellowing. According to Steve Glosson, senior textile chemist, Durofin SPDX and Durofin NXS-L are also formulated with specialty emulsifiers that help remove and suspend spin finishes and oils that may contribute to discoloration of the fabric.
A new multifunctional auxiliary, Hipochem CP-OS, is a low-molecular-weight polyester polymer that can perform a wide variety of tasks in fabric preparation, dyeing, finishing and garment processing. During preparation steps, Hipochem CP-OS acts as an oil scavenger. During dyeing, the product imparts hydrophilicity and moisture transport properties to polyester fabrics.
Future products on the horizon at Boehme Filatex include: a non-chlorinated, solvent-based carrier that contains the FR additive Synthapal PCF for polyester dyeing; stabilizers for continuous bleaching processes; binders for pigment dyeing; and specialty softeners for pigment-dyed fabrics.
Mike Junkins, group director, said Dalton, Ga.-based Manufacturers Chemical L.P. has seen an explosion in the demand for dust mite control products for textiles. Dust Mite Control, developed in cooperation with The Ecology Works, Cleveland, is available to manufacturers of carpets, upholstery, drapery, mattresses and other bedding products.
"The sale of carpets and textile fabrics is adversely affected by the recommendations of the US Environmental Protection Agency [EPA], the American Medical Association and at least a dozen other professional health organizations regarding treatment for dust mite allergies," said Junkins. "Removal of carpets, upholstered furniture and draperies is recommended to minimize dust mites."
Patented and EPA-registered, Dust Mite Control is unique because it kills mites by actually disrupting their digestive process, which leads to starvation. According to Junkins, the product is safe, effective and odorless, and contains no volatile organic compounds (VOCs).
Manufacturers Chemical also produces a full line of FR chemicals that can be applied to almost any substrate. Products include Fire Retard BTO-2 for a wide range of fabric types and Fire Retard 1908, primarily designed for airline upholstery fabrics and carpets.
Manasorb RB is a UV absorber with a small particle size, making it suitable for spray applications. Another product, Manazone, was developed to protect acid dyes on nylon fabrics from the effects of ozone. Manazone is part of a total treatment system offered by Manufacturers Chemical that includes chemistry and dye selection.
Dyes And Print Products
Germany-based DyStar is continually developing and introducing new dyes to the marketplace. One development of note is its Remazol Fluorescent Yellow FL dye. DyStar claims it is the first dye with fluorescent properties available to designers and textile manufacturers. In addition to fashion applications, the dye also meets the standards for high-visibility workwear, so it may be used for safety-related applications.
Other recent developments at DyStar include: Imperon HF high-fast pigment preparations; Dianix AM-SLR disperse dyes for the automotive sector that meet lightfastness requirements; and Dianix PLUS disperse dyes for modern microfiber applications.
Drimarene HF dyes for cellulosic fibers are a new type of high-fixation fiber-reactive dye based on new chemistry patented by Switzerland-based Clariant.
"The Drimarene HF range has been received well by the dyeing professional faced with colorant effluent discharge restrictions or shade reproducibility problems," said Bryan Dill, senior technical representative. "The high fixation values that make these dyes so attractive are a product of this new chemical development."
Clariant also recently launched Nylosan S dyes for polyester. The company claims the dyes give build and wetfastness properties equivalent to those of metal complex dyestuffs, but are more environmentally friendly because they are metal-free.
For the automotive market, Clariant has introduced the Foron AS-3L disperse dye range. The range comprises six dyes designed to provide maximum automotive lightfastness with an emphasis on on-tone fading, according to Dill. Foron AS-3L dyes can be combined with existing Foron AS dyes to offer a full palette of dye colors.
"On-tone fading of combined dyes will become increasingly more desirable to minimize the human perception of color deterioration in one's automobile," said Dill.
Bobby Kernels, business manager, printing, mentioned patent-pending CHT-NOVOC non-VOC pigment printing products as new innovations offered by CHT R. Beitlich Corp., Charlotte.
"The CHT-NOVOC family of products offers the textile printer the realistic opportunity to produce pigment prints that rival dyestuffs in performance and aesthetics," said Kernels. "This new chemistry not only takes care of the environment, the quality of the print results can rival dyestuff prints in softness and fastness."
The core product in the CHT-NOVOC line is Thickener RS-50, which is very stable to electrolytes and produces sharp prints on difficult fabrics, according to Kernels. Binder PPB is suitable for printing and pigment pad-dyeing; and Binder SF, with a glass transition temperature of -30°C, produces prints of exceptional softness. Softener SEM-A is a non-smoking softener that allows the printer to improve both wet and dry crockfastness without affecting washfastness. Rounding out the CHT-NOVOC family of products is Resin NF, a non-formaldehyde crosslink resin that produces wetfastness levels suitable for children's clothing.
Kernels said, "Every customer that has evaluated our CHT-NOVOC printing system has endorsed our claims of performance."

April 2003
Advertisement