Room To Grow
Shaw Industries capitalizes on growth opportunities in flooring by expanding manufacturing capabilities, extending product portfolio.
Room To Grow Shaw Industries capitalizes on growth opportunities in flooring by expanding manufacturing capabilities, extending product portfolio. Shaw Industries Inc., known as the largest carpet manufacturer in the world, is headquartered in Dalton, Ga., along with many of its plants. Its yarn and extrusion facilities are located all over the Southeast, while carpet manufacturing is done primarily in Dalton and Cartersville, Ga. Distribution centers are located throughout the country, with 25 regional and 10 local centers. Shaw has a sales force of about 1,500 people and one of the largest trucking fleets in the country, with more than 1,000 trucks. The firm services about 25,000 customers from 53 manufacturing plants. The company has more than 30,000 employees but still has the feel of a close-knit family, according to Julius C. Shaw, executive vice president. HistoryIn 1946, Clarence Shaw, father of the companys CEO, Robert E. Bob Shaw, and former Chairman, J.C. Bud Shaw, bought Star Dye Co., a firm that dyed tufted scatter rugs. In 1960, the two brothers created Star Finishing Co., which later became the largest commission finisher of tufted carpet in the world. A holding company was organized in 1967 to acquire Philadelphia Carpet Co., which originated in 1846. Star Finishing was added to the holding company one year later. In 1971, with approximately $43 million in sales and 900 employees, Philadelphia Holding went public as Shaw Industries Inc., and the company just kept growing. The firm moved into yarn manufacturing in 1973 with the acquisition of New Found Industries, and four years later moved away from the commission business, producing everything for use only by Shaw Industries.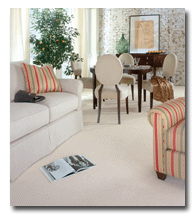 The Inspired Influence carpet line features EverTouch, a branded nylon fiber from Shaw that is soft, yet durable. The early 1980s saw Shaw Industries stock, previously traded on the American Stock Exchange, being traded on the New York Stock Exchange. Many other events also took place in the company a trucking subsidiary was formed; Shaw acquired six yarn-spinning mills, furthering its vertical integration and giving Shaw control of its own yarn supply; the company with more than $500 million in sales and close to 5,000 employees was listed on the Fortune 500; it purchased West Point-Pepperells Carpet and Rug Division, as well as Cabin Crafts and Stratton carpet brands; and it also acquired Evans Black, Armstrong World Industries flagship carpet brand.The 1990s also were innovative, as Shaw opened its own Design Center showroom in Dalton; acquired Salem Carpet Mills Inc.; purchased the polypropylene yarn division of Amoco Fabrics and Fibers Co.; formed a joint venture with Grupo Industrial Alfa, Mexico; and merged with Queen Carpets, the nations fourth-largest carpet manufacturer. The year 2000 was a dramatic one for Shaw. The majority of Shaw stock was bought by Berkshire Hathaway Inc., the Omaha, Neb.-based holding company controlled by billionaire investor Warren E. Buffett. The purchase price was $2 billion. Berkshire Hathaway now has acquired the final 12.7 percent of Shaw stock, giving it 100-percent ownership. In its first full year as a subsidiary of Berkshire Hathaway, sales should check in at something in excess of $4 billion, according to Shaw.(NOTE: Berkshire Hathaway achieved the #39 spot on
Fortune
magazines annual list of the 500 largest publicly traded U.S. companies. The ranking is based on revenue from 2001, which totaled more than $37 billion. Because Shaw is privately owned by Berkshire Hathaway, it no longer will be listed individually on
Fortune
s annual list.) A Healthy Industry NeededShaw Industries is still a first-generation management company, with Bob Shaw being the first and only CEO in its history, Julius Shaw noted. And, questions of change have been put to rest. Nothing has changed. No one is planning to retire. The company will be run the same as it has been run for the past 30 years, Shaw said.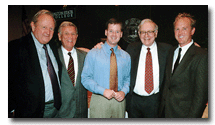 From left to right: Former Chairman J.C. Bud Shaw, Chairman and CEO Robert E. Bob Shaw, Sales Representative Jason Shaw, Warren E. Buffet, and Executive Vice President Julius C. Shaw2001 was a fantastic year, and 2002 looks even better, he continued. The biggest compartment of cost structure at the firm is raw material in the making of carpet. Prices of raw materials are important to the industry. Demand is crucial, and we will need a good economy to help growth. Consolidation has been a major part of the carpet industrys evolution. Looking back 10 to 15 years, there were dozens of players. Going back to 30 years, there were hundreds. But now, according to Shaw, there are only four or five residential players and a dozen or so commercial. However, Shaw feels the industry is still consolidating, and theres room for more but not much. Shaw has been blessed over the years and has done well, even in 2001 and other years where there was some downturn. The good news was that residential sales have held up. At present, with the building industry doing well, new homes are going up, existing homes are being remodeled and re-floored. Plus, there are low interest rates, so we have a healthy industrial economy. This is needed in order for everyone, including Shaw, to continue to grow and thrive.In the residential area, Shaw said, Theres a real move toward soft fibers and technology in the industry. Shaws branded programs have fiber styles that are soft but durable having the wearability of nylon, but with a cotton feel. Also, with the companys new innovation, R2X which gives soil- and stain-resistance properties styles are so versatile that programs can be expanded to polypropylene. Shaw also noted there is a big demand for Berber Flex, and textured and frieze carpet a trend that began in California and is now being seen throughout the country. Kathy Ireland Rug CollectionShaw Industries has done several things to ensure its stability and growth. In the residential sector, the company made news about three years ago by adding a Kathy Ireland Rug Collection. Known to millions as one of the worlds premier models, Ireland has been equally successful in her career as a lifestyle designer and businesswoman. This has become Shaws largest rug collection. In fact, it has done so well that the brand has expanded into the carpet and laminate areas. Ireland worked with Shaw to develop Shades of America. The Kathy Ireland Home Collection includes furniture, rugs, lighting and other home accessories. Irelands collaboration with Shaws carpet division marks her first venture into broadloom carpet.The Kathy Ireland Shades of America Color Wall offers 90 varying hues and four premium styles of broadloom carpet, and is designed to simplify the process of choosing carpet for homes by allowing consumers to make decisions easily and quickly. Color choices can intimidate and overwhelm, so each color is named to take the fear out of the customers purchase. Shaw said Shades of America carpet is doing well under the Kathy Ireland label. Martha StewartIn April of this year, Martha Stewart Living Omnimedia Inc. formed a partnership with Shaw to offer floor-covering products with the Martha Stewart Signature brand. The two companies are working together to design and market the products that Shaw will manufacture and distribute to floor-covering retailers nationwide. These products have been designed to work together with Martha Stewart Signature fabrics and paint colors, offering consumers both the merchandise and the information they need to decorate with confidence, whether the project involves one room or an entire home. The Martha Stewart Signature brand also will feature furniture by Bernhardt Furniture Co. and paint by Sherwin Williams. Martha Stewart has noted this expansion represents a significant step toward a goal of providing specialty-tier consumers with the ability to decorate their homes in a thoughtful, comprehensive fashion using Shaws unique approach. Decorating can be handled room by room, floor to ceiling, in a step-by-step program. New Laminate PlantIn the past year, hard-surface flooring represented only about 2 percent of overall flooring sales, but Shaw feels it will go to 10 to 15 percent, possibly in the next couple of years. Perhaps the greatest symbol of Shaws commitment to being a total flooring supplier is its new laminate flooring plant in Ringgold, Ga. Its the first hard-surface manufacturing plant to join Shaws more than 100 yarn, carpet and distribution facilities. Shaw has combined proven techniques, automated equipment and its own innovations to build the industrys most technologically advanced facility. To keep pace with the growth of laminate flooring, Shaws state-of-the-art, $28-million laminate manufacturing plant which uses presses to make the fastest-growing product in the flooring industry will soon be operating nonstop. When it does, the production capacity of this single facility will make Shaw one of the largest laminate manufacturers in the industry. The plant will produce laminate and hardwood flooring for both residential and commercial applications.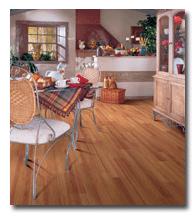 Shaws new laminate flooring plant is set to produce laminate and hardwood flooring designed and developed for both residential and commercial applications. Pictured here is Natural Sensations in Plantation Oak.The facility is a 240,000-square-foot building on a 50-acre complex, giving the division lots of room to grow, and it has the largest production capacity of any laminate plant in North America. It is particularly noteworthy for its level of automation. The result for customers is leading-edge product development, enhanced quality control, and the flexibility to make the industrys most diverse products for today and for the future, according to Shaw. Besides being modern, the plant is unique in many ways, Shaw said. It has outstanding equipment and efficient quality control and inventory management, as well as being a safe workplace. Employees will work in the team-based atmosphere that has proven so effective in Shaws Cartersville plants. The plant will operate with five shifts three during the week and two during the weekend, and will be completely tobacco-free. Entrances and the breakroom will feature ceramic tile, an aesthetic feature appropriate for the Hard Surfaces Division. In addition, by providing golf-style uniform shirts to its employees, the facility will be the first Shaw plant to provide uniforms to its entire work force. All of this, Shaw said, is to create a team environment where employees are really proud to be here. We want every person to know they are an important part of our team, not just a single production line.Shaw recently launched a hard surfaces website, www.hardsurfaces.shawinc.com. Here, consumers can learn all the details about Shaws hardwood, ceramic tile and laminate flooring product lines. The navigation system allows users to search the site in a variety of ways, including by construction type in ceramics, by species in hardwood and by installation method in laminate. Glueless Hardwood FlooringCapitalizing on another of the largest growth opportunities in flooring, Shaw Industries plans to manufacture hardwood flooring that features Shaws VersaLock glueless installation system. VersaLock secures the flooring panels together without messy adhesives, substantially simplifying the installation process. There also is less overall disruption to the homeowner because the floor can be walked on the minute its installed. This flooring collection will feature 15 engineered styles representing natural, stained and exotic hardwood species including oak, birch, maple and cherry.Representatives from Shaw and nearly every major player in floor covering have worked together for more than a year to improve business-to-business transactions. This collaboration has created a standard language for the electronic exchange of floor-covering information across the Internet. This exciting new initiative, the B2B Floor Covering Standard, will benefit everyone, from large companies like Shaw to small, single-store retailers. It will allow any two buyers and sellers to conduct transactions quickly, accurately and inexpensively. Potential uses could include placing orders, updating pricing and sending electronic invoices. New Addition - Jack Nicklaus CollectionShaw Rugs has announced the Jack Nicklaus Collection as an exciting addition to the companys wide range of products created through licensing agreements. Nicklaus, professional golfer and golf-course designer, has won many championships and other golf events worldwide.Barbara and Jack Nicklaus first visited Shaw headquarters and mills last year to begin strategy for the new collection. Since then, Barbara Nicklaus has worked with Shaw designers and craftsmen on the designs, patterns and color schemes, plus decorative ideas for the collection, which debuted at the Atlanta Rug Market in June. The Jack Nicklaus Collection is made from 100-percent wool and is available in six sizes, from 2 feet by 3 feet to 9 feet 6 inches by 13 feet 2 inches. The designs resonate with the ambiance of golf, in a quiet and sophisticated way, using textured and paneled looks. Perfect for the living room, den or clubhouse, the designs reflect the style and confidence of the athlete whose name they bear.The collection includes Leopalace, an organic Persian medallion design; and Bears Club, a relaxed yet stately pattern that incorporates crossed golf clubs that hint at a European coat-of-arms, but also has a warm, spacious tone that brings to mind the great golf courses of the Old World. Future Vision Of ShawHow does Julius Shaw see the companys future Our industry has changed dramatically in recent years. It wasnt too long ago that we were in an $11- to $12-billion carpet industry. Now with hard surfaces, we find ourselves in an $18-billion flooring industry. Shaw Industries will continually expand into different types of floor covering, he said.We will be making a larger presence in hard surfaces and regular categories. We are about 2 percent in rugs now and have lots of opportunity to grow this part of the business. We want to be known as a successful manufacturer and distributor of all flooring products. In fact, Shaw intends to be a factor in all flooring. We changed from a carpet floor-covering industry to one that includes hardwoods, ceramic tile and laminate flooring. As the industry changes, Shaw will adapt and grow, and we will remain floorings number-one company.


September 2002
Advertisement