Mill Numbers Look A Little Better
Robert S. Reichard, Economics Editor
N ew industrial output figures suggest somewhat better days ahead. As reported last month, textile totals, while remaining under the peaks of a few years back, are once again beginning to run ahead of 12-month-earlier levels.

More importantly, the current pace of new incoming orders, though hardly robust, does suggest that this modest pickup will continue into the upcoming fourth quarter.

On a more sobering note, these gains won't be nearly enough to erase the steady tattoo of declines racked up in 2001 and the early months of the current year. The upshot is that overall 2002 textile mill output average is still likely to be somewhat below last year's level.

On the other hand, the current recovery suggests that, barring the unforeseen, next year should see this key textile indicator slip back into the plus column. If so, this would be the first positive number here in some five years.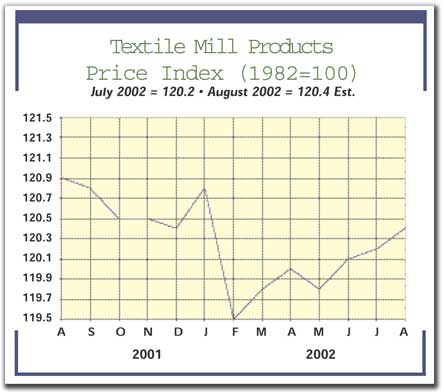 Low Inventories - Another Positive
Trimmer inventories are also adding to the slowly improving outlook. Textile mill inventories have dropped close to 17 percent over the past year. Combine this with a bottoming out in shipments, and the mill stock/sales ratio has shown a significant decline, dropping from 1.62 a year ago to only around 1.45 at latest report. And, with still-improving stock monitoring and other management techniques, this ratio should continue to remain at current, relatively healthy, levels.

A similar inventory decline is noted for the textile products grouping. Stocks here are down 4 percent over the past 12 months — with the stock/sales ratio off an equally impressive amount, from 1.67 in late summer 2001 to near 1.45 currently.

These declines should not be underestimated. Other things being equal, they pretty much assure that any new incoming orders will quickly translate into new textile production.
New Yarns, Fabrics Could Also Help
Innovative product introductions also can be expected to buoy the industry over the coming quarters. In the yarn area, for instance, there's increased interest in new cellulosics made from wood, soybean/cashmere blends, various new acrylic blends and new textured polyester and nylon.

In the fabric sphere, Celanese and KoSa are jointly developing a new series of fabrics using both acetate and polyester, and DuPont is presenting its new stretch fiber, T-400, as well as five new textile products that will hit the market next year.

Elsewhere, consumers are showing increased interest in denims with unique washes and more interesting fashion. In any case, denim is an area to watch. New surveys suggest two-thirds of men now prefer denim when buying casual slacks and jeans.
Profits Remain In The Black
Industry earnings, while clearly disappointing, are still managing to stay in the plus column — at least as far as overall averages are concerned.

Recently released first-quarter 2002 figures, for example, put mill after-tax earnings near $40 million. While under the $71 million of the previous quarter, it's still a lot better than the $63 million loss of the third quarter 2001, and the huge $350 million deficit reported for all of 2000.

Here, the small first-quarter profit of 0.3 percent compares to losses of 0.6 percent for both the third quarter 2001 and all of 2000.

As for the remainder of the year, the current trend is expected to continue. One hint of this comes from Cone Mills, which recently reported a small $3.1 million net income for the second quarter — in sharp contrast to the $26.5 million loss of a year earlier. A small Business Week survey of three other firms (Interface, Mohawk Industries and WestPoint Stevens) also points to a profitable second-quarter 2002 bottom line.
A Few Concerns About The Economy
On a somewhat more disquieting note, there are now some questions about general business and its impact on textiles. Second-quarter gross domestic product (GDP), for example, grew at only a 1-percent annual rate — down from the 5-percent pace of the first quarter.

Then there are the negatives of a nervous stock market and fears that the housing bubble could burst. On the other hand, there are still significant offsets to these weaknesses — including low interest rates, generous tax breaks, solid income growth, a more competitive dollar and rising productivity. These factors should prove enough to ensure a small 2.5- to 3-percent growth rate into early 2003.
September 2002



Related Files:
Download Current US Textile and Economic Indicators.
Advertisement