Weaving On The Cutting Edge
Woven technical textiles are a bright spot in the development of weaving machinery and technology.
Weaving On The Cutting Edge Woven technical textiles are a bright spot in the development of weaving machinery and technology. Woven products designed and manufactured to meet taxing technical specifications have long been called the cutting edge of textiles. Blending innovative design and the latest in engineered fibers and yarns, while always stretching the limits of weaving machine technology, high-tech wovens have developed markets for textiles that were unknown in the recent past.According to Fritz Legler, president, Sulzer Textile Inc., Spartanburg, the following markets and more all have come of age in recent years, benefiting from engineered wovens:composite materials;agricultural applications;construction;medical applications;transportation;storage and packaging materials;automotive applications;ballistics and military applications;substrates and reinforcement; andprotective clothing.Most sources clearly suggest that [the technical] fabric sector is the fastest-growing and most dynamic within the textile industry, said Legler. One of [Sulzer Textils] own market reviews conducted in the late 1990s revealed that presently some 15 percent of woven fabric production worldwide is destined for technical and industrial end-uses. This represents roughly 35 billion square meters of woven fabric per annum. In general, industrial textiles account for roughly one-third of the total textile production in highly industrialized countries throughout the world. A growth potential of some 20 percent over the next five to 10 years can be expected.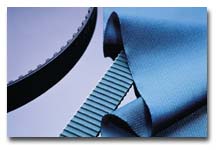 Sulzer Textil's weaving machines are being used to weave a variety of technical fabrics, including fabrics used as components in driving belts, where performance and longevity are crucial. Sulzer Textil [soon to be renamed SULTEX Group
(See News, TW, September 2002)
] has had exposure to this industry for decades and built up a vast experience going into highly technical applications, like geo and agro textiles (irrigation, road and railway construction, and hail protection), wire fabrics, bolting cloth, medical textiles, ballistics, composite materials, paper machine clothing, reinforcement fabrics, filtration, storm-surge barriers, airbags, tire cord and so forth, Legler continued.We have grown and moved with the market and now have a special division within Sulzer Textil doing custom-built weaving machines.
(See Nonwovens/Technical Textiles News, TW, August 2002.)
As for types of machinery being used, Legler said, Our customers use projectile, rapier and air-jet machines in the field of technical textiles. Some 30,000 Sulzer machines are used in technical areas worldwide. Machines go into certain areas that no other insertion systems can handle. In this country, we are also successful with our rapier machines for airbags, Kevlar® fabrics and filtration applications, and our air jets are widely used for electro-glass, which goes into printed circuit boards.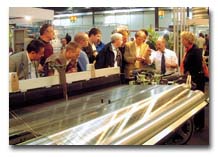 Sulzer's P7D weaving machine can be used to weave wire fabrics.One important aspect to consider for the United States is that these kinds of fabrics are less susceptible to imports and pressure on margins. An interesting application we have come across recently is engineered fabrics protecting against electro-magnetic fields. In our age of information technology and use of cell phones, we will have to deal more and more with electro smog. Legler is convinced woven technical textiles are undoubtedly a strong domain of the projectile insertion system. If width, beat-up force and weavability of most difficult yarns are in question, the projectile machine is ideal. It is available in widths of up to 8.5 meters, can offer beat-up forces of several tons and is most flexible with regard to weft insertion. Dornier's OfferingsPeter Brust, vice president, Charlotte-based American Dornier, stated, In our case, rapier machines are the first choice and air jets are becoming more and more important, especially in automotive upholstery.Dornier promotes its air-jet weaving machine, type A, as a prime producer of a range of fabrics including: high-precision emery cloth fabric with tucked selvages, woven at a speed of 1000 picks per minute (ppm); medium-heavy coating fabrics; and upholstery and home fashion fabrics woven using jacquard shedding and up to eight filling colors, and also woven double-width up to 430 centimeters (cm) nominal width.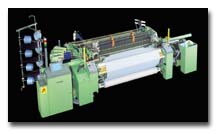 The company reports its type P rapier weaving machine is well-suited for weaving not only jacquard upholstery fabrics with 16 filling colors and using up to 20,000 hooks, but also coated netting fabrics for snow retainment fences utilizing the coarsest of yarn counts in warp and filling, and densities of 0.5 per cm or less. Dornier has always been deeply involved in technical textiles, and this area has grown more important in the last 10 years, Brust said. We have provided a high level of expertise in different fields within technical textiles and designed customized solutions rapier as well as air-jet.Looking to the future, Brust added, Technical textiles is the sector with the biggest potential. Many of our customers are researching projects in this field customers that are not technical weavers yet.Filips Lombaert, product manager, BU-Technical Fabrics, a division of Belgium-based Picanol NV, stated, There is certainly a trend toward using more air jets also in larger widths as versatility of air-jet machines has increased greatly over the last years. Air jets are not only more productive, but do away with some technical problems, such as friction caused by grippers or projectiles, that influence the weaving of some fibers.Picanols BU-Technical Fabrics division is commercializing weaving systems that are especially designed to be competitive in the sector of technical textiles, Lombaert added. Picanols success, also in apparel and household fabrics segments since the 1990s, has been due to the comprehensive offering of two product lines, air jets (OMNI-family) and grippers (GAMMA-family).With the acquisition of Gunne-Webmaschinenfabrik in 1998, Picanol immediately focused on adapting the OMNIplus air-jet technology to the already successful Gunne line of tire-cord machines. Picanols OMNIplus air-jet machines are now also offered in widths of up to 430 cm, while the patented leno-weave system allows speeds of up to 500 revolutions per minute (rpm) in these widths (versus 200 rpm on conventional machines).In terms of product, Lombaert continued, The air-jet machine has also been adapted for the weaving of heavy multifilaments such as tent fabrics, airbags and parachutes these in wider widths and at higher speeds. A particular success has been reached with the introduction in 2001 of the Free Flight rapier system on the Gamma line of machines. This machine is now also available in widths of 340 cm. Its specially engineered, small-sized shed geometry and small gripper size open up new possibilities in glass, carbon and aramid segments, especially where fiber damage is critical. All Picanol machines mentioned are equipped with SUMO motor technology. Luca Taramelli, executive vice president, Itema America/Promatech U.S.A., Spartanburg known for Mythos, THEMA Super Excel and Alpha technologies from Somet; and the Leonardo and K88 from Vamatex said, Technical textiles are becoming relatively more and more important for us. In terms of trends, he said, Rapiers first, but air jets are getting more into the picture. Besides, the width of technical fabrics has a marked trend to get wider and wider. We are currently supplying rapier machines for technical fabrics up to 460 cm.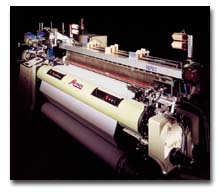 Itema America says its rapiers have been most popular for technical weaving, but air jets, such as the Mythos loom, are becoming more prominent. Narrow NichesJakob Muller AG, Switzerland, recently announced a training package that results in a designation of Certified Professional in Narrow Fabrics. The Jakob Muller Institute of Narrow Fabrics opened last year and offers courses in machinery, CAD, textile technology, and production planning and control/management.Eduard Strebel, manager, marketing services, agreed that technical textiles is the growing segment within the textile marketplace. Jakob Mullers equipment is being used to produce light and heavy belts, hook and loop fasteners, safety belts, curtain tapes, medical bandages and more. Strebel sees specialty narrow fabric trends focusing on medical applications, smart textiles and smart clothing. In his view, technical applications show great potential for new developments. Development and production of technical textiles require specific knowledge and experience including good machinery, hence good opportunities for the old textile-producing markets such as Europe and North America, he said.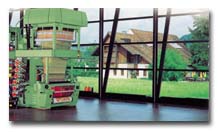 The Jakob Muller Institute of Narrow Fabrics opened last year, offering courses in machinery, CAD, textile technology, and production planning and control/management.Jakob Muller specializes in narrow fabric formation, both knit and woven, and features the CTM and CKM weaving machines for the production of heavy belts and tapes with selvages that look alike on either face. The company also offers the NG2 High Performance narrow fabric loom for light- to medium-heavy articles. The NG2 is available with the S option, offering a silent housing for climate control and reduction of noise emissions within the weaving area. The FutureLooking from a global perspective, Taramelli sees the traditionally European and U.S. presence in the market as the first being stable and the latter vaporizing. He believes China still is relatively weak in this area. However, he believes recent signals indicate a strong Chinese determination to get into this business.Taramelli stated Promatechs strength is in providing technology that provides the best technical advantages that come with rapier machines. Looking to the future, he cites robust growth, both in wovens and nonwovens, as well as fibers. Developments, in his opinion, will include some technical textiles becoming commodities and other new applications coming up every day. Machinery manufacturers will have to adapt to the developments, whereas the technical textile producers in the West will have to constantly reinvent themselves or face a painful future.Picanols Lombaert stated, Making abstraction of the present slow-down in the economy after September 11, the major industries that make use of technical fabrics such as transportation, building, agriculture and others will increase their demands for low-cost solutions to high-tech demands. A good example is airbags, where a steady growth in quantities is expected, where the quality of the product will have to be maintained or increased, while the cost for the airbag system will come down.Sulzer Textiles Legler commented, Textile applications of woven fabrics have changed and expanded to a large extent. Amongst other things, this has been made possible by the extremely rapid development of man-made fibers. By using special fibers with defined and constant physical properties, fabrics can be designed specifically for every conceivable field of application. Thus, the future is bright for engineered and intelligent fabrics using a combination of fiber, sensor and electronic capabilities. Preconditions for successful weaving and financial success are an all-embracing know-how; [and] close cooperation between weaver, yarn manufacturer, user and weaving machine manufacturer.GTP Open House AddressesSteel Heddle's FutureAt an open house at Steel Heddles Greenville location, Jimmy Thomas, president, GTP Greenville, addressed the gathering of weavers and friends, and in his greeting letter stated, Today you will see Steel Heddle in a fashion not seen before. It is the philosophy of GTP that together, we will not only survive, but flourish, despite all of the negative forces which are at play against us today. With the GTP strategy you will see today, we are confident that we will remain viable. More importantly, we are confident you will remain viable as textile manufacturers. In late 2001, Belgium-based Picanol NV acquired Steel Heddle Inc. and Verbrugge NV, a Belgium-based manufacturer of harness frames, reeds, heddles and dropwires. These two companies formed the core of Picanols new business unit, GTP Global Textile Partner
(See Supplier Notes, TW, January 2002)
.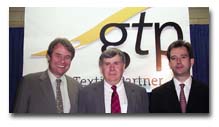 Left to right: Patrick Steverlynck, chairman, Picanol Group; Jimmy Thomas, president, GTP Greenville; and Koen Beckers, general manager, GTP WorldwidePatrick Steverlynck, chairman, Picanol Group, explained GTPs formation, citing Picanols focus as a global weaving machine developer and manufacturer, and GTPs as a global service and solutions provider.Koen Beckers, general manager, GTP Worldwide, explained GTPs organization around five textile business lines:installation, commissioning and trouble shooting;accessories, spare parts and upgrades;asset management;consulting and training; and second-hand machines and workshops.Geographically, GTP covers the globe with six gravity points: Shanghai, China; Greenville; Mexico City; Istanbul, Turkey; Milan; and Roeselare, Belgium.Beckers emphasized that Steel Heddles experienced workers are its most important asset. With service at GTPs core providing a one-stop solutions approach for the weaver and the expertise for all brands of weaving machines GTP will provide global service, while having a strong presence in Greenville.The open house also included a tour of the Steel Heddle facility and a preview of Picanols new developments. Machinery improvements include: a selvage air tucker; eight-color insertion; open communication through a transponder on the weaving machine; a color touch interactive display; and the new dobby 2880 from Stli, Switzerland, capable of speeds up to 950 picks per minute. New harness frames from Steel Heddle will feature extra reinforcement with 153-millimeter profiles and an integrated shock absorber.


October 2002
Advertisement