TekSolutions Finishing Ahead
TekSolutions invests to develop versatile laminating and coating facility for commercial and automotive interior customers.
TekSolutions: Finishing Ahead TekSolutions invests to develop versatile laminating and coating facility for commercial and automotive interior customers. TekSolutions, a subsidiary of Interface Fabrics Group, has emerged as a major finisher and logistics services provider for the office furniture, window treatments and jobber markets. Formed in January 2001 to provide turnkey textile-related services to fabric users, distributors or manufacturers, TekSolutions services include a variety of finishes, coatings and backings; fabric cutting and slitting capabilities; as well as inventory management and educational programs. Housed in an 92,000-square-foot (ft2) facility located in Grand Rapids, Mich., TekSolutions also has an adjunct 21,000-ft2 operation in Muscatine, Iowa, which provides warehousing, fulfillment and fabric cutting services. The mission of TekSolutions is to provide value-added fabric solutions to the customer at the right time, in the right form and to the right place, said Susan Ogren, director of business development.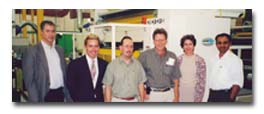 Left to right: John Napoli, sales manager, and John Carroll, sales representative, Zimmer Machinery; with Alan Dean, technical services, Bill Foley, product development, Susan Ogren, director of business development, and Jay Swamy, technical services manager, TekSolutions Companies that work with fabric want to minimize their investment in inventory, have multiple fabric SKUs available on demand, and expect their fabrics to perform equally well in a variety of applications. TekSolutions serves this need by functioning as a conduit for inventory that can be stored, finished, coated, laminated and cut, on an as-needed basis to meet specific end-use criteria.Regarding textile design, development, manufacturing and chemistry, the company has access to the breadth of textile knowledge employed within its parent company, Interface Fabrics Group, yet remains autonomous in function by operating on a separate business system.Our focus is on solving customers problems, said Ogren. The breadth of textile knowledge available through Interface ensures that the most informed, environmentally-friendly decision will be reached when developing a solution to a customers fabric problem.TekSolutions employs an automated fabric cutter and slitter that provides cut fabric parts; two adhesive-based laminators that bond substrates to surface fabric; a tenter frame, coater and padder that impart traditional acrylic coatings and other wet applications; and a new, state-of the-art extrusion roll coater. The extrusion roll coater is the first of its kind to be used in the United States. Multi-Roll CoatingThe multi-roller coating and laminating system, manufactured by LACOM GmbH, Germany (Zimmer Machinery USA, Spartanburg), is a hot-melt system that has applications in back coating of textiles, coating of airbag fabrics and full-coverage coating applications such as upholstery fabrics. Bill Foley, TekSolutions product development manager, stated, The system allows TekSolutions access to a wide array of polymer chemistries that will move fabric finishing forward to the next generation of coatings and finishes. As John Carroll, sales manager, Zimmer, explained, The thermoplastic coating polymer is melted, and a feeding pump forwards the fluid adhesive to the coater
[See Figure 1]
. The processed adhesive is deposited in the roller gap between the feeding roll and transfer roll. The transfer roll then hands the adhesive over to the application roll, which deposits the glue onto the substrate.The adjustment of the roller gaps and the relative speeds stretch the adhesive film. In this way, a very thin adhesive coating can be applied to the substrate, Carroll added.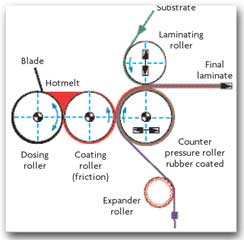 Figure 1: TekSolutions uses LACOM's muti-roller coating and laminating system. The LACOM system utilizes hot-melt chemistries that have been compounded specifically for textiles. Manufacturers such as Forbo Adhesives LLC, Research Triangle Park, N.C., Bostik Findley Inc., Middleton, Mass., and EMS-Griltech, Sumter, S.C., have transferred formulations to textile-specific applications utilizing polyurethane, ethylene-vinyl acetate (EVA) and polyester (PET) chemistries. When applied to polyester fabric, formulated polyester backings create a fully recyclable polyester product replacing traditional latex products for this use.Carroll said, The LACOM line is a low-energy system with which you immediately see results on the back of the machine what you see is what you get without post-curing or additional processing. He added, We can do this at speeds up to 60 yards per minute, depending on the product in this case, upholstery fabrics. The hand and performance are really impressive. Beyond Commission FinishingTekSolutions has designed a full-service logistics and finishing company that offers its capabilities to any fabric user. The company provides inventory management and fabric cutting services, which are complemented by a variety of finishes, coatings and backings. Finishes offered include:acrylic coatings in clear, white and gray pigments supplied in coating weights ranging from 0.5 ounces per square yard (oz/yd2) to 2 oz/yd2;StabiLink treatment an anti-fray weave and yarn stabilizer composed of polyester;soil-resistant treatments;lamination of Firegard® flame-barrier fabrics;lamination of foams and scrims to fabric for improved opacity and stabilization; andVersaCoat the first product in what will be a menu of fabric treatments produced using the extrusion roll coater.VersaCoat is a multifunctional fabric coating that can be used as a traditional back coating, a fabric weave stabilizer or a heat-reactivated adhesive. The process is virtually waste-free, uses no water and consumes minimal energy all aligned with Interfaces ongoing initiative to achieve environmental sustainability in its manufacturing processes. TekSolutions' CustomersAny company that works with fabric or textile-like materials will benefit from TekSolutions services, stated Jay Swamy, technical services manager. We currently supply fabric inventory and finishing services to major office furniture manufacturers, fabric jobbers and distributors, and textile mills. Also, TekSolutions provides converting services to tier-one automotive suppliers, processing materials that are used in automobile interiors, and window treatment manufacturers that require coating, lamination and slitting services for window shades and blinds.Ogren said, Weve developed strong relationships by positioning the company and services as a real value-added proposition for our customers. We continue to focus, and invest, in living up to our name TekSolutions. We provide real know-how that can move a commodity product into a demanding or niche field, without the costs associated with product development or machinery. Whether it is moisture-barrier lamination or California Technical Bulletin 133 compliance, we do our best to be a positive impact on our customers bottom line.


October 2002
Advertisement