From Radomes To Mega Structures
Materials development has enabled modern fabric structures to become viable alternatives to brick-and-mortar structures.
From Radomes To Mega Structures Materials development has enabled modern fabric structures to become viable alternatives to brick-and-mortar structures. Early types of fabric structures include the yurt a circular domed tent made of felt, usually from camel hair, supported by a collapsible lattice framework. Yurts are used by the Kirghiz and other Mongol nomads of Siberia and Eastern Asia because of their ease of erection, dismantling and transport. The American Indians wigwams, which use animal skins, are a related type of fabric structure. From these primitive beginnings to the development of swimming pool covers and radomes from man-made materials in the mid-1950s, to todays mega fabric structures, fabric has gradually been accepted as a viable architectural medium. Advantages Of Fabric StructuresCompared to brick-and-mortar structures, a fabric envelope can have as little as one-thirtieth the weight of conventional structures.Fabric structures have shorter erection times compared to conventional building structures.Lower structural and reinforcement requirements lower the building cost.Smaller fabric structures can be more easily dismantled, transported and re-erected.Fabric structures can provide large obstruction-free spans suitable for large equipment storage and spaces for public gatherings.Fabric structures have high resistance to destructive forces such as earthquakes.Fabric structures can be designed in a wide range of shapes and appearances.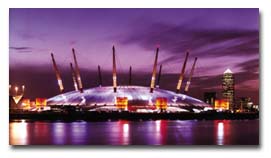 The Millenium Dome, United Kingdom, a recent project for Birdair Inc., is the largest single-dome structure in the world. The dome was constructed using Sheerfill® II architectural membrane manfactured by Saint Gobain Performance Plastics. Photographed by Robert Reck. All photographs courtesy of Birdair Inc.Air-Supported StructuresIn the 1950s, coated fabrics which do not interfere with signal transmission were used to make air-supported radomes for housing radar installations. The radome structure does not have a rigid supporting frame, but maintains its shape and dimensions by use of low-pressure air, which is continuously fed into the structure by an air compressor. Some of the early radomes used neoprene or Hypalon® coated filament nylon fabrics. Today, polyester filament fabrics are the preferred fabric structure substrates because of their greater dimensional stability and lower costs.Several types of technology for air-supported structures are currently available. These include pressurized bubble, double skin and air-beam supported structures.Pressurized bubble structures require a continuous source of air from a compressor and a good seal around the bubble to provide adequate overpressure inside the structure. The major function of these structures is as a weather barrier for outdoor arenas such as tennis courts and swimming pools. These structures are relatively simple to erect and to dismantle, but they are not suitable for uses where frequent vehicle access is required.Double skin structures are second-generation air-supported structures that are constructed like an air mattress, with the skin actually formed from a series of adjacent air cells. This structure eliminates the need for an airlock system to maintain the air pressure, because the air is maintained within the cell structure. Disadvantages of this type of structure are that the weight of the envelope is doubled, and there is a greater potential for leaks because of the doubled area of exposed surfaces.Air-beam supported structures have been used for more than 20 years by the U.S. Department of Defense for small medical shelters and for larger shelters for helicopter and aircraft maintenance. In this type of structure, the weather-barrier fabric is supported by air-retaining beams. The military air-beam supported structures are designed to withstand 50-mile-per-hour (mph) winds with 60-mph gusts and to operate within a temperature range of -40°F to 120°F, and to withstand a 10-pound-per-square-foot snow load.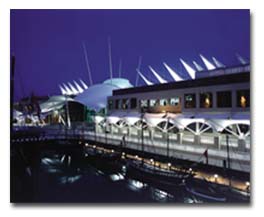 The Kuwait Scientific Center, Kuwait, features fabric structures constructed using Sheerfill® II architectural membrane on the exterior, and Fabrasorb® acoustical membrane on the interior.Photographed by Gustavo FerrariA six-year cooperative research and development effort by the Air Force Research Laboratorys Materials and Manufacturing Directorates Deployed Base Systems branch at Tyndall Air Force Base, Fla., and the U.S. Army Soldier and Biological Chemical Command, Natick, Mass., has resulted in improved inflatable air-beam structures that can reduce deployment time by 75 percent and labor hours to erect them by 85 percent. The beams can be produced by spiral weaving techniques like those used to make reinforcement for pressure hoses. The advantage of using a woven tube is that the fibers are basically running in the directions of the principal stresses, parallel and orthogonal to the tubes central axis, making it simpler to predict their behavior.Yarns used for making air beams include DuPonts Kevlar®, polyethylenenapthalate (PEN), high-strength polyester and Celanese Acetates Vectran®. Technology for weaving to make the pressurized air beams for these portable military structures has been developed by Federal Fabrics-Fibers Inc., Andover, Mass. The fabrics used for the envelope are polyvinyl chloride (PVC)- coated polyester woven or weft-insertion fabric.Another system to make the beams is very similar to techniques used for braiding rope. A curved braid can be formed by using a curved mandrel. Braiding technology to make pressurized air beams has been developed by Fiber Innovations Inc., Walpole, Mass. Air beams must be made to be air-retaining. One method of making the beams air-retaining is to coat the tube fabric to make it gas-impermeable. Polyurethanes, favored coating materials for this purpose, are sometimes used as both an outer and an inner coating of the tube. The coating systems are suitable for low-pressure air-beam units, but slow leakage is a problem with high-pressure tube systems. For larger high-pressure tube systems, an air-retaining bladder or inner tube can be incorporated into the tube. Birdair: Pioneer In Fabric Structure TechnologyWalter Bird and four of his associates from Cornell Aeronautical Laboratory (now known as Calspan) founded Birdair Structures in November of 1955. Bird received a patent on an air-supported design and helped found Birdair when Cornell decided not to pursue any further work on air-supported structures.In 1956, the first demonstration air-supported structure was erected on the grounds of the Field and Trap Club near the airport in Williamsville, N.Y. The air blowers used in this first structure were the size of vacuum cleaner blowers. Seeing this demonstration, the military started to buy air-supported structures for protection of antennae and radar equipment in the United States and Europe, and for temporary medical shelters. During the 1960s, the company added 60-meter-diameter radomes and portable dual-wall structures to its product line.Interest in the commercial side of the business increased when Bird installed the first air-supported swimming pool enclosure over the pool at his home. In 1957, LIFE magazine featured this structure on its cover as a glimpse of life in the future, and this publicity resulted in orders for air-supported covers for motel swimming pools, tennis courts and other recreation centers. Early in the history of the company, Birds vision included the development of mega fabric structures for stadiums, shopping malls and theme parks.Acceptance of fabric as a viable architectural medium grew through the efforts of Birdair and gained wide exposure at the New York (1964) and Osaka, Japan, (1970) World Expositions. The U.S. Pavillion at the Worlds Fair in Osaka was constructed of PVC-coated fiberglass and was fabricated and installed by Japan-based Taiyo Kogyo Corp.The success of the U.S. Pavillion in Osaka led to Birdairs involvement with architect and engineer David Geiger. Geiger realized that a permanent, noncombustible fabric was needed to expand the market for fabric structures. Owens Corning Fiberglas® Corp. (known today as Owens Corning, Toledo, Ohio); DuPont, Wilmington, Del.; and the Chemical Fabric Corp. (Chemfab Corp.), Merrimack, N.H., worked together and developed Chemfab Sheerfill® Teflon®-coated architectural fabrics. The availability of Sheerfill Teflon-coated fiberglass fabric from Chemfab extended Birdairs capability to construct permanently installed educational facilities in 1972 and domed stadiums in 1975. As a result, the company has become a world leader in tensile membranes and their associated support systems.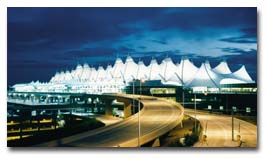 The Sheerfill® II outer architectural and Fabrasorb® inner acoustical rool membranes at Denver International Airport's Jeppesen Terminal comprise 15 acres of material. Photographed by Robert Reck. In 1972, the Haj Terminal at the King Abdul Aziz International Airport in Jeddah, Saudi Arabia, became the worlds largest fabric structure. The terminal sits on 35 square miles in a desert where temperatures often reach 120°F. The architectural firm for the project was Skidmore, Owings and Merrill. Owens Corning Fiberglas and Birdair worked jointly on the project.The Haj terminal serves almost one million pilgrims who visit Mecca during one six-week period every year. Pilgrims often spend from 18 to 36 hours in the terminal on the way to or from that city. The terminal is comprised of rectangular, two-story air-conditioned buildings that contain immigration services, and rectangular platforms covered by tent-like fabric roofs. Each platform is 150 by 150 feet, and each was designed to be serviced by two Boeing 747 planes and to accomodate adjacent bus parking. The terminal is halved by a central spine, which is landscaped and provides an entry road for buses and other vehicles.A grid of 440 epoxy-painted steel columns each standing 150 feet high and tapering from 8 feet in diameter at the base to just over 3 feet at the top is used to support the tension cables of the 210 fabric roofs. The semi-conical roofs are made from 4.6 million square yards of Teflon-coated fiberglass and are self-cleaning. The base of the fabric is suspended 66 feet above the floor, while 32 radial steel cables rise another 40 feet to attach to a tension ring 13 feet in diameter. These are the pieces that make the large roof units possible. Warm light is admitted through this translucent, low-heat transmission fabric. Only 7 percent of the available light is admitted, so even though the outside temperature may reach 120°F, the temperature under the tents rarely exceeds 85°F.In 1979, Bird and the Board of Directors sold Birdair to Chemfab. Between 1979 and 1985, Owens Corning Fiberglas and the Birdair Structures Division of Chemfab were competitors. In 1985, Owens Corning Fiberglas and Chemfab decided that the construction business was not their primary focus, and they created a joint stock company called OC Birdair as a specialty roof contractor.In 1986, Taiyo Kogyo Corp. purchased a 5-percent stake in OC Birdair, increasing its share to 50 percent in 1989 and renaming the company Birdair Inc. In 1990, a new Birdair plant was completed in Amherst, N.Y. Taiyo finally purchased the remaining 50 percent of Birdair from Chemfab in 1992. Today, Taiyo manages Birdair Inc. through a holding company called Helios Industries Corp.Birdair collaborates with architectural and engineering firms, offering preconstruction and project management services, as well as product education. The company has built in excess of 450 projects in more than 30 years, working in more than 35 countries on five continents. These projects cover a total of more than 31 million square feet of roofing area. Two of Birdairs most recent projects are the Millenium Dome in Greenwich, United Kingdom, and The Kuwait Scientific Center in Kuwait. Chemfab and Birdair also collaborated on the Denver International Airport. Fabrics Used For Tension And Air-Supported StructuresChemfab Corp., acquired in 2000 by Norton Co., a U.S. subsidiary of France-based Compagnie de Saint Gobain, weaves and Teflon-coats fiberglass fabrics for architectural membranes under its Sheerfill brand name. Major advantages to building construction use of Sheerfill fabrics include the following:The structures are able to transmit light, which provides an open, airy feeling and dramatic luminosity at night.Structures have proven long-term durability, having performed well for 25 years to date. The Teflon coating makes the fabrics resistant to staining.The fabrics have proven highly energy-efficient by transmitting 20 percent of daylight without the heat gain of traditional glazings, allowing lower air-conditioning costs. Fabrasorb®, another Chemfab product, minimizes acoustical disturbances and is used as a liner in Sheerfill architectural membrane systems. The fabric is a translucent, non-burning, porous composite of fiberglass and Teflon. The fabric also improves the thermal characteristics of fabric roof systems by providing an unobtrusive extra layer of insulation. In addition to its use in fabric structures, Fabrasorb can be used as a retrofit sound attenuator in conventional structures made of glass, brick or other traditional building materials.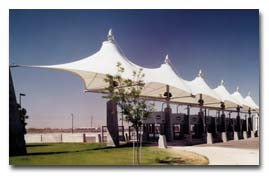 Port of Entry toll booths, Calexico, Calif.Photographed by Robert Reck Seaman Shelter-Rite® Architectural FabricsFor more than 50 years, the Seaman Corp., Wooster, Ohio, has been processing fabrics for architectural and other coated fabric applications such as roofing, tarpaulins and recreational products. Norman Seaman, the companys founder, started the company in a basement workshop in Canal Fulton, Ohio. Initially, the workshop was equipped with two sewing machines. Today, the company makes coating substrates for its Shelter-Rite® fabrics by both weaving and weft-insertion technology. Its major raw material is high-strength polyester filament yarn. In addition to the Wooster Research and Development and manufacturing operation, the company has a plant in Bristol, Tenn., which produces and coats fabric. One of the major coating materials used by Seaman is DuPonts Elvaloy KEE, a ketone ethylene ester resin. DuPonts Tedlar® polyvinyl fluoride also is combined with coated fabrics for fabric structures in order to provide weather and chemical resistance and non-staining properties.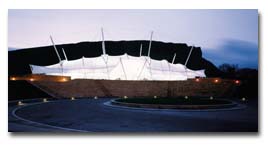 Birdair constructed this fabric roof using Sheerfill® I architectural membrane for the William Younger Centre Dynamic Earth visitor attraction, Scotland.Photographed by QA Photos IFAI Forms Architectural Fabrics GroupsThe Industrial Fabrics Association International (IFAI) has formed two new groups within the association relating to the use of fabrics for building structures. The first, The Lightweight Structures Association (LSA), will focus on tensile, membrane, cable, glass and air structures. LSAs mission is to represent the interests and concerns of the lightweight structures industry in the Americas; to serve as a resource on technical aspects, building codes, standards and general practices; and to promote the use of lightweight structures in general, with a special interest in the fabrics used for these structures. LSA will seek alliances with other organizations influencing the industry.The second new group is the Inflatable Recreational Products Division (IRPD), whose mission is to promote safety, professionalism and education within the inflatables industry, and to increase awareness and acceptance of inflatable products and technology.The first annual LSA meeting will take place at IFAI Expo 2002, Charlotte Convention Center, Charlotte, Oct. 24, at 5:00 p.m. The first annual IRPD meeting will take place at IFAI Expo 2002, Oct. 25, at 3:00 p.m.


October 2002
Advertisement