AATCC Flash Report
AATCC IC&E T he American Association of Textile Chemists and Colorists (AATCC) annual International Conference and Exhibition (IC&E), held October 1-4 in Charlotte, extended the traditional chemistry and quality control subjects with the new Concept 2 Consumer (C2C) track, which included retail, design and merchandising interests. The conference attracted 866 attendees who took part in the traditional technical track, exhibition areas, C2C track and a host of presentations.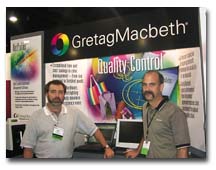 Above: Joe D. Parker (left), senior applications engineer, and Bob Balland, global account executive, GretagMacbeth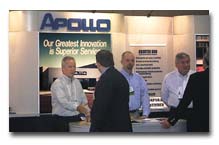 Apollo Chemical Corp. representative greets attendees.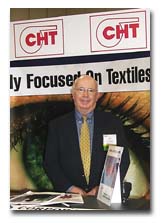 Jim Ferguson, technical sales representative, CHT R. Beitlich Corp.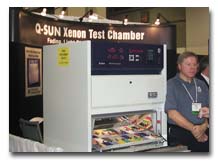 Q-Panel presented its Q-Sun Xenon Test Chamber.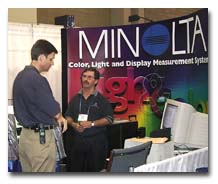 Norm Demers (right), Minolta Corp., discusses the latest developments with a visitor to the booth.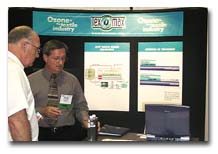 Marcel Lafleur, business manager, Texomax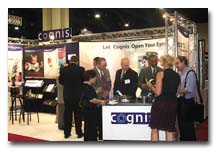 Cognis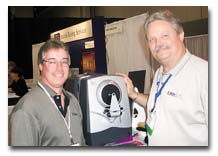 Bob Griswold (left), account executive, industrial products; and Milton Zaiontz, color and appearance executive, X-Rite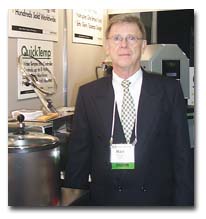 J. Mark Raiteri, president and CEO, Raitech Inc., a partner of Atlas Textile Test Products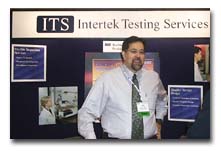 Eduardo A. Palomo, senior client manager, Intertek Testing Services (ITS)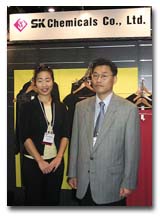 Ik Soo Kim (right), senior manager, SK Chemicals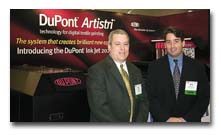 DuPont Artistri, represented by John Kane (right) and colleague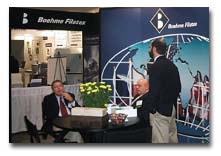 Boehme Filatex representatives greet attendees.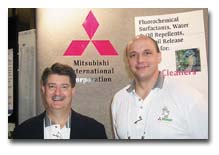 A.Donald Allen (left), general manager, textile chemicals department; and David Holmus, Mitsubishi International
Russell J. Crompton, president, SDL America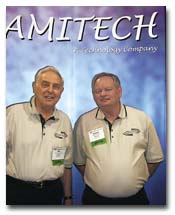 Ed Zavaglia (left) and Walt Young, American Manufacturing International Inc. (Amitech)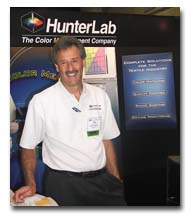 Hal Good, director, marketing services, HunterLab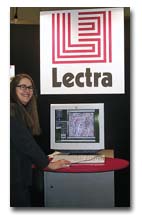 Karen Martone, CAD applications specialist, Lectra Systems Inc.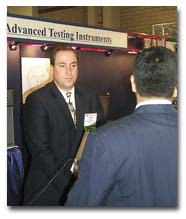 Tim Zeigenfus, Advanced Testing Instruments (ATI)
November 2002
Advertisement