Touchy Subject
Texturing technology adds warmth and bulk to man-made yarns.
Texturing TechnologyBy Jim Phillips, Executive Editor Touchy Subject Draw, friction and air texturing technology add warmth, bulk and comfort to man-made yarns. Despite the difficult market conditions of current times, U.S. yarn manufacturers continue to look for new opportunities. Whether the Caribbean Basin Initiative will provide market opportunities for U.S. manufacturers has yet to be established. But, as in other sectors of the industry, a high degree of sophistication in manufacturing machinery is necessary in order to achieve productivity levels that keep U.S. yarn at an attractive price. In the past, Textile World has looked at a variety of yarn preparation machinery, including the latest offerings in spinning, winding and twisting. In this issue, TW reports on the texturing offerings of a handful of manufacturers. Perhaps no news in this segment over the past few years has been bigger than the acquisition of ICBT by Rieter. This past year, Rieter revamped its organizational structure and combined the former separate subsidiaries Rieter ICBT, Rieter-Scragg and Synthetic Fiber Machinery into a single business unit known as Filament Yarn Technologies.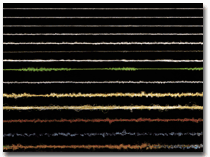 Examples of yarns textured using equipment from SSM, represented in the United States by Symtech Inc. Friction TexturingOne new offering of the business unit is the Goal 1200 friction texturing machine, which combines elements from both Rieter ICBT and Rieter-Scragg with new technological developments. Goal 1200 is earmarked for large-scale polyester production plants. The performance target of Goal 1200, according to Rieter, is the production of 167-decitex yarn of international textile standard quality at 1,000 meters per minute (m/min) in normal industrial running conditions. The machine is available in single- or double-density versions, and has an auto-doffing option.The machine features standard contact heater technology. The V-style heater configuration is suited to lower-denier yarns, microfibers and the targeted 167-decitex yarn, according to Rieter. The straight yarn path promotes the processing of the most delicate yarns at high speed by optimizing thread-line geometry in the texturing zone. The new Rieter heater offers significantly lower energy consumption when compared with other existing technology, the company says. The use of a single fluid type that covers a wide temperature range between 120°C and 250°C allows the heaters to be used for processing polyester, polyamide and even polypropylene yarns. The Goal 1200 features advanced-technology forced cooling plates to give high texturing performance, according to Rieter. The machine is delivered with individual motor-driven spindles fitted with a stack of up to eight 9-millimeter-thick discs.The take-up system on the Goal 1200 features pneumatic operation. Adjustment of the dumping pressure is computer-controlled. Major improvements also have been made to the new head-stock, according to Rieter. The cabinets are fully sealed and air-conditioned, allowing for running in extreme industrial conditions.The Goal 1200 includes an advanced electronic control system that offers controlled inverters and full integration of Rieter-Scraggs on-line tension-monitoring system, Qualitens. Key features of the machine, according to Rieter, are:higher process speeds, thanks to the forced yarn cooling system that allows high levels of productivity;improved flexibility, allowing manufacturers to run a wide range of material such as polyester, nylon, or even microfiber, and then change production to polypropylene without changing heaters; andprocessing of even the most delicate yarns by the use of the straight yarn path. Air And Draw TexturingIn air texturing, Rieter-ICBT offers the AT 8 E2 or 8 E2 AD, a line-shaft machine designed to operate on two independent sides, single, parallel or core/effect yarns, using partially or fully oriented synthetic multifilament yarns. The yarn count range produced on this machine extends from 22 to 1500 decitex. The AT 10 E2 or 10 E2 AD is based on the same concept as the AT 8 E2, but with a significant modification in the hot drawing zone. The yarn delivery nip rollers and the heated draw pins are replaced by hot rotating godets that bring together the yarn delivery and the heating functions in the same device.Murata, which has made headlines recently with its Vortex spinning technology and new high-speed winder, also has several offerings for texturing. The Muratec draw-texturing machine is equipped with the time-honored NIP system as its false-twisting mechanism, a development that Murata has marketed for more than two decades. Specific models by Murata include: the No.33J-II Mach Crimper equipped with a short heater and individual auto-doffer for high productivity; the No.33H Mach Crimper, which features functions such as S/Z simultaneous texturing, special compound texturing, thick-and-thin yarn processing and compound interlacing; and the No.37S Air-Jet Crimper, a compact air-jet texturing machine designed for high-speed, low-cost manufacturing.Other offerings include the DP2-T air texturing machine from Switzerland-based Schr Schweiter Mettler AG (SSM). The DP2-T features full electronic control, individual electronic drives, package doffing on the fly and Digicone® preciflex take-up heads. The machine is suitable for fine- to medium-sized yarns, and offers a texturing speed of up to 1,000 m/min. The DP2-T is built with up to 40 positions, with 5 positions per section of the machine. SSM also offers the RM2-T air-texturing machine for coarse yarns and technical products, including automotive yarns and sewing thread. The RM2-T offers a top texturing speed of 800 m/min.Barmag a member of Germany-based Saurer Group has the AFK-2, which, the company says, increases process speed by 20 percent, while retaining quality at the present market standard. Barmag has made improvements in certain process zones and machine elements including: shortening the twist and draw zones; optimizing thread-guiding in the HTI-heater; using an active cooling zone of only 1.2 meters; and improving the disk configuration in the Type 8E friction unit.


May 2002
Advertisement