Clearing The Air
Filtration, waste-handling and conditioning equipment meet the needs of today's plant environment.
Plant MaintenanceandEngineeringBy Jim Phillips, Executive Editor Clearing The Air Filtration, waste-handling and conditioning equipment meet the air-quality needs of today's plant environment. Modern, high-speed production machinery can quickly fill a weave room or opening/blending area with particulate matter that greatly exceeds the Occupational Safety and Health Administration (OSHA) standards of 133 micrograms per cubic meter. In addition to exceeding the maximum allowable respirable dust concentration, this particulate has a profoundly negative impact on the quality of manufactured product. Airborne dust can quickly contaminate product and significantly increase the cost of manufacturing.In response to such issues, companies such as Luwa Bahnson, Pneumafil, Industrial Air, LTG and others have designed systems that keep airborne particles below the levels mandated by the U.S. government and that virtually eliminate the product contamination issues that were prevalent years ago.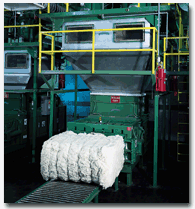 Abington Inc.'s Hi-vac waste system uses a high-pressure vacuum to collect waste from every area in a plant. Preassembled SystemsNot only are the offerings of these companies more efficient than ever before, they are becoming smaller and smaller, facilitating ease of installation in new applications and relatively easy retrofitting of older facilities. In addition, because more and more new textile plant construction is in developing countries, companies such as Luwa Bahnson in Winston Salem, N.C., and Pneumafil in Charlotte have developed filtration systems that are preassembled, which substantially reduces installation, labor and engineering costs.The Luwa Bahnson Insta-Filter, for example, is a complete primary and secondary filtration unit, and can be used as part of a complete air engineering solution, according to W. Brad Carr, vice president, sales. Contaminated air flows horizontally through a baffle system to equalize and straighten air flow. Next, the air flows through a Sonic Micro Filter or Rotary Pre-Filter to remove lint. The Rotary Pre-Filter provides preliminary filtration of air streams heavily charged with waste. Air then passes through a Luwa Bahnson Multi-Drum Vac® filter, which provides filtration of fine particles. Both lint waste and microdust waste can be automatically removed and compressed for easy handling.This is a very simple filtration system, Carr said. It is ideal for export because it doesnt require a lot of engineering and installation expertise on-site. By assembling much of the system before it is shipped, a lot of add-on costs are eliminated.The Pneumafil Rotary Pleated Belt Filter is preassembled on a steel base and prewired, including controls, according to John Stonestreet, Pneumafil sales manager.In addition to their preassembled offerings, both Luwa Bahnson and Pneumafil have been active the past few years in product development, engineering new systems that maintain efficiency while being less intrusive in the manufacturing process.Pneumafils Everclean Rotary Pleated Belt Filter is a patented filtration system that combines high-capacity pleated-membrane media with high-efficiency suction cleaning, said Stonestreet. The Everclean system is modular and features preassembled and prewired air filtration and conditioning components. Modules can be bolted directly to other components as needed to suit individual applications. Each module is skidded to allow easy relocation as needs change.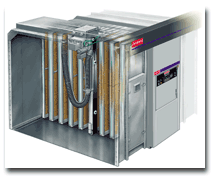 Pneumafil's Automatic Panel Filter (APF) is self-cleaning.For the weave room, Pneumafil has its Automatic Panel Filter (APF) available. Stonestreet describes the APF as a self-cleaning filter that installs in one-third to one-fifth the space needed for a rotary drum filter. It outperforms vee cell or roll-up paper filters with comparable space requirements. Also for the weave room, Luwa Bahnson offers its patented LoomSphere® System. Designed to provide optimum humidification, Loomsphere establishes and maintains an exact and constant environment around each loom. A precise airflow is designed to bathe each loom in a tightly controlled environment of cool, humid and clean air. Among the other products offered by Luwa Bahnson are the TAC® system, which includes air treatment, air conduction, cleaning and waste handling; and the Dust Separator III, which features reduced space requirements and ease of maintenance.Eliminating Fiber DefectsFor circular knitting, Luwa Bahnson manufactures an Air Bell system, which, according to Carr, eliminates fiber defects by as much as 50 percent. The system controls the airflow volume, condition and pattern to optimize efficiency. The distribution of air provided by the Air Bell system, Carr said, sufficiently prevents fluff from entering the bell. The air current at the feed wheel is strong enough to transport any free-flying fibers that develop. The fibers are then carried off. This method of control prevents fluff from returning to the knitting machine.In spinning, Pneumafil has developed a filtration system for Muratas Vortex spinning system, Stonestreet said, and has installed the system in several U.S. plants, including Ramtex and WestPoint Stevens. The Vortex machine requires 13 inches of static pressure at the frame. Pneumafil replaced the stock Murata fan and substituted a new material handling fan to generate necessary static pressure. As well, the company expanded and modified the housing cabinet. Vacuum SystemsAbington Inc., a division of Pneumafil, offers high-pressure vacuum systems to collect waste from every area in a plant. These systems use automatic valves at air-handling separators such as filter bags, fiber separators, condensers, fine-dust filters and cyclones.LTG Inc., Spartanburg, was at one time an integrated systems contractor, but changed its focus a few years ago to become a systems and component resource for filtration, conditioning and waste reclamation. The company now sells components directly to contractors or to mills. Among the companys offerings is the Weave Direct System for weaving mills. In this system, a diffuser is installed directly above the weaving machine and delivers the humidity in the correct dosage to those areas where it is most needed, specifically at the warp and the shedding areas. LTG and Pneumafil have signed an agreement in which Pneumafil markets and installs the complete Weave Direct System, according to Stonestreet.Industrial Air Inc., Greensboro, N.C., offers filtration systems ranging from integrated air systems to air washers; fiber and waste separators; custom HVAC systems; as well as bag, drum and roll filters.Among the newest offerings from Industrial Air is the S Series rotary drum filter. The S Series filter is constructed of perforated steel panels bolted together to form a cylindrical horizontal rotating drum. This arrangement, according to the company, allows even air distribution across the fabric filtering media. When bolted together in multiple sections, these panels form a rigid cylindrical truss member that eliminates the need for a continuous center support shaft, which facilitates maintenance. The drum is cleaned by a series of vacuum nozzles located on the outside of the cylinder, allowing convenient media inspection. Industrial Air also has introduced a new Hi-Vac sleeve receiver that has 400 percent more screen area than standard 30-inch flat screen receivers.Enviro-Air (Symtech, Spartanburg), offers a 5,000-cfm filter that uses a 40-by-60-inch intake. The filter media automatically advances as pressure differential changes. High-efficiency particulate arrestors may be added to trap particles or vapors as small as 3 microns. The Model 5000 is available floor-mounted, suspended or mobile-crane-mounted.In traveling cleaners, among the various offerings from manufacturers are the Jacobi KWE/KWK 200 and KWE 600 for spinning, winding and twisting, and the KWK 500 for weaving. Luwa Bahnson offers the Travclean II.


May 2002
Advertisement