InfoACIMIT
Restructured website offers visitors new content and services in three languages.
ACIMIT Textile World Special Report Info @ ACIMIT Restructured website offers visitors new contents and services in three languages. A CIMIT, the Italian Association of Textile Machinery Manufacturers, launched a restructured website in October 2001 that has been updated to include new graphics and content.The site www.acimit.it now features content in three languages: Italian, English and Chinese. The site not only meets the requirements of the member companies, but also the requirements of other visitors to the site, operators in the sector or otherwise who are looking for the most recent and fully updated information about the Italian textile machinery industry, the organization states. In addition to information about Italian textile machinery manufacturers, the website also includes a section for agents through which Italian agents/distributors and machinery producers can meet for the maximum convenience of each. The Agents Only section of the site has been operative since the beginning of 2002. Agents are able to register free of charge and can complete a form on-line whereby the agent will be added to the ACIMIT agent database. This will, ACIMIT said, enable the agent to come into contact with the 240 Italian textile machinery manufacturers who are members of the organization and have direct access to the database.To be included in the database, agents must fill out a form on the website and detail the range of services offered and the industry sector in which the agent operates.The ACIMIT site, then, as the agent database project demonstrates, functions as an important bridge between the Italian textile machinery sector and foreign operators, designed not only as a shop window for a leading worldwide sector, but also as a meeting point between demand and supply, states an ACIMIT release.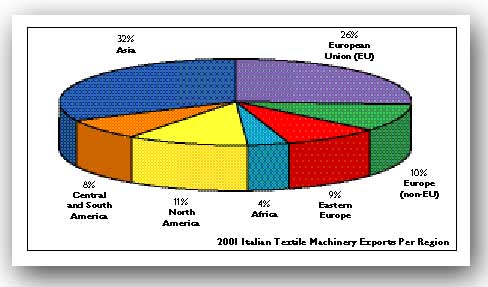 In 2001, foreign sales of Italian textile machines involved 130 countries and reached a value of 2.3 billion euros, accounting for approximately 68 percent of the industrys total sales. Asia accounted for 32 percent of foreign orders, followed by the European Union (EU) with 26 percent, North America with 11 percent, non-EU Europe with 10 percent, Eastern Europe with 9 percent, and Central and South America with 8 percent.It may be said without hesitation that Italian textile machines are now found in every country where there is some kind of textile production, ACIMIT states. The customers of the Italian textile machinery sector include both countries in which the textile sector is a leading industry and driving force for the national economy, focusing on products with a low added value and with low customization levels (countries in Southeast Asia and Eastern Europe), and countries where the textile industry, albeit a mature industry, is concentrated on products with a high added value and a considerably high level of product quality and sophistication (Western Europe, the United States and Japan).
March 2002
Advertisement