Shape Of Things To Come
Part 1 of a two-part feature focusing on the intimate apparel industry, including fiber, yarns and fabric, as well as forecasts and trends.<b>By Virginia Borland, New York Correspondent</b>
Part 1: Intimate Apparel RoundupBy Virginia S. Borland, New York Correspondent Shape Of Things To ComePart 1 of a two-part feature focusing on the intimate apparel industry, including fiber, yarns and fabric, as well as forecasts and trends. With sluggish retail apparel sales, one segment that is seeing a pickup is intimate apparel. New ways of doing business, new products and anticipation of future consumer needs have kept this industry ahead of the rest.At a recent meeting of the Intimate Apparel Council division of the American Apparel and Footwear Association, Retailing and the Recession was the topic. Featured speaker Margaret Cannella, managing director and head of North American credit research at JPMorgan Securities, said some growth is expected in the first quarter of this year.Full-priced merchants will continue to see difficult times, said Cannella. Low-cost providers will do well. Wal-Mart and JCPenney are two she cited.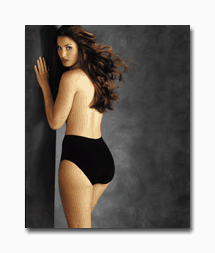 United Retail Group Inc.s Avenue retail stores recently expanded its line of seamless panties made with Nylstars Meryl Microfibre yarns .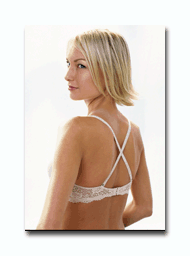 The recession in 2001 was a different kind of recession, said Cannella. The consumer didnt cut back as much coming into it, so we feel that recovery at retail will be slower.Intimate apparel is already beginning to see an upswing. New lingerie is a feel-good purchase, said Thomas Garson, president, Lovable World Trading Co. Inc. Ellen Rohde, president, Vanity Fair Intimates, agrees: Women will splurge on intimates; its a cheap thrill, she said. Intimate apparel is replenishable and almost recession-proof. Although the market was soft starting in July 2001 and retail sales were off through November, December take-out was exceptional.Another problem affecting this industry is outsourcing. Volume is going to Asia, so manufacturers have less control, said Lance T. Whitaker, vice president, sales and marketing, The Star Group, producers of narrow fabrics. The answer is more novelty, shorter runs and quicker turn time. We are retooling to accommodate the industry. If we arent responsive to our customers, we cant exist.Style is another important factor in the sale of intimate apparel. Throughout the supply chain, three words that keep springing up are comfort, fashion and newness. New fiber variants, new fabric developments and prettier, more comfortable garments are being produced. The ultimate arbiter, the consumer, is responding. FibersA major part of Mount Olive, N.J.-based BASFs nylon goes into warp knits for intimate apparel. According to Tristine Berry, merchandising manager, apparel, business has been difficult. With the loss of some of our mill customers, and shrinking retail outlets such as Kmart, there has been a shakeout. Currently, inventories are low, so we anticipate an upswing in demand.Reporting on trends from the recent Interfili lingerie show in Paris, Berry noted that lace and application treatments are strong directions. There are sequins, beading, embroideries, ruching, smocking and a lot of prints, she said. Some of the looks resemble peasant blouses of the 60s and 70s. Its new, fun and a reason to buy.According to Berry, a lot of lingerie is designed to be seen. Innerwear is outerwear, she added. Camisoles and T-shirts with built-in bras are two examples she pointed out. Its much more sophisticated than ever before.Colors are also new and more sophisticated. The range for 2003 is not as bright. It is more muted, faded and washed out. And there is a lot of white. Prints and patterns Berry mentioned are roses and hearts.Seamless and seam-free garments started with intimates and are, according to Berry, expanding into swimwear and activewear. Along with style, the machinery is becoming more sophisticated. Not only can it produce more garments faster, but it can do more.Thirty-five percent of Germany-based Bayer AGs Dorlastan® spandex fiber goes into intimate apparel. Half of the fiber is produced in the United States, half in Germany. According to Werner Nahl, global marketing and sales vice president, and Rolf Viehoever, director for marketing and sales, the combination of a sluggish economy, Far East imports and a high dollar have affected spandex sales.The only way out is to focus on high-tech manufacturing so we will be a step forward, said Nahl. To compete, we must produce better and faster, and we must look to the newest technology, such as seamless.Bayer produces dull, semi-dull and bright spandex fibers in a wide range of deniers, from 10 to 1220. For intimate apparel, the company has developed a yarn with excellent whiteness. Its a non-yellowing, high-white retention yarn, said Viehoever. Intimate apparel is no longer packed in boxes. It hangs in open displays where light can yellow garments.Nahl and Viehoever see a pickup in the economy in the second half of this year. With current low inventories, we see a demand for fiber to start the chain moving. Function, Comfort and EaseDuPonts Fashion Director for intimate apparel, Iris LeBron, said function, comfort and ease are what the consumer looks for in shapewear. Women want lighter-weight, smoother fabrics that are easy to get into and out of, she said. Flatter seams, engineered edges and different levels of support in a single garment are what is selling shapewear. With Lycra® Soft, along with our other Lycra products, we can provide light, medium and heavy support in the same garment. Another area mentioned by LeBron for Lycra Soft is in waistbands of mens underwear.Large sizes are another area DuPont has addressed. Big women want pretty, feminine lingerie, said LeBron. A lot of the same looks are being adapted for plus sizes.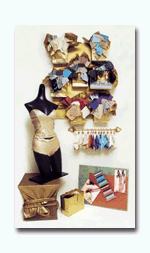 Forecasting fabric and color a year and a half ahead, LeBron shows three ranges. Upper Class is the most sophisticated. Colors are luxurious neutrals in metallic gold, copper and silver blue with pale mauve. Fabrics include gold-threaded meshes, satins lightly sprinkled with gold, textured circular knits and jacquards, lace-edged sheers, lace over nude and large-scale colorful embroideries. A variety of fabrics and garments shown are knitted or woven with Tactel® nylon and Lycra spandex. LeBrons second group, Divine Dancers, is sensuous and romantic. Colors are warm and include faded tones of berry, coral and plum plus soft lavender and lime. There are Tactel/Lycra jerseys, iridescent sheers and stretch tulles in this range. A lot have subdued shine and a liquid touch. Floral prints go from delicate to large cabbage roses. Stripes include diagonals and candy cane styles.The Fashion Surfer is LeBrons youngest look. Colors are vibrant and mixed. There are shades of poppy red, lemon, pink and magenta. A lot of prints are shown, ranging from pop art, circles and geometrics to printed denim, tie-dyes and lace. Other embellishments include burn-outs, embroideries, fringes and net over black or ecru opaque fabrics.LeBron shows a variety of underfashions for men and women, some made using seamless equipment, and some using narrow fabrics for decoration, straps and waistbands. Some of the garments have detachable lace treatments, while others are tucked, pleated or ruched. Innovation And PerformanceInnovation, performance and comfort are some of the characteristics Italy-based Nylstar uses to describe its family of Meryl® nylon yarns. For intimate apparel, Meryl Tango provides shine, giving fabrics iridescence or the look of shot silk. Meryl Spring is a cotton-like fiber that moves moisture.Meryl Souple is going into seamless. It adapts to body contours and has moisture-management and anti-static properties. Meryl Skinlife is a bacteriostatic nylon that inhibits odor. Meryl Satinffers satiny sheen to fabrics. Meryl Nexten is a hollow fiber that has insulating power, and Meryl Microfibre is fine, soft and strong.Recently, Nylstar forged a partnership with Maidenform, Bayonne, N.J. Meryl nylon is the key ingredient of Maidenforms One Fabulous Fit® collection of briefs and hi-cut briefs introduced to retail in January. According to Manette Scheininger, senior vice president of marketing for Maidenform, Our research taught us that consumers purchase decisions lie in large part on how the product feels. The collection has been developed with no side seams, and offers superior coverage and fit, regardless of size. Meryl helps the brief hug the body comfortably and gives a whole new look to the brief category.Dina Dunn, vice president of marketing for Nylstar North America, said 70 percent of all seamless production today is for intimate apparel. United Retail Group Inc.s Avenue retail stores, for one, are expanding lines of seamless panties made using Meryl yarns. Women enjoy the supple softness and comfort, as well as the cleaner look, body contouring and shaping benefits offered by seamless garments featuring our Meryl yarns, Dunn said. Temperature-Resistant SpandexIntimate apparel accounts for about 25 percent of Fall River, Mass.-based RadiciSpandex Corp.s business. There is more stability in intimates than in some other segments of the apparel industry, said Bill Girrier, vice president, marketing and sales. The North American Free Trade Agreement (NAFTA) is another area that makes economic sense, according to Girrier. Price, product quality and time to market NAFTA has a lot to offer.RadiciSpandex produces four types of spandex. Type S-5 is a soft, flat fiber popular for waist-bands. S-7 is selling for narrow fabrics. S-85 is a clear, luster fiber that is selling well for circular knits. The most versatile is Type S-17B, which has a semi-dull or bright luster. It is chlorine-resistant, provides ultraviolet protection and is going into warp knits.RadiciSpandex is broadening its product line. One new spandex variant in development, Type S-45, is compatible with polyester microdenier and will be targeted to activewear. It can withstand high temperatures of up to 265°F and has good resistance to acid and alkaline finishing treatments.We plan to continue innovating and will come out with more new products. We will stay one step ahead of our customers, so we will be ready to meet their needs, said Girrier.
Editors Note: The April issue of Textile World will contain a continuation of this feature. Part 2 will focus on fabric and apparel manufacturers for intimates.March 2002
Advertisement