Future Focus
ACIMIT targets developing markets to ensure growth in 2002.
ACIMIT Textile World Special Report Future Focus ACIMIT targets developing markets to ensure growth in 2002. T he Italian textile machinery sector, represented by the Milan-based Italian Association of Textile Machinery Producers (ACIMIT), experienced limited production and export growth in 2001. Sector trends were affected last year by economic downturns such as those in the United States and the European Union (EU), according to ACIMIT. Other important markets, such as Turkey, also were hit hard. Last year experienced only a 5-percent growth in both production and exports over 2000 levels.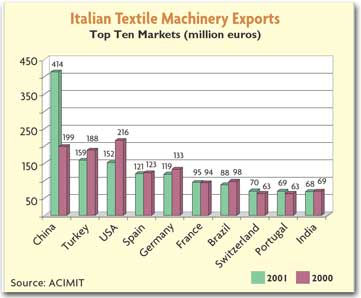 The most requested Italian textile machines in 2001 were spinning machines, which accounted for 25 percent of all textile machinery. Finishing machines represented 24 percent, and weaving machines accounted for 22 percent.The current year is showing signs of recovery, leading to expectations of more sustained growth than was seen in 2001. This could be due to the parallel recovery of international economies such as those of the United States and the EU.In an effort to ensure that 2002 is a year of growth and profit, Italian textile machinery producers are continuing to focus on Asia. ACIMIT already has launched a Chinese version of its website in an effort to aid Italian companies in reaching this important market. Other developing markets, such as Eastern Europe and Central America, also are areas of focus. The North American and other European markets also will receive attention.ACIMIT plans to collaborate in 2002 with the Italian Institute of Foreign Trade (ICE) in an effort to support internationalization activities within its member companies.Other ACIMIT initiatives for 2002 include involvement in sector trade fairs, including CITME in Beijing and Saigontex in Saigon. Technological seminars in Central America and North Africa, as well as training courses for textile operators in Italy and abroad, also will take place.
June 2002
Advertisement