Commitment To Green
At Avondale, being environmentally responsible is not only the right thing to do, it's also smart business practice.
Commitment To Green At Avondale, being environmentally responsible is not only the right thing to do, it's also smart business practice. The 1970s saw a growing awareness of the limited nature of the earths natural resources. But even before the first Earth Day celebration in 1970 brought out 20 million people nationwide to call for increased environmental protection, Avondale Mills was reducing waste at its various facilities. As well, the company was an early leader in reducing air and water emissions from its plants. Today, all Avondale plants meet or exceed the Environmental Protection Agencys (EPAs) air and water emissions standards. At Avondale, environmental stewardship is the right thing to do, but it is also smart business practice, said Craig S. Crockard, corporate vice president, Planning and Development. The company has reduced the cost of doing business as a result of its reduced environmental impact.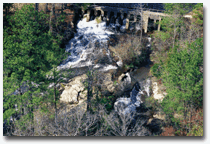 Avondale's environmental stewardship efforts include protection and preservation of the Horse Creek watershed near Graniteville, S.C. Avondale is active in the protection and preservation of the 2,000-acre Horse Creek watershed near Graniteville, S.C., the source of water used for processing in the companys computer-controlled piece-dyeing plant. It also owns and manages more than 5,000 acres of timberlands in Alabama, Georgia, North Carolina and South Carolina using Best Timber Management Practices.The company initiated waste-reduction programs in the mid-1960s and today participates in EPAs Waste Wi$e Program to reduce waste, recycle, and buy or manufacture recycled products. Avondale reclaims and recycles its own by-products; participates in recycling programs with its suppliers; and uses bulk chemicals and supplies, as well as returnable containers, to reduce packaging waste.Reclamation efforts reduce waste sent to both landfills and waste-water treatment plants. Avondale reclaims and reuses 5,000 pounds of cotton fiber daily. Cotton seedcoat fragments and nonspinnable fiber, by-products of manufacturing, are processed into cattle feed that provides more protein than hay or alfalfa. A number of waste streams have been diverted to recycling through plant initiatives or in cooperation with local governments.The use of more environmentally friendly, low-sulfide dyes and their reclamation and reuse have reduced discharges into waste-water treatment systems and also production costs. Avondale also installed one of the first caustic recovery systems in a textile mill. By capturing and distilling caustic for reuse, the systems, now installed at Eva Jane and Gregg Finishing, have dramatically reduced discharges into the waste-water stream of both caustic and the sulfuric acid used to neutralize it.In addition, Avondale was among the first textile manufacturers to install a system for the treatment of indigo-dye waste water. The Waste Water Treatment Plant (WWTP) in Sylacauga, Ala., which came on-line in 1977, eliminated virtually all odor and color and removed chemicals from waste water. A recent upgrade enhances removal of solids from treated liquid discharge. The plant has received awards from the Alabama Water Environment Association (AWEA) for Excellence in Industrial Waste Water Treatment.The company installed the first air pollution control unit in the South at one of its plants in 1974. Recently, it virtually has eliminated emissions from volatile organic compounds (VOCs) at Woodhead Plant in Graniteville by installing additional oxidizers for exhaust gases at that location.Avondale has improved energy efficiency and reduced production costs through such measures as lighting upgrades, fuel switching/boiler-equipment upgrades, restructuring of the process-water treatment system and other process improvements.
June 2002
Advertisement