Protective Flex
Seat belts made with Honeywell's Securus™ "smart response" fibers provide improved protection for a broad range of body types.
Janet Bealer Rodie, Assistant Editor
A
utomobile manufacturers have been evaluating a new seat belt fiber developed by Colonial Heights, Va.-based Honeywell Performance Fibers. The new " smart response" fiber is proving to enhance passenger safety because of its unique energy-management properties.
Securus™ is the first in a new category of polyester copolymer fibers being developed for managed-load applications. It combines polyethylene terephthalate (PET), which provides restraining properties, and polycaprolactone (PCL), which provides flexibility and cushioning.
In testing, the use of Securus fiber seat belts has reduced head and chest injuries by 20 percent on average, when compared with conventional seat belt performance. Trask added that installation of the belts is worth up to two stars in the five-star safety performance score in the New Car Assessment Program (NCAP).
How It Works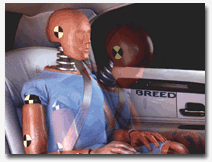 During a collision, Securus fiber seat belts protect the passenger in a three-step process: holding the passenger securely in place; elongating and cushioning the body as it absorbs the energy of its forward motion; and restraining and limiting that motion.
The seat belts cushion the entire body and respond according to the passenger's size, thereby protecting a broader range of passengers — from children to larger adults — than conventional seat belts. Energy management activates at 400 pounds of force, as opposed to the conventional 1,000 pounds of force.
When used in the front seat of a car, the belts work together with the air bags in an integrated system to prevent impact with the steering wheel, dashboard or windshield as the air bag deflates. They also are appropriate for back seat use.
Breed Technologies Inc., Lakeland, Fla., a designer and manufacturer of automotive safety systems and components, is manufacturing the new seat belts. Its Securus webbing has passed U.S. Federal Motor Vehicle Safety Standard 209 Independent Compliance and also has been certified as European-UTAC Compliant.
In addition to meeting safety performance standards, Securus complies with Society of Automotive Engineers standards for resistance to ultraviolet exposure. It also exhibits excellent dyeability and color retention, Honeywell reports.
Although the major thrust for Securus is into the automotive market, the fiber has other potential applications as well, including safety belts for child seats, safety ropes and slings. " We have the technology to tweak and modify it to meet individual customers' needs," said Trask.
---
For more information about Securus™ fiber, contact Craig Trask (804) 520-3500 or (800) 342-3787.
---
June 2002
Advertisement