AAPNetwork Honors Sourcing Managers
Flash ReportAAPNetwork Honors Sourcing ManagersThe first annual American Apparel Producers Network (AAPNetwork) Sourcing Manager Awards Reception was held on the eve of Material World in Miami Beach, Fla. Funded by Lion Brothers Co. Inc., Owings Mills, Md., and Unifi Inc., Greensboro, N.C., the event filled The Wolfsonian Museum with AAPNetwork members and guests to recognize and honor the sourcing managers, key to the success of todays apparel supply chain.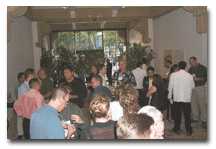 Guests gathered at The Wolfsonian Museum for the event.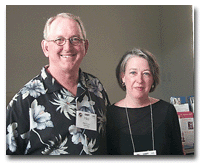 Mike Todaro (left), managing director, and Sue Strickland, executive director, AAPNetwork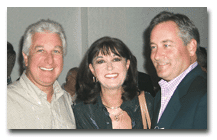 Left to right: Peter J. Hegarty, Tuscarora Yarns;Rita Hegarty; and Stewart Little, UnifiThe evening cocktail reception included remarks by Mike Todaro, AAPNetworks managing director, who set the tone of appreciation for both sponsors and sourcing managers. Stewart Little, senior vice president, customer development, Unifi, and Susan Ganz from Lion Brothers also addressed the gathering, stressing the need for communication, cooperation and commitment among suppliers, contractors and the retail community. Sue Strickland, executive director, AAPNetwork, acknowledged the role of Kim Krummell, The Timberland Co.; Tina Jackson, Carhartt Inc.; and Anne Kies, Lands End Inc., for changing the direction of the AAPNetwork to include sourcing professionals.At the AAPNetwork fall meeting, six new board members were elected, bringing the board to a full complement of 16, representing various interests in the apparel supply chain both geographically and in the goods and services provided.Sourcing Manager HonoreesMike Barberree Phillips - Van Heusen Corp.Jack ChapmanMorning SunElizabeth Daus Rawlings Sporting Goods Co. Inc.Robert Frennea Academy SportsandOutdoorsScarlett Gates Louisville Bedding Co.Mark Green LiandFungSergio Gonzalez Haggar Clothing Co.Stephen Harriman Perry EllisTina Jackson Carhartt Inc.Kimberly Keng Old NavyAnne Kies Lands End Inc.Kim Krummell The Timberland Co.Hope Kukucka Lion Brothers Co. Inc.Angus McRae Express Limited BrandsDwight MarcumCarhartt Inc.Randy Nokes Rawlings Sporting Goods Co. Inc.Brian Rawls Haggar Clothing Co.John Rusk Alternative Apparel Mark Schuback ISL Inc.Jeffery Streader VF ImagewearDan Verderese Polo Ralph LaurenSteven R. Walton Wing TaiDonna West Academy SportsandOutdoorsTom Wolfe FishmanandTobin Inc.Judy Yanez Levi StraussandCo.
December 2002
Advertisement