High Resolution
Non-fibrillating Tencel A100® for knits allows for clear, lasting color,
Janet Bealer Rodie, Assistant Editor
U nited Kingdom-based Courtaulds Fibres (now Acordis Fibers) introduced Tencel® in the early 1990s — the first new fiber to come along in more than 30 years. The fully biodegradable lyocell fiber is manufactured from cellulose dissolved from wood pulp using a non-chemical, resource- and energy-efficient closed-loop process.

Apparel made from Tencel fabrics has been well-received because the fabrics have a soft and luxurious hand, fluidity of movement and depth of color; are drapable, breathable, absorbent and comfortable; and are stronger and more durable than fabrics made from other man-made cellulosic fibers.

The soft, peachskin hand of standard Tencel fabrics is a result of the fiber's fibrillating property. Fibrillation also affects the way light is reflected on the fabric surface, contributing to a perception that the colors are somewhat grayed.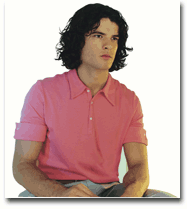 Tencel A100 is being used in men's and women's knit sportswear such as Spain-based Armand Basi's sport shirt.
A New Alternative
About two years ago, Acordis introduced non-fibrillating Tencel® A100 primarily for use in knitwear and jersey. Tencel A100 retains the original fiber's fluidity, drape, softness and luster, but the fibrillation-free fabric surface — achieved by applying a chemical treatment — feels silky and allows for clear, deeper, lasting color; clear stitch definition in knitted garments; three-dimensional effects in both knits and wovens; and clear print definition. In addition, fabrics made with Tencel A100 do not require specialized dyeing and finishing equipment.
A100 exhibits high burst strength in knits and twice the tear strength of cotton in woven fabrics. Greater uptake of dye into the fibers than occurs with cotton or modal yields deeper color from the same concentration of dyestuff and considerably lower cost to achieve equal color intensity.
June Lauck, marketing communications manager, noted that a perfect black can be achieved, and colors do not fade, even after as many as 30 washings. "Tencel A100 is good for men's golf shirts because of its color retention and stability," said Lauck. She also mentioned blends with cotton and with alpaca.

Ge-Ray Fabrics Inc., Morganville, N.J., uses Tencel A100 in its Lustar Collection® of circular-knit fabrics for men's and women's apparel. A sheer 100-percent Tencel fabric popular for women's tops and swimwear coverups is very soft and virtually weightless, reports Debra Cobb, Ge-Ray's merchandising director. A jersey for women's fashion tops also contains Lycra®. Ponte di Roma used in women's skirts, pants and jackets contains a blend of Tencel, nylon and Lycra. Other fabrics include rib knits and piqués.
---
For more information about Tencel A100, contact June Lauck (212) 944-7400.
---
April 2002
Advertisement