Full Steam Ahead
Avondale shows leadership at its profitable Horse Creek Plant.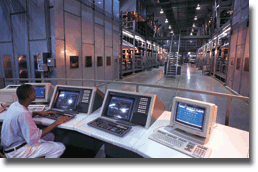 Full Steam Ahead
Avondale shows leadership in thinking, production at its profitable Horse Creek Plant
There are some in the business world who think the only way to have a successful textile business in the Western Hemisphere is to move manufacturing capacity off-shore or to Latin American countries. Mill closings, layoffs and scary profit/loss statements might even confirm that hypothesis. But precisely because of these dark clouds, it is encouraging to visit successful U.S. textile producers that seem not to be shaken nor stirred by the storm of foreign competition that threatens the profit picture of even the hardiest of companies. Monroe, Ga.-based Avondale Mills Inc. is well afloat and has taken a steady course. It pushes full speed ahead through the storm, despite pounding waves.Avondales management seems to think a little differently about the U.S. textile-manufacturing market. Craig S. Crockard, corporate vice president, planning and development, said Avondale believes the United States is still a great place to manufacture textiles, especially when the latest technology is employed. Producing textiles at a very quick turn-around, of very good quality and at low cost are the key factors in Avondales corporate strategy. Its driving philosophy is to differentiate itself from competitors in terms of these factors. Crockard said, Often times, and usually, [product] quality and low [production] cost go hand in hand. We believe in the long-term viability of the American textile business. We have committed for a long-term strategy and have proven that by continuous investment in the company. Avondale sells to all major jeans manufacturers and also delivers denim for other applications, such as jackets, baseball caps, luggage fabric, seat covers and other markets.During
TI
s recent visit to Avondales Horse Creek Plant in Graniteville, S.C., Crockard stated that Avondale has no manufacturing facilities outside the United States and has no plans for any. He acknowledged that Avondale had once looked into this option, but it concluded there are no long-term benefits for the company. Avondale weighed all advantages and disadvantages of manufacturing textiles abroad with the advantages of a well-laid-out, modern, committed and streamlined manufacturing facility in the United States. Crockard said some problems that surface in manufacturing outside of the United States just dont exist inside the country. For example, many manufacturers dont realize how spoiled U.S. companies are by the infrastructure (e.g. water, power, shipping) until they encounter the everyday problems in other countries. Competitive Edge Through Latest TechnologyOver the years Avondale has continuously invested in new machinery and consolidated manufacturing. All operations in South Carolina have been upgraded and expanded, and some of them may now be able to boast themselves as being the largest plant in the world in its area. Currently, the company has a plan for a $150-million modernization program that will be implemented in the upcoming months. There is a major shift of focus from ring spinning to link spinning. For example, Avondale is installing Zinser and Marzoli link-spinning systems. It has also purchased several of Savios award-winning Orion winding machines. The Savio winders produce high-quality packages for Avondales applications. With respect to infrastructure investment, Avondale just finished a 260,000 square-foot distribution facility close to its Graniteville plants to handle greige cotton and finished goods. Nevertheless, most of the project money is invested exclusively in new machinery. Horse Creek Denim PlantIn 1996, Avondale purchased the Graniteville textile assets from the Graniteville Co. This plant represents a consolidation of Granitevilles weaving from many different plants, and it offered additional production capacity for Avondale. At the time Avondale purchased the plant, there were already two indigo warp-dyeing ranges and a series of warp-beaming machines installed. Avondale decided to add a state-of-the-art weaving facility to make it an efficient denim production plant. The addition provided a significant capacity of slashing and weaving and makes it one of the most impressive denim plants in the world. Almost all of the production is made from 100-percent cotton. Less than 2 percent includes polyester/cotton yarns.The installation of the new machinery was completed in 1998. More than 400 associates work at the Horse Creek plant, which now runs at full production capacity on a 4-shift cycle. The plant has received the Safety Performance Recognition Award for zero lost-time accidents this past year. Internal communication at the plant is considered extremely important, and this attitude reflects the success of Avondales production flow in all of its plants. A Walk Through The PlantIn the dye house, two computer-controlled, fully networked Morrison indigo dye ranges run at full capacity. All adjustments and monitoring can be done from a central control station that even allows automatic formulation and preparation of dye mixes. From the dye house, the warp material is taken to be re-beamed, which is the most labor-intensive process in this facility. The plant uses 18 beaming machines from three different vendors, the latest of which were purchased from McCoy-Ellison. Next in the production preparation stage are four West Point computer-controlled slashers. This is the most important preparation stage for the high-speed weaving that follows.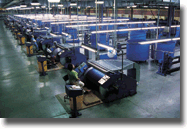 The highlight of this plant is the installation of 240 220-centimeter (cm) Picanol Omni air-jet weaving machines. They run day in and day out at 800 picks per minute (ppm). Lynn Camp, plant manager, said, This is probably, right now, the fastest denim plant I know of. Although the machines are equipped with 1,100-millimeter (mm) warp beams, at this speed and fabric construction, warp or style changes for each machine come up on average every two and one-half days. The Omnis Quick Style Change (QSC) system is a feature of all of the plants Omnis. Camp said an actual style change now takes only about two hours, compared to at least 12 hours on older machines. Machine speed and QSC were important factors in the selection of the weaving machinery. The Omnis feature on-loom inspection and off-loom take-ups provided by Alexander Machinery Inc. (Alexco). This equipment is important in helping to control quality and boost efficiency. The weave room is monitored by Avondales integrated control system, which allows retrieval of all important production data and history of each individual machine. No Indigo BluesThis denim operation was clean at every production stage. With a smile on his face, Camp mentioned, This is how it looks every day. In the weave room, the overhead cleaners, the under-loom return air ducts and the central air-conditioning system supplied by Luwa Bahnson/Parks Cramer keep machinery and rooms almost spotlessly clean. Every department presented itself very nicely, not an easy task for a plant that processes cotton and denim, for which it is especially difficult to keep the blue under control. With a clean house, a sound strategy and ultra-modern equipment, it appears there is no direction for Avondale to take other than full speed ahead.


May 2001
Advertisement