Fabric Ireland
New flavors spice Irish designs.
Virginia S. Borland, New York Correspondent
Spotlight On IrelandBy Virginia S. Borland, New York Correspondent Fabric Ireland New flavors spice Irish designs. Fabric Ireland was launched in March 2000 as a shared commitment to supporting business initiatives in Northern Ireland and the Republic of Ireland. It was the intent to develop innovative textile products and market them to the world.Linda MacHugh, project manager of the Fabric Ireland initiative, said, The fashion market is truly global, immensely competitive and relentless in demanding technically advanced fabrics. This market is inherently important to Ireland, both north and south, and we have the skill and experience to deliver inspirational fabrics.In less than a year, the results of this initiative are beginning to unfold. We started with product, MacHugh said. Before the initiative, there was a perception that Irish fabrics were of high quality, sturdy, and lacking in newness or fashion. That is changing. Were keeping the tradition, but giving it a modern feel.MacHugh pointed out that the industry, famous for its linens and tweeds, carries out 70 percent of its annual production in five months. One of our goals is to help [the mills] extend their selling season. Were putting emphasis on blends, texture, finishing and lightness. Magee WeavingLocated in Donegal, Magee Weaving Ltd. represents the best of Ireland. The company was founded in 1866 as a retail store, selling Donegal tweeds that were handwoven by crofters. It was not until the early 1970s, with the purchase of Somet looms, that Magee became a manufacturing company.Today, Magee is still a family- owned business, with the third generation in control. Along with Somet looms, there are 12 Dornier high-speed looms in place, and more are being ordered. Although Magee is completely computerized and has a modern facility and equipment, hand- woven fabrics are still a part of its business.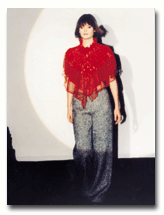 Irish designer Sharon Wauchobs Autumn/Winter 2001 collection includes slacks made from Magee Irish tweed from the Fabric Ireland range. Magee purchases yarns from the United Kingdom, France, Italy and a specialized local spinner in Donegal. The company has its own modern finishing plant, where new treatments and techniques are developed.Magees business was up 30 percent in 2000. There is a demand for our type of goods, said Stephen McCormack, managing director. We have a niche market we will survive.Five years ago, menswear was Magees main focus. Today, 75 percent of its fabrics are sold to the womens apparel trade, and 80 percent are exported. Italy is a major customer Max Mara is a name mentioned. In the United States, Tommy Hilfiger, Ralph Lauren, Calvin Klein and Brooks Brothers are some of the companys customers.The focus of Magees business is traditional Donegal tweeds, woven of lambs wool and luxury fibers. There are mohair checks and soft, lightweight fabrics woven of alpaca and cashmere. The difference, McCormack explained, is that our traditional Donegals have a rustic look, but not a rustic handle. They are soft, lightweight and woven in wide widths. We are constantly looking at new technologies and developments. Stretch is one feature he mentioned.To supplement wool tweeds, Magee is enlarging its resort, spring and summer collections with an assist from the Fabric Ireland initiative. Heavy cottons, silks and an expanded range and variety of linens are in production. Magee is represented in the United States by Windsor Textile Corp., New York City. PorterhouseVertical woolen weaver Porterhouse Ltd., located in Drogheda, County Louth, is developing new blends and twists, as well as using air-jet techniques and wet finishes to give fabrics a softer hand and more drape. Along with fabrics, the company produces garments and accessories.Some of the companys new fabrics are loosely woven using thick sweater yarns. The effect is bulky and light. Chunky boucles are woven in a variety of weights. Yarns are merino wools and blends with acrylics, nylon or rayon. A lot of the line is geared to outerwear. Most of the yarn is purchased from Italy and the United Kingdom.A highlight of the new collection is a backed boucle, which has a woven-in lining and is available in a variety of colorways. There are basket weaves and Celtic designs in 100-percent merino wool.Porterhouse works with private-label retailing to produce apparel with a country casual look. Saks Fifth Avenue, Macys, Bloomingdales, J. L. Hudson and L. L. Bean are some of its customers.Garments are cut on recently acquired Gerber machines. With Irelands strong economy, one of the problems we are facing is finding qualified workers, said Mark Doolan, product manager. The Gerber Cutter eliminates the need for skilled cutters.In addition to apparel, Porterhouse weaves flame-resistant fabrics for aircraft seating. Because our business has been so geared to the winter, production drops about 20 percent during off seasons, Doolan said. With the help of the Fabric Ireland initiative we are just starting to design ranges for spring and summer. John HanlyandCo.Located on the banks of the Nenagh River in Tipperary, John HanlyandCo. Ltd. was established in 1893. The company is still family-owned and managed. More than 75 percent of the line is exported to the European Union, Japan and the United States.Known for its Irish tweeds woven of Shetland wool, lambs wool and cashmere, John Hanly produces fabrics having a soft, milled finish and a luxurious touch. Check and plain coordinates and Donegals are current best sellers. Weights range from 350 to 400 grams per square meter (g/m2). Current season highlights include 380-weight Donegals with a textural surface finish.Director Brian Hanly said that color is currently selling. There is no shade focus. Heathers are of interest and misted tweeds are popular.Jones New York, Ralph Lauren, Ellen Tracy, Lands End and Nordstrom are some of John Hanlys U.S. customers. The company is represented in New York City by St. Andrews. John McNuttAlthough the firm John McNutt has only been in business for 10 years, McNutt is not a newcomer to Irish textiles. Before forming his own company, he was of the third generation operating family-owned McNutt Weaving.Located in Downings, County Donegal, John McNutt is known for classic variations and flamboyant patterns woven of twisted yarns in unique fiber blends and mixes. There are 12 Somet looms at the Downings factory. More than 90 percent of the line is exported. Japan is a major market, along with the European Union and the United States.The bulk of John McNutts line is custom-woven. The line includes fabrics woven of lambs wool and blends with nylon, viscose, angora and silk for the winter range, and of linen in a variety of weights for the summer line.Colors, textures and patterns are based on traditional Irish designs, but with a contemporary flair. I am recreating the classics, so fabrics are recognizable, but novel and new. There is a surprise element, said McNutt. Quality and attention to finishing are important. Today, more people are aware of how a fabric feels, he continued. They want a luxurious touch, and they have a greater sensitivity to quality.Future developments McNutt mentioned are crease-resistant linens and stretch. Todays consumer is in love with Lycra®, he said. I think it is relevant, but it is in so many things that it is no longer unusual. Ulster WeaversBelfast-based Ulster Weavers is world renowned for fine Irish linen. The companys annual turnover is 16 million pounds (about $27 million). Its factories in Belfast and Armagh are equipped with high-speed Dornier 260 rapier looms, including 38 looms in Belfast and 35 at the Armagh facility. There is a separate finishing plant in Castlewellan.Bleached linen yarns are purchased from Herdmans Spinning Mills of Ireland and Gruppo Lineapiu of Italy. Dyeing is done outside the mill. In addition to 100-percent linen, Ulster Weavers runs blends of linen with silk, cotton, viscose or Lycra.Linen fabrics are woven in a variety of weights and textures, ranging from sheer blouse fabrics to gutsy bottom weights. There is also a range for the home. There are calendered finishes, stain- and water-resistant Teflon®-coated fabrics, and soft finishes. Some are washable.In 1999, Ulster Weavers introduced its first trans-season range of apparel fabrics. A large part of the line is woven of linen/wool blends. Donegal effects in a linen/viscose/wool/nylon blend; soft, bulky fabrics; brushed surfaces; and coated treatments are part of this collection. MoygashelMoygashel Mills, located in County Tyrone, Northern Ireland, was established in 1795 as a weaver of fine linen cloth. In the late 1940s, the company was purchased by Courtaulds, and in the early 1990s, it became part of the Lamont Holding Co.About 30 percent of the Moygashel line goes into products for the home. An equal amount is sold for contract and medical end-uses. The remaining 40 percent goes into apparel, with menswear and womenswear sharing equally in sales.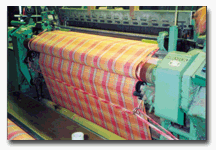 In the 1970s, a new factory was built. It is equipped with high-speed warpers and 49 Dornier high-speed and double-weaving machines. All of the machines are working at capacity, overtime and weekends. Moygashel has a finishing plant in Ballievey, which recently installed state-of-the-art equipment at a cost of 4.5 million pounds (about $7.65 million).CAD equipment is used for fabric styling, and hand looms are used for development work. Current best sellers are a 100-percent linen sateen with a retro look and stretch fabrics with a pique effect in linen/cotton/Lycra.In Fall 1999, Moygashel introduced its first fall line, working in collaboration with John McNutt. A range of linen/cotton blends includes shirtings and emerized goods in weights of 200 to 245 g/m2. Linen/viscose/Lycra blends in twill and herringbone weaves have a soft drape. These fabrics are going into jeanswear.A large portion of Moygashels fall line contains wool, frequently blended with linen. Linen gives wool strength, wool gives linen drape, said Stephen Brown, managing director.Moygashels wool line includes flannels of wool and nylon, tweeds in blends of 69-percent wool/16-percent nylon/15-percent viscose, a felted quality of 75-percent wool/25-percent nylon, and a double cloth with linen reversing to wool. Our customers tell us the wool line has an Italian look at a lower price, said Brown.Other new developments in progress at Moygashel are open patterns created using Chimere dissolvable yarn, cashmere blends, waterproof treatments and pleating. John EnglandConverter John England is world-renowned for creativity. We never run out of ideas, said Director John England. We have to be there ahead of the market, before others get into it. In apparel, John Englands niche market is high fashion. He sells to designers who are looking for quality and innovation and for whom price is no object.When John England started his business in 1964, most of his linen fabrics were sold to the home furnishings market for curtains and wall coverings. With a demand for high-styled linen fabrics from French fashion designers, the company began creating fabrics for haute-couture fashion.Today, the apparel line claims the largest share of business. After 30 years, were returning to our roots and again beginning to style a line for the home, said England. It is selling very well in Italy, the Scandinavian countries and England. In the United States, it is available through New York City-based Lee Joffa.Many of John Englands fabrics are woven by Ulster Weavers. John England provides finishing treatments. One fabric may get five different finishing treatments, said England. For winter, England has developed a heavy resin-finished fabric that is bonded to DuPonts Coolmax®. The same fabric is available with a cotton backing, at 5 pounds less.Linen/wool blends developed by John England for fall are woven of thick, textured yarns. There are open weaves, crinkled surfaces, heavily brushed fabrics, laser-cut patterns, yarn-dyed stripes and checks, sparkle finishes, and water-repellent fabrics. Linen/Lycra In March 2001 at Premiere Vision, a new linen/Lycra program was introduced. Several Irish linen companies, including William Ross Spinners, Ulster Weavers and Moygashel, have been working in conjunction with DuPont and the Industrial Development Board for Northern Ireland to develop an Irish linen/Lycra fabric.Because linen and Lycra are both dominant fibers, the combination has presented problems with performance and recovery. Through technological innovation, the performance capability of this new stretch linen is now similar to that of cotton/Lycra or wool/Lycra.The commercial potential for this fabric is immense. Uses for it have extended beyond the initial scope of a fashion fabric to furnishings and even pharmaceutical or medical products.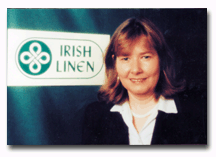 Linda MacHugh, project manager of the Fabric Ireland initiative, says although the fabric industry in Ireland is changing, it will retain traditions.
March 2001
Advertisement