Consumer Spending Surge Quells Recession Fears
2000 economic growth best since 1984
Dr. Constantine G. Soras, Economics Editor
T
he U.S. economy ended 2000 in low gear. Real gross domestic product (GDP) grew at a 1.4-percent annual rate in the fourth quarter, following a 2.2-percent third-quarter gain. Consumer spending, nonresidential investment in structures and government spending kept the economy going, with fourth-quarter increases of 2.9 percent, 9.3 percent and 4.6 percent respectively. After rising at double-digit rates for more than seven years, investment in equipment and software declined 4.7 percent in the fourth quarter. A slowing inventory accumulation reduced GDP growth by 0.2 percent. Weaker foreign demand for U.S. goods and services resulted in a fourth-quarter decline in exports of 4.3 percent.
The fourth-quarter price index for domestic purchases rose 1.9 percent.
For the year, the economy grew 5.0 percent, following strong gains of 4.2 percent in 1999 and 4.4 percent in 1998 and 1997. Last year's growth, the best since 1984, was fueled by growth in consumer spending, fixed investment and exports. However, despite the boom of the last four years, the GDP price deflator rose only 2.1 percent in 2000.
The latest economic data indicate the U.S. economy is still growing despite continued declines in manufacturing output.
Nonfarm payrolls grew by 268,000 jobs, including 85,000 new construction jobs. However, factories continued to reduce employment, slashing payrolls in January by 65,000 jobs, and the nation's civilian jobless rate rose to 4.2 percent in January, up from 4.0 percent the previous month.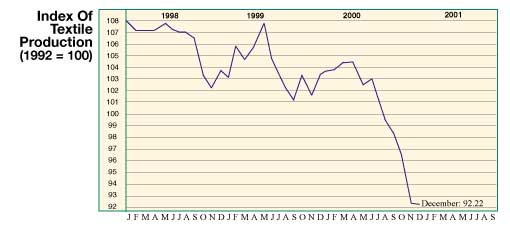 Housing Starts Highest Since April 2000
he Producer Price Index for finished goods shot up 1.1 percent in January, the largest increase since September 1990, as energy prices soared 3.8 percent in January. The core index, which excludes food and energy prices, jumped 0.7 percent, largely due to price increases for cigarettes and passenger cars.
The Federal Reserve reduced short-term interest rates by another 0.5 percent at the end of January, and is likely to reduce them further to prop up economic activity.
Industrial production declined 0.3 percent in January, down for the fourth consecutive month. Factory output slipped 0.1 percent and utility output plunged 6.0 percent as temperatures moved up to seasonal norms. Output of motor vehicles and parts took a 6.6 percent nose dive after plunging 5.5 percent in December. Excluding autos and parts, factory output was up a healthy 0.3 percent.
The overall industry operating rate fell to 80.2 percent from 80.7 percent in December.
January housing starts rose 5.3 percent at an annual rate to 1.651 million units and were at the highest level since April 2000.
Businesses responding to a slowdown in the economy curtailed inventory investment to a 0.1 percent gain in December. Business sales matched the inventory growth, leaving the inventory-to-sales ratio unchanged at 1.36 in December.
Prices Up For Processed Yarns, Greige Fabrics Despite Lower Capacity Utilization
esults for textiles and apparel were mixed. Textile output fell 0.9 percent in January after rising 1.3 percent in December, and the operating rate dropped to 76.1 percent of capacity from 76.6 percent in December.
Shipments by textile manufacturers rose 0.2 percent in December after falling 1.6 percent in November. Inventories dropped 0.4 percent, resulting in an inventory-to-sales ratio of 1.69 in December, down from 1.71 in November. For all of 2000, textile shipments declined 2.1 percent to $76.7 billion.
The industry's payrolls declined 1.0 percent in January. The jobless rate for textile mill workers edged down to 4.7 percent from 4.8 percent in December.
A surge in consumer spending of 0.7 percent in January offers assurance that the U.S. economy is not heading for a recession. January's growth was widespread. Sales at automotive dealers rose 0.6 percent. Other retail sales soared 0.8 percent after being flat in December. General merchandise stores rang up a 0.7 percent gain. Apparel and accessory sales were up 0.9 percent.
Producer prices of textiles and apparel declined 0.2 percent in January. Prices declined 1.2 percent for synthetic fibers, 1.0 percent for carpets and 0.8 percent for finished fabrics. Prices rose 0.6 percent for processed yarns and threads, 0.2 percent for home furnishings and 0.3 percent for greige fabrics.

March 2001
Related Files:
/orphan_pdf/BFMarch01.pdf
Advertisement