Take The Heat
Specialized composite yarns from Ferlam Technologies replace asbestos in textiles used for handling hot glass.
Janet Bealer Rodie, Assistant Editor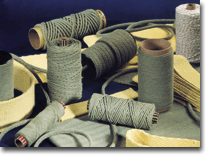 F
erlam Technologies, based in France, has been a player in the technical fibers and textiles market for more than 50 years, processing mineral fibers and other technical fibers for use in traditional products. With the recent saturation of the market for these established products, the company, a subsidiary of France-based Achille Bayart & Cie., has moved into the niche sector of the market. Ferlam is now developing and producing specialized products that use composite technical yarns, which it markets globally.
"When you are in a niche market, you need to go global," said Xavier Decant, CEO, Ferlam Technologies. "Domestic markets are too small for such specific products."
The company produces customized yarns for a number of applications including thermal protection and insulation, conveyance of hot items and industrial or automobile friction. In these applications, they are used to replace asbestos.
The yarns are spun using carded or worsted woolen methods or using Fehrer's Dref technology. Materials used include mineral fibers; acrylics, aramids and other organic fibers; and stainless steel fibers. They may be core-spun with such wire reinforcements as copper, brass, stainless steel or nickel chrome as the core. Special finishing treatments can also be incorporated as required for specific applications.
Safety And Durability For Hot Glass Handling
Ferlam has produced a line of textiles for use in the glass industry. The line includes fabrics, cords, tapes, ropes and braids made from composite yarns of aramid fibers or aramid/stainless steel staple fiber blends. Richard Finn, Specialty Material Marketing, Bedford, N.H., who represents Ferlam in the United States, said the ropes and cords, used mainly in spot-contact situations, leave no marks on the glass. Conveyor belts are 4-ply, 1/4-inch thick, densely woven fabrics. These products have proven to be safe alternatives to asbestos for the handling of hot glass in the forming areas of a plant. They can be used at temperatures ranging from 250°C to 800°C, and they last six times as long as products containing asbestos.
Ferlam is currently in the process of obtaining ISO 9002 certification for its manufacturing facility.
---
For more information about Ferlam Technologies, contact Richard Finn, Specialty Material Marketing, (603) 472-6915, e-mail: smmrjf@aol.com.
---
June 2001
Advertisement