30 Years Of Big Ideas
From fiber to 3-D, nonwovens technologies make advances.
Richard G. Mansfield, Technical Editor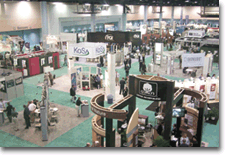 30 Years Of Big Ideas
From fiber to 3-D, nonwovens technologies make advances
The writer is fortunate to have been able to attend the Association for the Nonwoven Fabrics Industrys (INDA) first IDEA show, held in Philadelphia in 1971, and most of the IDEA shows since then. Much of the nonwoven technology 30 years ago was based primarily on modified textile technology, with textile opening and carding systems constituting the major web formation methods. The exception was the Rando-Web machine, which early on found its way into the nonwovens industry, and which still survives in an improved version. The major binders used for nonwovens were based mainly on Sbr and acrylic latexes. Latex suppliers were in a rapid growth mode. Rayon was the key fiber for dry-laid nonwoven fabrics. Many nonwoven products used waste fibers and were sold as low-cost disposable replacements for textile products. Diaper coverstock was primarily a rayon-based nonwoven. Applications for polyester staple fiber-based nonwovens were limited by relatively high fiber prices. Wet-laid nonwovens were broadening their base to include disposable consumer applications. Nonwovens Truly A Hybrid IndustryIDEA01 had an estimated attendance of almost 7,000, almost four times that of IDEA71. There were also nearly five times as many exhibitors at this years show, compared with the first IDEA show.An analysis of the materials, processes and end-use products discussed and shown at IDEA01 reinforces the hybrid nature of the nonwovens industry.Paper processes and polymer extrusion technology have become important contributors to nonwovens. The electronics industrys development of the microprocessor and the subsequent development of affordable, high-speed computing are also contributing to the growing sophistication of nonwoven processes and products. Nonwovens technologists now must be able to understand and appreciate how other materials and technologies can be integrated into their existing and future processes and products.Major Trends In The Nonwovens Industry Nonwovens is truly an international business. Imports of both roll goods, and finished products of nonwovens into the United States will increase. Major nonwoven production systems are relatively free of restrictive patents and increase the availability of complete turnkey systems from multiple suppliers. Nonwovens continue to grow in acceptance as basic materials for a wide range of industries, including filtration, geotextiles, building construction, medical packaging, protective clothing, and household and industrial cleaning devices and systems. Competition between coverstock producers of both carded/thermalbond and spunbond/meltblown producers continues to be keen and will become more intense, with several new entrants into spunbonded and spunbonded composite production. Bicomponent systems for staple fiber and spunbond systems are growing in importance. Surface-modification technologies, both on fibers and on fabrics, are rapidly developing. Charlotte, N.C.-based Wellman Inc.s, Sensura® polyester fibers are surface-modified to confer hydrophilic properties, and Crane Nonwovens Scimat® UV grafting technology confers hydrophilic properties on polyolefin nonwovens. Hybrid nonwoven products are gaining in importance. Included are combinations of both different nonwoven processes and different nonwoven structures. AlliancesAlliances and acquisitions are continuing to grow in importance among the equipment suppliers to the nonwovens industry. Nordson, Westlake, Ohio, is bringing recently acquired JM Laboratories, Dawsonville, Ga., into the corporate fold and changing the name to that of a Nordson Division. Germany-based Reifenher is now working with the R and D department of Melbourne, Fla.-based Hills Inc. to incorporate Hills bicomponent technology into its spunbond systems. Kobelco (Kobe Steel Ltd.), Japan, in addition to supplying spunbond lines, now offers lines with melt-blowing capability as a result of its alliance with Accurate Products Co., Hillside, N.J.Branson Ultrasonics Corp., Danbury, Conn., and Chase MachineandEngineering, West Warwick, R.I., have jointly developed a unit to convert flat nonwovens into a tube-type structure utilizing ultrasonic bonding.In addition to acquiring the assets of Morrison Berkshire, North Adams, Mass., Austria-based Fehrer AG has also formed a strategic cooperation with France-based Schlumberger Group companies Thibeau and Asselin for the marketing of complete papermaker felt lines.Fehrer has also formed a partnership with Belgium-based Octir, a producer of cards and crosslappers, and also with United Kingdom-based Tatham to create a new line at the Tatham demonstration facility in Rochdale.Adding A Third Dimension To NonwovensGermany-based Versacore Industrial Corp.s ThermoStack unit can produce 3-D structures, or honeycomb blocks, with a core thickness of up to 100 millimeters (mm) and a width of 1250 mm from rolls of nonwovens, film and other roll materials. Because relatively narrow rolls of material can be used in the unit, edge trim from some processes can be used. By varying the cell modules, a variety of different cell sizes can be produced. The unit contains a heat-setting system to set the thermoplastic materials.Potential applications for products made on the ThermoStack unit include packaging, automotive components, panels, soil stabilization filtration and flooring.Georgia Textile Machinery Inc. Dalton, Ga., has developed its StrUTO
®
system for making vertically lapped 3-D nonwovens, which may have the potential of replacing polyurethane foam in cushioning and related applications.The StrUTO system uses a properly mixed blend of basic and bonding fibers that are processed in a card. The carded web is formed into a batt using a vertical lapper, then placed onto a conveyor belt and passed through a through-air bonding chamber and into a cooling chamber.The StrUTO system can be designed to produce material as wide as 2.5 meters (m) using a wide range of basic fiber types and a range of thermalbonding fibers.MaterialsFibers are key raw materials for many types of nonwovens, as evidenced by the number of fiber producers exhibiting at this show. In the late 1940s and early 1950s, cellulosic-based fibers such as rayon and cotton and cotton waste were the major raw materials for nonwovens.Starting in the early 1950s, nylon and nylon waste fibers found more use for interlinings and uses where stronger, more abrasion-resistant products were needed. In the 1960s, polyester fibers became more important for nonwovens. Polyester fiberfill soon became a major material for highloft nonwovens for apparel, home furnishings and recreational products. For a short time, polyester staple fiber also replaced rayon staple fiber for disposable diapers.In the 1970s, the increasing production and improving technology for polypropylene resins and fibers provided favorably priced materials for nonwovens. The growth of polypropylene in nonwovens accelerated as coverstock for disposable diapers and for geotextile, filtration and other applications. Fiber Producers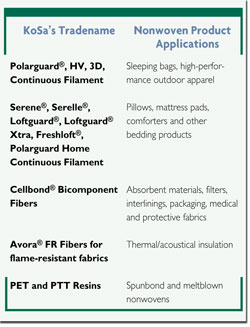 KoSa, Charlotte, N.C., was emphasizing its specialty fibers, including an extensive line of products for fiberfill and other nonwoven products
(See table at right).
Wilmington, Del.-based DuPont provided information about its Dacron
®
polyester, Kevlar
®
aramid and Lycra
®
XA fibers for nonwovens. Most of its space was devoted to its nonwoven products: Sontara
®
hydroentangled nonwovens are a family of products produced for specific industry applications. These include Sontara, Sontara FS, Sontara AC and Sontara ERC. Tyvek
®
spunbonded high-density polyethylene combines some of the properties of cloth, film and paper. Major uses include house wrap, envelopes, disposable protective industrial garments, medical and industrial packaging and filtration/separation for submicroscopic particles. Cambrelle
®
is produced from bicomponent fibers for use in shoe linings. Zemdrain
®
is a composite nonwoven used for lining cement forms. It allows the controlled evacuation of water and air while retaining cement particles, resulting in concrete with better physical properties. Hytrel
®
is a thermoplastic polyester elastomer that can be applied in microporous film form to Sontara spunlaced fabric to produce breathable, more comfortable protective garments.Tencel Inc., Axis, Ala., produces Tencel
®
at its plant in Mobile, Ala. The company provided marketing information on the fiber and displayed end products produced from Tencel fibers.Tencel, made from regenerated cellulose, can be processed by the following nonwoven systems: hydroentangling; dry-laid, latex bonding; dry-laid blended with thermalbonding fibers or powders; wet-laid; and papermaking.Major nonwoven applications for Tencel include wipes, filtration, medical gauze and swabs.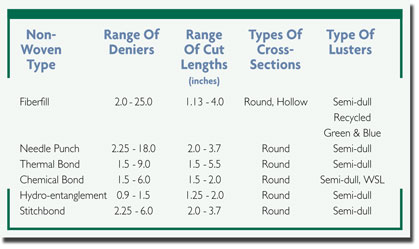 Wellman Inc. provides a wide range of its Fortrel
®
polyester staple fibers targeted at six specific segments of the nonwovens industry: fiberfill, needlepunch, thermal bond, chemical bond, hydroentanglement, and stitchbond. Wellman also sells Ecospun® staple fibers made from recycled polyester materials and a special line of polyester antimicrobial fibers sold under the Baettshield® name.Table 2
(above)
shows a summary of the range of deniers and staple lengths that Wellman provides in each of its targeted nonwoven segments.Lenzing Fibers Corp., Charlotte, N.C., emphasized its specialty viscose rayon products, including 1.1-denier Modal Micro fiber and Modal Sun fiber, which incorporates a built-in UV blocker to protect against sun radiation.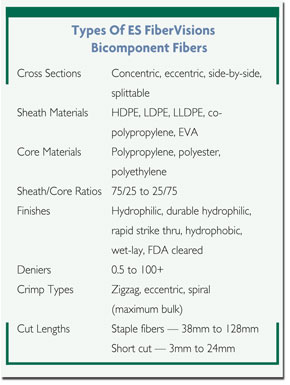 Types of bicomponent fibers available from ES FiberVisions, Denmark, are shown in Table 3
(at right)
. Applications include: coverstock for diapers and sanitary napkins; filters; surgical bandages; wipes; wet tissues; and packaging.Cotton Incorporated, Cary, N.C., is researching and promoting cotton and cotton-blended nonwovens for single use or limited use in absorbent products, consumer personal-care products and medical products. The ABSORBLEND Cotton Seal is now available for use in marketing nonwoven products that contain at least 60% cotton and/or cotton linters in the absorbent core.
Processes And Equipment
Autefa Automation Group, Germany, designs and installs fully automatic handling and storage systems for fiber bales and finished nonwoven products, and works closely with Dilo in designing complete needlepunch nonwoven systems.Autefa also manufactures crosslappers for making nonwovens and textile products. Autefa TOPLINER crosslappers layering belts have low surface weight and low surface friction, and are chemically resistant and highly conductive to reduce static electricity problems. The entire layering width of the web is covered by the belts and is protected against air turbulence from the fast-moving carriage. When bonding the nonwoven fabric, a draft of the web in the machine direction is necessary. This drafting causes more shrinkage on the edge of the web than in the center. Using the patented Autefa profile control, more fibers are tapped in the central area of the fabric and less on the edges to counter this effect.American Truetzschler Inc., Charlotte, N.C., specializes in fiber-preparation systems for nonwovens manufacturing. Its automatic bale openers Blendomat BDT 019 and BDT 020 have production capabilities of up to 1500 kilograms per hour (kg/hr), and can use up to three bale groups at the same time and up to 180 bales in the feed. The company can also supply small openers for processing sample and small production lots.Truetzschlers tuft-blending installations feature direct weight measuring in order to maintain exact blending ratios. Up to six components can be blended in one operation. Computerized storage of the processing setup simplifies changeovers and future reproducibility.The tuft feeder features web profile control for both the machine direction and the cross machine direction.The companys opening and blending systems can be coupled with the following variants: Roller Card; Aerodynamic Web Laying Machine; Needle Loom; and Thermobonding Oven.Temafa GmbH, Germany, offers a complete line of preparatory machinery for nonwovens including bale-opening and discharging, opening and blending. Its twin-opener is a single-stage opening unit for synthetic and natural staple fibers, can operate at up to 2000 kg/hour and provides gentle opening for high-performance nonwovens systems. One of its newest machines, the multi-opener, is designed for processing nonwovens waste and fiber material.Laroche S.A., France, supplies a complete line of opening and blending equipment for nonwovens. The company specializes in providing systems for recycling of fibers, fabrics and other fibrous waste, including rotary cutting systems designed for specific types of waste processing. The company supplies air-laying systems for mat forming for mattress felts, building insulation, automotive component and geotextiles. The Herman Process is specifically designed for producing resinated felts for automotive and apparel applications. The Napco Technology is used to produce fibrous 3-D composite structures for filtration, building and hygiene applications.The Asselin Nonwoven Systems NCS/Schlumberger Group, France, provides nonwovens systems including web forming, batt forming and needlepunching. A new development is the Thibeau TMS-TCF. The tandem reserve silo (TMS) and chute feed (TCF) can provide up to 500 kg/hr per meter to the carding unit, such as the CA11, which is designed for fine and short fibers for coverstock and related applications.The ProDyn
®
is an interactive system used between the Dynamic cards and the Dynamic crosslappers and contributes to a flat bonded nonwoven. Systems can be customized to incorporate an Isoweb batt drafting unit capable of drafting a 600-grams-per-square-meter (g/m2) batt to 30 g/m2. Asselin needlelooms range from pre-needling units to those capable of making velour fabrics, as well as heavy-duty units suitable for needlepunching ceramic and other specialized fibers.Shortly after IDEA01, Fehrer AG announced that it has acquired Morrison Berkshires PMC needling and finishing intellectual property. Morrison Berkshires major activity in nonwovens has been supplying equipment and parts for needleloom systems for papermaking felts. This acquisition, combined with Fehrers Multi Motion Drive (MMD) system for papermaker felt needlelooms, should enable Fehrer to broaden its market position in this industry segment. The MMD system combines vertical and horizontal needle movement the needles no longer stop the felt during their penetration of the web. This results in improved evenness of the felt surface.Fehrer has sold more than 300 K 12 carding machines. The development of the Highloft device in the 1980s for the K12 led to increased interest in aerodynamic webforming.Dilo Systems Group, Charlotte, N.C., was awarded INDAs Achievement Award for technology in the machinery and equipment category for the development of its DI-LOOM HSC Hyperpunch technology. The award was accepted by Klaus Maitre of Dilos North American organization (See Brilliant Ideas, Textile Industries, May 2001, and NW/TT News, this issue).The development of the DI-LOOM HSC Hyperpunch technology provides a breakthrough for needling technology and enables needling speeds of up to 150 meters per minute (m/min) at 3000 strokes per minute. The machine uses plane elliptical needle-beam kinetics to move the needle in the running direction of the material during penetration.Thermobonding calenders for nonwovens from Germany-based Eduard Kusters Maschinenfabrik (Zima Corp., Spartanburg, S.C.) are equipped with deflection-controlled roll systems S-Roll 170 and Hot S-Roll 250. The companys many years of experience in supplying textile swimming rolls, calenders and embossing systems has enhanced the acceptance of its equipment by the nonwovens industry for both thermobonding and ultrasonic laminating for different substrates.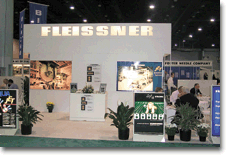 Fleissner Inc., Charlotte, N.C., has broadened its line of AquaJet® spunlace systems, which now include Onestep, Twostep, Threestep, Fourstep or Multistep hydroentanglement lines. Fleissners family of spunlacing systems consists of the following units: AquaJet® a system for hydroentanglement of all kinds of fibers and weights at speeds of up to 300 m/min and 600 bar in plain and aperture patterns; AquaSpun® a technology for spunlacing spunbonded nonwovens using homopolymer and bicomponent fibers up to 5 meters in width and speeds of up to 600 m/min; AquaPulp® a combination of spunlace and air-lay technologies; AquaSplit® a spunlace system for microdenier splittable fibers and spunbonded fabrics; and AquaTex® a system that uses the AquaJet process for the enhancement of woven and other type fabrics using the interspun technology of BBA.Fleissner, in conjunction with Hills Inc., is developing spunlaced fabrics made with microdenier fibers (fibers less than 0.3 denier). Hills has developed fiber-spinning techniques to produce bicomponent fibers that split during the spunlacing process to produce the microdenier fibers. The resulting fabrics have a good hand and can be used for synthetic leather, substrates and velvet-like fabrics; and for filtration and insulation applications.Fleissner Through-Air-Drum dryers are used in a wide range of nonwoven operations including spunlace systems. The company now supplies components for air-laid nonwovens using Dan-Webforming technology.The Reicofil
®
Spinbonding and Composite Systems with melt-blowing units from Reifenher GmbH (Fi-Tech Inc., Richmond, Va.), have gained worldwide acceptance for making SMS composites of polypropylene for diaper, hygiene and medical applications.Reifenher recently introduced a system for producing breathable films that can also be used in nonwoven composites. This system uses a twin screw extrusion process that does not require previous compounding.Santex Nonwovens was formed in 1999 in order to concentrate the efforts with the Santex Group on the field of nonwovens. In the United States, American Santex Inc., Spartanburg, S.C., is the organization selling and servicing its nonwovens products.The Santex WAVEMAKER is a vertical lapping unit, which uses vertical lapping that operates according to rotation principle. The vertical position of the fibers in the cross direction provides three-dimensional stability, and the resulting products are finding use as replacement for polyurethane foam in some seating and bedding applications.The Santex SANTATHERM unit is a thermal-fusion oven for nonwovens. Flow-through and overflow techniques allow the use of the same oven for air-permeable and impermeable materials. Each section of the unit allows control of air nozzle height adjustment, temperature and air regulation. Applications for the SANTATHERM unit include thermal fusion with powder or fiber, impregnation drying and heat setting.The Santex SANTABOND II is a smoothing and cooling calender, which can be run under pressure or with a gap.The Santex Highspeed I thermobonding line can run at speeds of up to 250 m/min, and the Santex Highspeed II thermobonding line can achieve speeds of up to 350 m/min.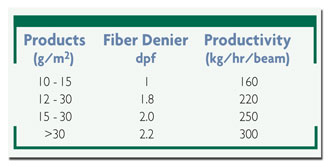 Rieter Perfojet, Greensboro, N.C., has supplied more than 90 Jetlace lines throughout the world. Nonwovens produced on Rieter Perfojet® lines are used in some of the following applications: medical fabrics; personal and industrial wipes; and synthetic leather.The Jetlace 2000 produces webs from 20 to 400 g/m2 at 300 m/min. The water-jet injectors can operate at a pressure as high as 1,000 bars.Rieter Perfojet and M and J Fibertech A/S, Denmark, have developed a spunlaced/air-laid combination, which produces wet wipes that have high uniformity, are soft and have good absorption.In early 1998, Rieter Perfojet started the design of a new generation of spunbonded fabric production systems under the tradename of Perfobond
®
. The table above shows productivity rates for the Perfobond 3000. Advanced quenching systems control air in three vertical zones and allow each zone to be controlled independently. Fiber drawing is done by a specially designed slot device.
June 2001
Advertisement