Interest Rates Continue Downward Trend
Dr. Constantine G. Soras, Economics Editor
First-Quarter GDP Shows Modest Gain
While the U.S. economy has weakened after an 11-year expansion, first-quarter real GDP grew at a modest annual rate of 2.0 percent, led by consumer and government spending, and investment in residential and nonresidential structures. Consumer spending grew by a healthy 3.1 percent. Federal government spending increased 5.7 percent, while state and local government spending grew 3.1 percent. Investment in nonresidential structures surged 11.0 percent in the first quarter on top of a strong 10.0-percent increase the previous quarter. Spending in residential structures bounced 3.3 percent after falling 3.6 percent in the fourth quarter. Unfortunately, investment in business equipment and software declined 2.1 percent. A sharp draw-down in inventories lowered first quarter growth by 2.5 percent.
The latest reports indicate first quarter growth is likely to be revised down. In light of the prevailing weak economic environment, the Federal Reserve Board, as expected, lowered short-term interest rates by 0.5 percent for the fifth time this year. Another rate cut is likely in June/July.
In April, non-farm payrolls shrank by 223,000 jobs, the largest monthly drop since February 1991. Manufacturing payrolls declined by 104,000, bringing the total jobs lost since last June to 554,000. Most of the decline occurred in the past four months. The jobless rate climbed to 4.5 percent in April from 4.3 percent in March.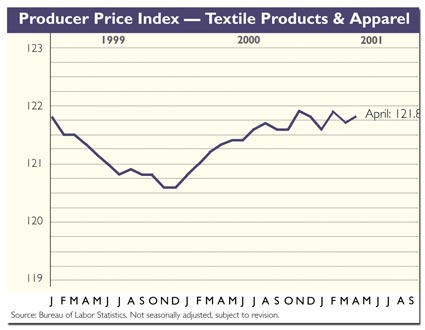 Core Inflation Under Control
The Producer Price Index for finished goods rose 0.3 percent in April. Food prices jumped 0.6 percent, and energy prices inched up 0.1 percent. Excluding food and energy, the price index rose 0.2 percent.
Meanwhile, consumer prices rose 0.3 percent in April, and energy prices turned up 1.8 percent. The core inflation, up 0.2 percent for the second month in a row, was up only 2.6 percent from a year ago, indicating inflation outside the energy sector is under control.
Industrial production declined 0.3 percent in April — the seventh consecutive monthly decline. Factory output also fell 0.3 percent — down 3.5 percent from its peak last September. The capacity use rate dipped to 78.5 percent from 78.9 percent in March.
Housing starts bounced 1.5 percent in April to an annual rate of 1.609 million. Single-family homes surged 6.7 percent to 1.288 million, while multifamily units plunged 15.3 percent to 0.321 million. With interest rates down, housing construction will likely pick up pace.
The U.S. trade deficit widened in March to $31.17 billion. Exports eased 1.0 percent to $89.46 billion, while imports rebounded 2.9 percent to $120.64 billion.
Business sales declined 0.3 percent in March, while inventories dropped 0.3 percent. As a result, the inventories-to-sales ratio held steady at 1.37.
Retail Sales Show Widespread Gains Despite Job Losses
Despite job losses, consumers continued to be in a spending mood. Total retail sales surged 0.8 percent in April. Gains were widespread, rising 1.0 percent at automotive dealers, 1.5 percent in building material and hardware stores and 2.1 percent at general merchandise stores. Sales at furniture stores were virtually flat in April. Apparel and accessory stores rang up a 1.6-percent increase in sales.
However, overall results for textiles and apparel were disappointing. Textile output tumbled 2.7 percent in April. The operating rate for textiles mirrored the output pattern, dropping to 74.8 percent of capacity.
Sales by textile manufacturers tumbled 2.4 percent in March, while inventories edged down 0.1 percent. Thus, the inventory-to-sales ratio climbed to 1.74 from 1.70 in February.
The industry's payrolls dropped 0.7 percent in April. The volatile jobless rate for textile mill workers shot up to 9.1 percent from 6.1 percent in March.
Producer prices of textiles and apparel inched up 0.1 percent in April. Prices advanced 0.9 percent for finished fabrics, 0.6 percent for carpets, 0.4 percent for home furnishings and 0.3 percent for synthetic fibers. Finally, prices declined 0.2 percent for processed yarns and threads and eased 0.1 percent for greige fabrics.

June 2001
Related Files:
Download Current US Textile And Economic Indicators.
Advertisement