Industrial Production Calls For Further Rate Reducations
Dr. Constantine G. Soras, Economics Editor
Inflation Under Control
he most recent economic reports show that the U.S. economy continues to be weak. The energy crisis in California is adversely affecting the growth of its economy and overall U.S. economic activity. Falling industrial production and surging layoffs signal that a recession is in the offing. This calls for further rate reductions.

The unemployment rate fell in May to 4.4 percent from 4.5 percent in April. Payroll additions of 70,000 jobs by the service sector and a 31,000 increase in construction employment were no match for the 124,000 jobs lost in manufacturing. As a result, non-farm jobs declined for the second month in a row. The 19,000 decline in non-farm payrolls was small compared to the 182,000 plunge in April.

The Producer Price Index for finished goods edged up 0.1 percent in May after rising 0.3 percent in April. The index for finished goods, excluding food and energy prices, rose 0.2 percent in May and was up just 0.1 percent in the previous month. Energy prices moved up 0.2 percent after inching up 0.1 percent the previous month.

Consumer prices rose 0.4 percent in May, following a 0.3 percent gain in April. The core inflation rate, which excludes the volatile food and energy prices, edged up 0.1 percent following a 0.2 percent rise in April. This confirms that inflation outside the energy sector is under control.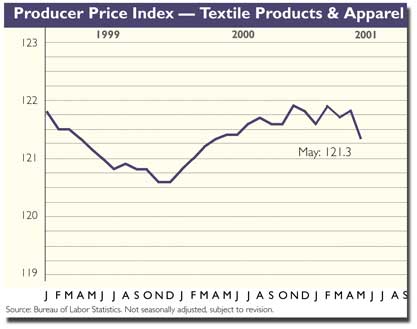 Trade Deficit Narrows
The U.S. trade deficit of $32.2 billion in April narrowed from $33.1 billion in March. The improvement was brought about by imports of business equipment and consumer goods declining faster than exports. Imports fell 2.2 percent to $119.1 billion while exports were off 2.0 percent.

Business inventories declined 0.6 percent in April, while business sales fell 0.5 percent. As a result, the inventory-to-sales ratio edged up to 1.44 in April from 1.43 in March.

Industrial production fell 0.8 percent in May. This was the eighth consecutive monthly decline. Factory output dropped 0.7 percent in May and 0.6 percent in April. Output of utilities fell 1.8 percent in May following a 1.0 percent April decline.

As a result, the operating rate dropped to 77.4 percent in May from 78.2 percent in April and 78.8 percent in March. The utilization rate for factories was even lower at 76.0 percent in May, down sharply from 76.7 percent in April.

Housing starts at an annual rate of 1.622 million units changed little from April's level of 1.629 million. By region, new housing construction shot up 15.8 percent in the Midwest and rose 2.6 percent in the West. Elsewhere, housing starts took a 28.3 percent dive in the Northeast and were off 2.3 percent in the South.
Tax Cut Refunds May Boost Consumer Spending
Consumer spending is a bright spot in the U.S. economy. Despite job losses consumer spending continues to increase. The tax cut of up to $300 for single tax-payers and up to $600 for couples will give a boost to consumer spending as checks from the U.S. Treasury arrive in the mail in the next three months.

Retail sales rose 0.1 percent in May after surging 1.4 percent in April. Sales of furniture and home furnishings rose 1.2 percent. Retail spending, excluding autos, was up 0.3 percent in May and 1.1 percent in April. Producer prices of textiles and apparel weakened 0.4 percent in May. Prices rose 0.2 percent for carpets and were flat for finished fabrics. Prices eased 0.4 percent for processed yarns and threads, fell 0.5 percent for home furnishings, declined 1.2 percent for greige fabrics and tumbled 3.0 percent for synthetic fibers.

Textiles and apparel industry payrolls continued to shrink, falling 1.6 percent in May. Revised data show that the industry's payrolls were down 10.5 percent from a year ago. And, the jobless rate for textile mill workers climbed to 9.6 percent in May from 9.1 percent in April.

New revised data show that sales by textile producers were off 0.7 percent in April, after plunging 3.0 percent in March. With inventories easing 0.2 percent in April, the ratio of inventory-to-sales inched up to 1.73 in April from 1.72 in March.

The operating rate for textiles dipped to 74.4 percent from 75.7 percent in April.
July 2001
Related Files:
Download Current US Textile and Economic Indicators.
Advertisement