Textile Hall Of Fame Taps Three
<i>Roger Milliken, Samuel Slater and Duke Power make up inaugural class of American Textile Hall Of Fame.</i><b>By McAllister Isaacs III, Editorial Director</b>
ManagementBy McAllister Isaacs III, Editorial Director Textile Hall Of Fame Taps ThreeRoger Milliken, Samuel Slater and Duke Power make up inaugural class in American Textile Hall of Fame.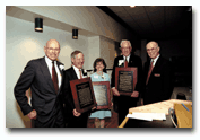 The three members of the inaugural class of the American Textile Hall of Fame stand flanked by American Textile Museum officials. Pictured left to right are Edward Stevens, chairman, Ames Textiles and the Museum; Samuel Slater IV, accepting for the founder of Slater Mill; Sandra Meyer, senior vice president, retail services, Duke Power; Roger Milliken, chairman and CEO, MillikenandCo.; and Michael J. Smith, executive director of the American Textile History Museum.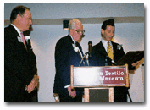 As he accepted his nomination to the American Textile Hall of Fame, Roger Milliken, chairman and CEO of MillikenandCo., addressed the plight of U.S. manufacturing. "Today almost all of the manufacturing industries in the United States are in serious trouble. I would like to take this time and this place to light a fire of debate on the serious consequences of that statement on the future of our country."He was quick to point out that he was speaking of all manufacturing, not just textiles.But it is textiles that Milliken has devoted his life to, for over 50 years. And despite turning 86 this month, he shows no sign of slowing down. For this devotion, he was one of three named to the first class of the American Textile Hall of Fame, established and housed at the American Textile History Museum in Lowell, Mass.Joining Milliken in this Inaugural Class were:o Samuel Slater, the seminal figure in the birth and development of the American textile industry and founder of the first successful full-process, cotton spinning mill in America.o Duke Power, subsidiary of Duke energythe multinational energy company, credited with service to textiles and its communities for over 75 years.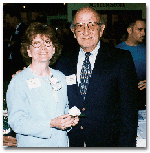 Sandra Meyer accepted on behalf of Duke Power. Walter Elisha, right, is former Chairman and CEO of Springs Industries and a member of the Hall of Fame board of governors.
It was last year that the American Textile History Museum Board of TrusteesEdward B. Stevens, chairmanauthorized the establishment of the American Textile Hall of Fame. The first step was to recruit a Board of Governors.Serving as chairmanJames M. Fitzgibbons, chairman and CEO, Davidson Cotton Co.: "You cant say no when Ed Stevens asks you to do something." Other members are Robert E. Coleman, former chairman and CEO, Riegel Textile Corp. and Textile Hall Corp.; Robert Dalton Jr., Tech-Tex Inc.; Walter Y. Elisha, former chairman and CEO, Springs Industries; W. Duke Kimbrell, chairman and CEO, Parkdale Mills Inc.; Joseph . L. Lanier Jr., chairman and CEO, Dan River Mills; Arthur M. Spiro, AMS Tex Enterprises Inc. and former chairman, Carleton Woolen Mills; and Stevens, chairman, Ames Textile Corp., ex officio member.Samuel Slater IV, great, great, great grandson of Old Slaters Mill founder, his wife Eleanor, and his sister, Joy Slater, accepted for Samuel Slater. Sandra Meyer, senior vice presidentretail services, accepted for her company, Duke Power. Excerpts From Milliken's Acceptance Speech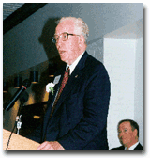 "When I first visited Lowell and saw the magnificently engineered waterpower projects that ran the mills, I was overwhelmed by the technology. It is indeed fitting that our national textile museum should be located where we celebrate today."Thanks to Thomas Edisons invention of the electric light, our industry learned in World War I that textile machinery could run at night as well as during 12-hour daytime-only shifts.At the end of that war, we found ourselves with 18 million spindles in place north of the Mason-Dixon Line and 18 million spindles south of the Mason-Dixon Line, all of which could be run around the clock. Our production capacity had been doubled!Seventy years later, 1990, after a long period of fair competition, we found ourselves with 18-million modernized, surviving spindles in the South and 800,000 in the North, producing more products and higher quality that the 36-million spindles after World War I.Our founding fathers, specifically Alexander Hamilton, understood the importance of manufacturing. The second act of the 1st Congress imposed tariffs on manufactured goods from abroad. This encouraged our new nation, and its people, to develop our own manufacturing base rather than merely exporting low-value raw materials to our former colonial masters and importing back from them the high value-added finished goods.Our U.S. textile industry, which this Hall of Fame celebrates, has played a vital role in the industrial growth of our nation. Our industry alone has provided stability to hundreds of communities and livelihoods for millions of workers and their families. Today, because of massive investment in new plants and new equipment, we remain the most efficient textile industry in the world-unit of output per unit of labor input.However, at the current rate, we may end this decade with as few as seven economically viable manufacturing industries remaining in America.A recent survey of manufacturing revealed that 36 of our 44 existing manufacturing industries had an adverse balance of trade and had cut substantial numbers of jobs this year. The hemorrhage continues.All U.S. manufacturing employment is shrinking at a pace, which will eliminate 1,000,000 high-paying, middle-class jobs this year alone. This is four times what we lost in the year 2000. Actual employment levels in our vitally important manufacturing sector have already fallen to levels last seen in 1963.Economic stability is an over-riding responsibility of a sound government! Our manufacturing base is being eroded as dollars are diverted from wealth creation to wealth consumption. If economic history has any lesson for us, it is that a nations well-being is determined by what it produces, not by how much it consumes.George Santayana is quoted as saying "Those who cant remember the past are condemned to repeat it." If we continue sacrificing our manufacturing base on the altar of free and unfettered trade, we will go the way of others.I believe it is happening because our leaders in Washington remain unconcerned about our near three trillion dollars of accumulated debt flowing from the dramatic growth of our adverse balance of trade. In the span of the last dozen years, we have gone from being the worlds largest creditor nation to being its largest debtor nation. And, no end and no limits are in sight.This adverse balance of trade, of which textiles is a significant part, has grown to over one billion dollars a day (four hundred and fifty billion dollars last year).The American market is by far the most important in the world, entry is not a right, but a privilege. In other words, there should be a price and a reward for doing business in the United States making meaningful, long-term contributions to Americas continued security and prosperity, and preserving the global environment.Only then can we make sure we are engaging our people in a race to the top in living standards; economic stability; quality of life; and personal security not in a bankrupting race to the bottom.Only then can we bring to a halt our perilous journey of accumulating further explosive growth of our existing $3 trillion trade debt that already exceeds in size anything ever experienced in the history of the world.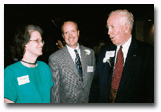 Roger Milliken speaks to his children, Jan Milliken Russell and Roger Milliken Jr., after the ceremony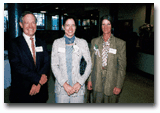 Members of the Slater family were on hand to accept the award on behalf of their great, great, great grandfather,Samuel Slater. Pictured left to right: Samuel Slater IV, his wife Eleanor and his sister Joy.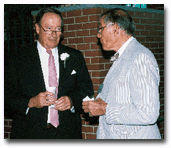 James M. Fitzgibbons, chairman and CEO, Davidson Cotton Co., and chairman of the Hall of Fame board of governors, talks with Honorable William Saltonstall, former U.S. Senator and Museum advisory board member.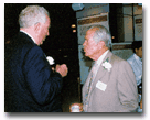 Roger Milliken discusses the day's events with Arthur Spiro, AMS Tex Enterprises, former chairman of Carleton Woolen Mills and member of the Hall of Fame board of governors.October 2001
Advertisement