Automotive Textiles Still One Of The Hot Markets
<i>Despite a down-trodden economy, automotives still provide opportunities for innovative textile makers</i><b>By William C. Smith, Founder, Industrial Textile Associates, and Consulting Editor</b>
MarketingBy William C. Smith, Consulting Editor Automotive Textiles: Still One of the Hot MarketsDespite a down-trodden economy, automotives still provide opportunities for innovative textile makers. Its disconcerting to hear of business difficulties, closures, cutbacks and lay-offs in todays economy, whether textiles or other types of companies. Regardless of the reasons, such situations cause a ripple effect, impacting other areas, such as demand for industrial or technical textiles. The largest single market (in dollars) for industrial textiles, the automotive sector, is no exception. It has its share of closures and cutbacks. With that comes slowdowns in the textile sector devoted to supplying the industry. So where is this market going Is it still one of opportunity The short answer is YESwith reservations.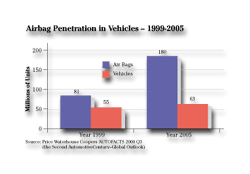 By most standards, 1999 and 2000 were anomalies for the automobile industry. From the "good year" benchmark of 15 million vehicles sold in the U.S., 2000 saw a record 17.5 million. No doubt 2001 will be down substantiallynumbers like 10-12% have been most frequently mentioned. Wards Automotive on Oct. 12 estimates production down 12.4% in 2001 vs. the same period in 2000. But even with a 12% downturn, the market will be over 15 millionpreviously considered a good year in "normal" times. The point Things are down, to be sure, but it is not catastrophicunless ..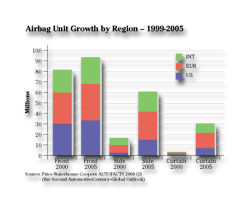 If your company geared up to provide materials for the boom years of the 90s, especially supplying material to meet rapidly increased vehicular production demands, no doubt you will be hurting. While automobile sales may have slowed, inventories are such that production has slowed even further, decreasing demand for parts, including textiles. Many automotive suppliers are reporting cutbacks and layoffs and decreased earnings. Suppliers continue to consolidate, i.e., CollinsandAikmans recent purchase of Joan Fabrics automotive fabric line. Tier 1 and Tier 2 suppliers, those closest to supplying complete sub assemblies to the automobile companies, such as Lear, Johnson Controls, trW, Delphi, Visteon, even CollinsandAikman in most areas, are restructuring to better position themselves to compete in this "new world" of automotive supply. The automobile companies, like Daimler Chrysler, are demanding price cuts of 5% or better (so what else is new) in a period of depressed earnings. Toyota is close to cracking the "Big Three" displacing Daimler Chrysler. The industry, and the dynamics of supplying the industry are indeed changing.Where automotive suppliers once were "order takers," they now are asked, even required, by the OEMs to be at the forefront of developing technology needed for the next generation, not only for improved performance and safety, but to achieve reduced costs and higher quality.Major suppliers are keeping up R and D efforts, even in down times, to share in the profits when the technology is adapted and matures. That requires the "staying power" leaders prepare for.If you want to enter the market, especially if you have no history as an automotive supplier, it will be difficultbut not impossible. There are still opportunities for those with creative and innovative products and procedures. But it is not "business as usual," and you should approach these opportunities with caution and extensive preparation.TEXTILE WORLD and Industrial Textile Assoc.s recent conference on Textiles in Automotives provided some insight on what is new and "happening" in this industry. The author presented a talk based on information from the consulting firm CSM Worldwide. The most important thing, as in any business, is to know your customer, and to understand the market in which you are participating. In airbag systems for example, there are basically five suppliers of the airbag module itself, representing 32% of the value of the airbag system. The important airbag control unit has four suppliers representing 24% of the value, the seat belt portion of the system two suppliers with a 31% share. Yet, the pillar trimthe portion that represents only 13% of the value of the airbag systemhas over 40 suppliers! Now that may or may not represent opportunity for you, but it is important to know the market thoroughly before making a commitment to enter it. Know your competition. Knowing market share isnt enough, you must know why they have that position, and how you can take advantage of it. No market is "right sized," and there are always new competitors coming inregardless of the segment and its size.Designer George Moon, pointed out, "The collective group of automotive textile companies are inventing as at no time in their long history. It is an explosive time for creation in this business, with new yarns, new finishing capabilities and new weaving and knitting technologies." Moon sees a desire by the OEMs for "something different" in cars. As to trends, he sees a combination of more luxurious materials in look and feel, simple shapes, "less frivolous detail," new materials being used for what they are, for accent or decoration. Expect fresh looks from flooring to seating to headliner and trim. Fabrics will contribute more to comfort (heating and cooling), be more durable and resistant to moisture, stains and odor retention. Moon sees designs with a sense of timeliness, but not generic, and more functional and less reliance on fad. He gave high praise to Volkswagen for using plain but functional flat-woven textiles in a complementary way in a new low end car, the Lupo (not sold in the U.S.). He felt everything was purposeful and well thought out; there were no wrinkles or sagging, even the seams were well placed and straight, with everything blending with other interior materials and components. Attention to such detail in even a low-price, entry-level car, was significant.Moon also agrees that the OEMs will likely be turning over the total responsibility for the vehicles interior to Tier 1 and Tier 2 suppliers. Erhard Hurrelbrink, director of R and D for Volkswagen, a conference attendee, reinforced Moons comments repeatedly, stressing the need for high quality in all interior textile components. Hurrelbrink, in discussing VWs operations not only in Germany but in Mexico, Brazil and China, said a common problem in the less-developed countries is that those areas do not have the infrastructure to supply textiles of sufficiently high quality to meet their standards. Even small entry-level VW cars must meet the same high-quality standards. "We have to bring in the weavers and knitters, even the fiber producers in some cases, to set up operations locally to supply materials to meet the quality level VW demands," he said.In the more luxurious sector, the Clarino Division of Kuraray presented its new line of microfiber suede materials for the high-end market. Such materials have been available for a number of years in apparel, but Kuraray says the automotive industry has presented special challenges due to the high performance level required for seating. Newly developed materials can "meet those challenges." Produced using "island in the sea" microfiber technology, the process begins by making a nonwoven, adding polyurethane resins to fill the voids, and putting the combination in water to coagulate the PUR, making it microporous. The microfibers are separated by dissolving out the unneeded material leaving the microfiber bundles in a microporous resin material. The product is then subjected to special finishing techniques to emulate grain leather or suede. While the purpose is to make a product like leather in luxurious appearance and hand, the goal was to go beyond that in uniformity, color, weight and washability. Though expensive, it is the type of thing Moon talked about for high-end luxury cars where leather dominates interior seating.Information from a study by PricewaterhouseCoopers indicates the airbag market far from "peaking out" with virtually 100% installation of driver and passenger side airbags growing due to side bags and new rollover side curtains. Rollover protection has become a high priority with the proliferation of SUVs where rollover may be more of a concern.In 1999, there were 55 million vehicles with 81 million airbags. By 2005, expect to see 65 million vehicles and 180 million airbags. Fabric usage will grow to 325 million sq m by 2005 and use 83 tons of fiber, mostly nylon. While North American and Western European markets are growing, substantial growth will be in the international market. As new uses develop for airbags, including rear seat bags, inflatable seat belts, even an outside airbag system for pedestrians, new fabrics and combinations are being used. The front and passenger bags have different requirements due to the distance from the occupant, but they both are quick inflation and deflationin milliseconds. Rollover bags must remain inflated for five seconds. In addition to new uses, expected trends include lighter fabric for use with newer "cold inflators," composites of materials such as fabric and film, new coating polymers (Silicone now dominates having replaced neoprene) and consolidation of the supply chain.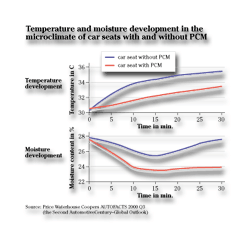 Freudenbergs Ed Cerne said that spunbond nonwovens have carved a significant niche within automotive interior fabrics, primarily in construction fabrics. The coming years will see significant increases in the penetration of spunbonds, mostly in fabrics made from microdenier fibers such as its Evolon microdenier nonwovens, used effectively in such areas as sound absorption barriers (acoustical aspects depend on denier size rather than mass) and in aesthetically pleasing and functional face fabrics. Cerne also highlighted the use of microfiber in suedes, carpeting, and headliner fabrics as being materials especially likely to grow. Promoting a "single polymer for automotive interiors" was EMS Griltechs Guido Hobi. Hobi emphasisized that using the right polyester polymers and co-polymers and new nonwovens techniques, a single polymer system was reasonable and could be widely used in the future, greatly easing the recyclability of automotive interior fabrics, the most non-recyclable part of the car. An example is the nonwoven or knit face fabric, with special PET adhesives, bonded to a PET needled nonwovens backing fabrica headliner has been commercialized. With the "single polymer" theme, Hobi presented other areas where traditional foam laminates could be replaced with special forms of nonwovens processing, and polyester backcoatings could be used. Copolymer polyester adhesives can meet all industry requirements, making them viable candidates, when combined with the foam replacing nonwovens technology, to replace traditional flame lamination for headliner and trim. Seating, the most difficult component in the automotive interior, presents special challenges and needs more development in the areas of adhesives, polymer, fusible fiber and nonwovens processes. Hobi says the Tier 1 needs to "buy into the 100% PET program, and the OEM and Tier 1 companies to push supplier bases for alternatives to current non-recyclable products."Dr. Barbara Pause, Technical TestingandInnovation, presented a novel concept, that of using phase change materials (PCM) to aid in air conditioning, a high-energy process. PCMs have the ability to change physical states (liquid to solid and back) within certain temperature ranges and to store and release heat as programmed. Studies show that by using paraffin based PCMs in a microencapsulated form integrated into textiles, particularly in the headliner and seating materials, interior temperature reductions of 2-4 C can be obtained, along with less moisture buildup, reducing the load on the air conditioning unit and saving energy. While current work shows significant benefits may be gained by using PCMs, more work needs to be done and energy savings quantified, says Pause. Mike Kinsella of Advanced Fiberglass Yarns, pointed out that glass fibers have been used for years in mufflers and catalytic converters due to high heat resistance. But the advantages of S-Glass has resulted in increased uses in a variety of technical applications. With higher amounts of SiO2 and Al2O3, along with other chemical differences, S-Glass has enhanced strength (75% higher than E-Glass used in electrical applications), greater impact resistance (+33%) and stiffness (+25%), higher temperature (1,056 vs. 846 C), enhanced fatigue resistance (2-3x) and lower dielectric constant, making it suitable for timing belts and engine gasketing, among others.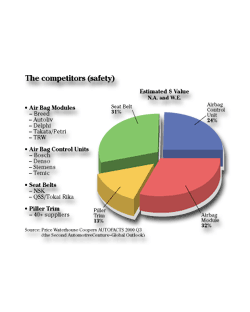 The automotive industry has always been one of innovation and ready users of new technology. Everyone expects that trend to continue. Got a good idea Though fraught with difficulties getting the attention of OEM and Tier 1 and Tier 2 suppliers, this is a high-volume business with high technical standards and requirements and may just be what they are looking for.
November 2001
Advertisement