The Road Back
New strategies, monitoring processes and controls have Martin Color-Fi back on track.
Jim Phillips
The Road Back New strategies, monitoring processes and controls have Martin Color-Fi back on track. Prosperity is best enjoyed from the perspective of having been poor. Perhaps few companies in the American textile complex know this better than Martin Color-Fi Inc., the Edgefield, S.C.-based producer of solution-dyed polyester fiber. Martin Color-Fi was an American success story, going from a small, entrepreneurial fiber brokerage house to one of the worlds largest specialty fiber producers in a very short period of time. And then, at the very height of its prosperity, the companys management made a few wrong guesses about the direction of the markets for its products, entered into several market segments in which it had neither the knowledge nor the infrastructure to compete, and overestimated the capability of a new production process on which the company had literally bet its future.Just as suddenly as the company had become the darling of the U.S. fibers industry, it became the goat. Martin Color-Fi stock, once trading on NASDAQ for as much as $17 per share, fell to pennies. The company was unable to make payments owed on a $60 million bank debt. In November 1998, Martin Color-Fi had no recourse but to file for Chapter 11 bankruptcy. Rumors began flying that the company was unsalvageable and would liquidate its assets to pay creditors.The business world was prepared to close the book on Martin Color-Fi, perhaps adding a final notation that it was just one more example of a company that could not stand prosperity. Only those people within the company those who knew exactly what the problems were and what solutions were available held out any hope the company could remain viable.One of those people was Stephen Zagorski, a former AlliedSignal executive hired by Martin Color-Fi in July 1998 as vice president and COO. Zagorski has since become president of the company Adverse FactorsZagorski and Martin Color-Fis management team spearheaded an effort to refocus the company on core markets and processes. The more than 500 employees of the company came together with a sense of purpose to improve productivity and eliminate problems and inefficiency. On July 20, 2000, Martin Color-Fi emerged from Chapter 11 protection under new ownership and is solidly if shakily on the way back.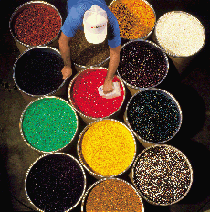 Our company was successful for a number of years, and then a number of factors came together at the same time that caused us a great deal of trouble, Zagorski said. First, there was the well-known Asian Flu, a large increase in cheap polyester fiber imports that drove polyester fiber prices down from more than 70 cents per pound to less than 40 cents. Then, there were several large acquisitions by Martin Color-Fi most notably Buchanan Industries, a Dalton, Ga., manufacturer of commercial carpet that were never successfully integrated into the company. And, finally, there was the failure to capitalize on the companys much-heralded fine-denier production line. This new equipment would supposedly give Martin Color-Fi the capability to make 1.5-denier solution-dyed polyester fiber for apparel and other applications and would be the cornerstone upon which the company would build its future.We spent several million dollars on this line, and it was never fully commercialized, Zagorski said. There was a lack of accountability within the company, a lack of measurement tools to analyze and monitor the company. Martin Color-Fi was a successful entrepreneurial company for many years, but when difficult times came, there were no business processes in place to hold the company together.And so it fell apart or seemingly so. Zagorski and the management team, however, refused to yield, and began putting in place the processes through which they felt the company could re-emerge as a viable player in the market. Thats one of the things we know today, he said. To have the opportunity to succeed, we must control our own destiny. Shifting Focus To Specialized MarketsThe company shifted its focus from commodity manufacturing to meeting specific customer and market needs. Research and product development, never compromised during the leanest of times, was enhanced. The organization was divided into market segment teams that provided information and analysis on every facet of the business.We had to get to a position where we were making decisions on facts, not feelings, Zagorski said. We had to recognize who we were, where we fit, and what our role in business would be. We had to realize that we could not be successful competing with KoSa and DuPont that our niche was where our R and D differentiated our products from those of our competitors.What was a rambling, unfocused business structure became highly specialized. Martin Color-Fi divested itself of those business units commercial carpet, for example that were not core businesses. The company identified and focused on six specific market segments including automotive, construction, international, color, coarse-denier and value-added commodity. From a high of $120 million in sales, 1,000 employees and eight facilities, the company now has sales of about $55 million, just over 500 employees and four facilities.We focused on value-added products, Zagorski said. We were able to leverage that and become a leader in some of our market segments. Reorganization Efforts Attract DS&PThe efforts of the company to reorganize and return to profitability attracted the attention of interested investors, particularly a Philadelphia company, Dimeling, SchrieberandPark (DS&P). DS&P buys distressed companies and helps restore them to profitability. Among DS&Ps current portfolio are companies such as Piper Aircraft, Standard Coosa Industries, Burlington Motor Carriers, Dana Perfumes Corp. and 21 others.We first met with Steve and the management team of Martin Color-Fi in New York in August of 1999, said DS&Ps William R. Quinn. What we look for are distressed companies that have good processes, good products and good people. Martin Color-Fi has strong processes. Solution-dyed polyester is an excellent product with lots of applications. And the people element impressed us from the start. If you want to see how well a company can do after bankruptcy, watch what they do under the extreme duress of bankruptcy. What we saw from Martin Color-Fi was a company that was doing all the right things. They were right-sizing the enterprise and putting the right processes and controls in place. It says a great deal about the company that it was able to become QS 9000-certified while in Chapter 11. DS&P knows the issues of companies coming out of bankruptcy. We give them the opportunity to focus on the business, not the bankruptcy process.Martin Color-Fi emerged from bankruptcy on July 20, 2000, the 19th such company that DS&P has helped guide out of Chapter 11. As of this point, DS&P is the sole owner of the company. Historically, DS&P retains ownership of the companies it buys for about five to seven years, long enough for the companies to establish stability and overcome the stigma of having been in Chapter 11. Core Organization Remains IntactThe one overriding factor enabling us to re-emerge as a successful company, Zagorski said, is that the core organization, the core group of people, hung in there with us. We know we didnt get a free ticket when we emerged. We must continue to work hard and stick to the strategies weve implemented in order to continue to be successful. I guess were a really good example of the expression, What doesnt kill you, makes you stronger.As part of the purchase of Martin Color-Fi by DS&P, the companys founder and CEO, James Martin, resigned. The more than 6 million shares of stock in the company were cancelled with no compensation to the shareholders. Martin owned more than 40 percent of the companys stock at the time.I do want to wish our employees, customers, senior operating management team and DS&P much success in their future together, Martin said in a statement issued at the time of the DS&P purchase.Martin founded the company in 1978 as Martin Fibers in Edgefield, S.C. Martin Color-Fi began manufacturing operations in 1984 with the purchase of a facility in Sumter, S.C. The company later expanded in 1987 by purchasing an additional facility in Trenton, S.C. In 1992, fiber operations expanded once again when the company acquired Star Fibers in Edgefield. The Sumter and Trenton plants remain in operation. The Star facility was closed as part of the reorganization. In addition, Martin Color-Fi operates a yarn plant in Laurens, S.C., and a Dalton, Ga.-based colorants facility, which is a supplier of pigments and additives for use in the extrusion of solution-dyed fiber.The fine-denier line that was to be the companys future now sits idle in the Sumter, S.C., plant. Wilbur Bullard, the plants manager, says the company now has the capability to produce solution-dyed polyester as fine as 3 denier on its regular lines. However, the market potential for finer-denier material is still there, and both Zagorski and Bullard see the potential for profitable future operation.This time, though, Martin Color-Fi intends to take care of the basics first. Having scaled the mountain only to fall, the company is determined to make sure of its footing as it begins to climb again.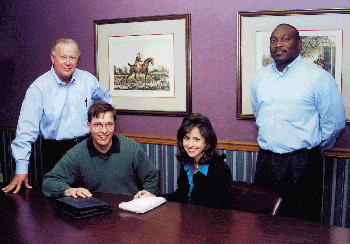 Steve Zagorski, president of Martin Color-Fi (left); Scott Snipes, director of research and development; Jennifer Sumner, marketing manager; and Wilbur Bullard, plant manager, Sumter, were but among a few of the company's more than 500 employees who worked together to put the company back in the black.
January 2001
Advertisement