Beat The Dust
Air conditioning equipment manufacturers focus on high quality and energy efficiency.
Spotlight On Air Filtration TechnologyBy Eric Vonwiller, Senior Technical Editor Beat The Dust Air conditioning equipment manufacturers focus on high quality and energy efficiency. Air-filtration efficiency has reached high levels over the past few years. Today, the focus for equipment manufacturers is on such issues as space requirements, maintenance and energy efficiency, so that the lifetime equipment cost is optimized. Smaller, easier-to-maintain units not only save cost, but also make it possible to install efficient cleaning systems in older plants. All manufacturers stress a systems approach to air cleaning that attempts to catch the lint and dust before it floats too far in the general room environment.Periodically, ATI invites manufacturers of industrial air conditioning and waste removal systems to report about their latest technology that finds its way into the textile plants. The following round up comprises the most significant information gleaned from equipment manufacturers responses. AbingtonAbington Inc., a division of Pneumafil Corp., Charlotte, N.C., offers high-pressure vacuum systems to collect waste from every area in a textile mill. These systems use automatic valves at air-handling separators such as filter bags, fiber separators, condensers, fine-dust filters and cyclones. The valves are controlled by a programmable controller and collect waste directly at the site of some production equipment, including cleaning lines, cards, traveling cleaner collection boxes and spinning frame suction boxes. Manual vacuum waste collection using hoses and floor sweep conveyer stations permits safe and convenient cleaning around and under production equipment. Different waste categories can be directed to separate waste receptacles as required. Abington states that its vacuum waste-collection systems can reduce power costs and production downtime, save labor, improve operator safety and work area conditions, and eliminate contamination.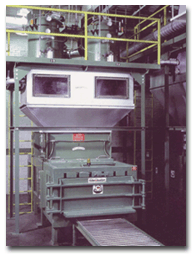 In the fiber-recovery room, various waste categories are conveyed to the waste room by high vacuum and collected in the appropriate fiber receivers, which are automatically emptied into waste receptacles. The fine dust passing through the separator screen of the waste receiver is collected in the fine-dust pulse-jet filter, from which the dust can be manually or automatically emptied. The vacuum pump is an economically operated centrifugal exhauster, sized for specific mill requirements. The vacuum pump is a centrifugal exhauster that uses amperage according to air volume. The cost of using this system varies directly with the number of open inlets at any time. This multi-staged pump typically produces from 8 to 12 inches of Hg negative pressure. Manual and automatic valves can be accommodated simultaneously. The use of this pump permits considerable new expansion for future projects. Twin automatic-discharge fiber receivers (primary separators) operate together to produce a constant vacuum or separately as single receiver systems. Waste is separated by a self-cleaning stainless-steel separator screen and is automatically discharged to a waste receptacle. A patented, rotating compressed-air mechanism cleans the separator screen, which is easily removed by way of a special lift-up top section if servicing is required. The pulse-jet filter is a fine-dust filter that operates as a secondary separator to collect the dust that would otherwise pass through the pump. The dust enters tangentially and drops from the air stream to a plenum for manual or automatic collection. Compressed air venturis clean the filtration media. These units are self-cleaning and self-emptying.The centralized dust-collection system automatically collects dust from air-handling and vacuum dust filters throughout a mill. This dust is conveyed to a special pulse-jet filter for automatic disposal through a valving system to a compacting auger, plastic bag or briquetter. Abington-supplied balers are flexible and convenient waste receptacles, forming bales weighing from 500 to 750 pounds. These balers are available in different models according to requirements. Automatic and semi-automatic models are available, including vertical models for baling wire ties, bale covers and other purposes.Abingtons automatic filter bag systems eliminate production machine downtime. They are suitable for the collection of dust from opening, shredding, shearing, napping, slitting and stripping operations; diaper and pad line filtration; and other operations. Automatic filter bags can replace some cyclones and condensers. Most existing mill filter bags can be automated.Programmable controllers schedule automatic valve timing and functions in the waste room and mill. These controls can be varied to suit present and future requirements. Manual override and key switches permit fine tuning of the system for anticipated variations and servicing. Various alarm functions can be built in, including fire detection and extinguishing routines. Special cycles accommodate heavy loads at selected automatic pick-up stations. Industrial AirDedicated to providing the best control technology at an affordable price, Industrial Air Inc., Greensboro, N.C., has developed a system that allows coordinated, interactive control of air conditioning, refrigeration, air filtration, waste handling and other process equipment. Features include: centralized monitoring with customized color graphic displays; selectable trending; alarm reporting; on-line operating, maintenance and parts data; and off-site diagnostics of all systems via modem connection, including control program modifications. Industrial Air strongly promotes its S series rotary drum filter. The rotary drum is used to automatically clean dust-laden air in demanding industrial production applications. The S series drum is constructed of heavy-gauge steel perforated panels that are bolted together to form a cylindrical horizontal rotating drum. This arrangement allows even air distribution across the fabric filtering media, ensuring superior filtering efficiencies over V type units.When bolted together in multiple sections, these panels form a rigid cylindrical truss member, eliminating the need for a continuous center support shaft. Conventional drum filters with center shafts present difficulties when the shaft needs replacing, often necessitating the dismantling of parts of the filter enclosures. The S series drum uses a short-shaft arrangement on the front and rear to accomplish rotation. The front and rear shafts are less than one foot long. Heavy-duty pillowblock bearings ensure smooth rotation.The drum utilizes a horsepower gear motor with a spring-tension friction drive wheel. The tension can be adjusted by hand without the need for tools to provide the needed drive force. The friction wheel rides on a structural steel drive ring that turns the drum. Structural members and galvanized components ensure rugged and lasting performance.The drum is cleaned by a series of vacuum nozzles that are located on the outside of the cylinder, out of the way of side access, allowing for convenient media inspection. The drum uses the proven means of heavy felt to seal it to the bulkhead casing. The design of the drum allows the passage of all of its components through a single walk-through door, allowing for ease of handling and compact shipments. Rotational control can be accomplished by a simple timer, pressure switch or a programmable logic controller with user-friendly computer software and detailed graphics.Industrial Air also offers a new HI-VAC sleeve receiver that has 400 percent more screen area than the standard 30-inch flat-screen receivers.By forcing the airflow through the unit in a cyclonic pattern, the wiping action reduces dust accumulation on the screen. During the dump cycle, the receiver is thoroughly cleaned by multiple compressed-air rings on each receiver. The receiver is manufactured from heavy-gauge carbon steel and has a 100-percent sealed cylinder-assembly dust cover. For easier maintenance, the sleeve-type screen is removed from the top.Industrial Air is also looking at total climate control. A PC in a central location of the plant can precisely measure and monitor temperature, humidity, dust levels or any other performance factor in any area in the plant, including any air washer or filtration unit or waste-disposal unit. From the central PC, set points in the controls can be altered, alarms can be checked instantly and problems can be pinpointed precisely and quickly. Centralizing the plant climate control not only reduces the response times to problems, but also should increase the lifetime of any element of the air-conditioning system. Interference between one areas climate and anothers can also be greatly reduced, and overall energy savings can be expected. LTGLTG Inc., Spartanburg, S.C., decided in 1999 to become a system component supplier of textile plant room conditioning and waste-reclamation equipment in the United States. The company adapted its sales and marketing strategies to sensible and different worldwide requirements. For the United States, this means that LTG is no longer competing directly as a contractor with the other companies mentioned in this article, but rather sells its equipment components independently to contractors in this field, and, if desired, also directly to textile mills.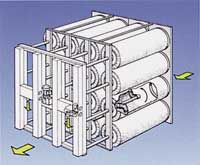 For example, Pneumafil Corp. became quite fond of LTGs Weave Direct System for weaving mills and now offers the complete turnkey installation of this system. The LTG-designed diffuser is installed directly above the weaving machine and delivers the humidity in the correct dosage exactly to those areas where it is most needed, namely at the warp and the shedding areas. Because of higher weaving-machine efficiencies, fewer warp stops and better fabric quality, this system either is the ideal add-on for existing mills, or can be part of the air-conditioning design integration for new mills. Luwa BahnsonLuwa Bahnson, Winston-Salem, N.C., offers its TAC® system (Total Air Control), which includes air treatment, air conduction, cleaning and waste handling. ATI has frequently reported about Luwas equipment in textile plants and concentrates here on two products recently introduced by the company.The Luwa Bahnson Multi Drum-Vac® (MDV) is used in the textile industry as part of an air-engineered plant to provide filtration of fine particles from process equipment as well as ambient return air. The contaminated air flows horizontally into the multiple cones, through the filtration media, and out the back of the filter. The media is automatically cleaned with vacuum nozzles that rotate around the circumference of the filter sleeves and traverse horizontally into and out of the sleeve. The dust stripped from the filter can be pneumatically conveyed to a Luwa Dust Separator (DS) to be compressed by a Luwa Screw Compactor (SC) or a Luwa Briquetting Press (BP). The advantages include the elimination of internal controls such as proximity sensors, end switches, reversing relays and microprocessors.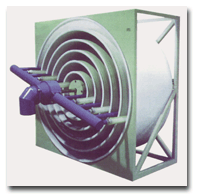 The MDV features a simplified rotating-gear motor drive and is self-cleaning with a low cubic-feet-per-minute (cfm) stripper system. The freely supported filtration media maximizes the effective filtration area and improves dust collection efficiency. It features quickly changeable snap-on filtration media sleeves. The MDV eliminates the requirement for rotating seals, which improves the filtration efficiency. The compact arrangement of multiple filter sleeves reduces the filter size; producing a remarkable 5-to-1 media-to-face area ratio. The benefits include the requirement for less space than conventional drum or panel type filters, which reduces construction cost. Luwa states that the filter offers low maintenance cost, low energy cost, low waste-collection cost, high filtration efficiency and high reliability. The MDV is meant only for low pressure operation.The new Luwa Bahnson Dust Separator III (DS-III) reduces space requirements and improves the ease of maintenance. The DS-III is the final element in removing dust from textile and nonwovens processes. The waste-laden air enters the side of the DS-III and passes through a perforated baffle. The vertical design of the cartridges provides more efficient pulsing of dust, thus eliminating uneven dust loading associated with horizontally mounted cartridges. In extra-heavy fiber loading, an optional screen sleeve is mounted around the cartridges. Extra-wide cartridge spacing prevents bridging of fibers. The special cone in the center of the cartridge enhances automatic cleaning by the compressed air, providing a longer cartridge life and reduced service requirements. The discharged air can be returned either to the room or to the central filtration system. It is very easy to service and replace the cartridges simply by raising the door lever, swinging open the door, lowering the cam bars and sliding the cartridge in and out.The DS-III is self-cleaning, provides high-efficiency filtration, has wide bag spacing, offers easy cartridge change-out and requires less room space than comparable filters. It is rated for +/- 25 inches water guage, and Luwa claims a filtration efficiency of 99.999 percent on minimum 0.5-micron or larger particle sizes. Cartridges are made of polyester. Cartridges made of other materials can be supplied on request.Luwa provides complete solutions, including the new DigiControl III room-monitoring and control system, as well as several specific technical solutions for spinning, weaving, knitting and for the nonwovens industry. PneumafilPneumafil Corp., Charlotte N.C., also supplies complete solutions for air handling and air conditioning, lint and dust removal, waste handling and fiber reclamation. The company offers pre-assembled, compact modular equipment components that can be easily transported and installed in new or existing mills. By focusing more specifically on the lint- and dust- removal segment, the company offers very innovative lint- and dust-control systems. These automatic systems require very little attention and minimal maintenance.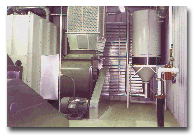 The Preseparator removes larger particles of fibrous material from the air stream and has a nominal 1-inch pressure requirement. The equipment has no motor, requires no compressed air and has no moving parts. It is self-cleaning and requires no regularly scheduled maintenance. It is ideal for fiber reclamation systems and handles a wide variety of load rates.The unique Automatic Panel Filter installs in one-fifth to one-third of the space needed for a rotary drum filter of equal capacity. It has a small motor and only a few moving parts. It offers completely automatic operation. A computer-controlled cleaning mechanism vacuums fine dust from the filter media for maximum efficiency.Pneumafils Rotary Prefilter is usually installed upstream of primary dust filters, such as the Pneumafil Automatic Panel Filter. It removes both lint and dust to protect the primary filter, prevents lint clogging and reduces dust loading. It is particularly suitable for large tunnel return systems. Recently, the company introduced its new Everclean Rotary Pleated Belt Filter, a patented and advanced design that combines high-capacity pleated filter media with high-efficiency suction cleaning. Pneumafil claims that the result is a high-efficiency self-cleaning filter offering more capacity for its size than any other air filter on the market.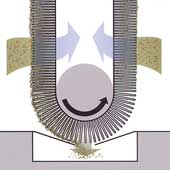 For example, a 50,000-cfm filter is only 10 feet wide, 10 feet high and 6 feet deep. This filter does not rely on building a fiber mat to retain small dust particles; it filters with 100-percent efficiency from the moment it is put in operation. Due to its design, it does not blow or pulse any dust back into the air stream. Pneumafils patented filter media is the heart of the Everclean filter. For the first time, thorough automatic cleaning of agglomerated fibers and dust captured by a densely pleated high-efficiency filter media is possible. The Everclean Filter, which consists of a number of filter cells acting basically as a conveyor, is mechanically very simple. No moving parts (except for the media itself) are on the dirty side of the filter. The cleaning mechanism never touches the media, and there are no nozzles that need adjusting or that can wear out or rub holes in the media. Each cell comprises an endless pleated-filter media belt looped between two pulleys. Unfiltered air enters the unit parallel to the filter cells and passes through the straight sections of the belt loop. Larger fibers collect on the outer edges of the pleat, and smaller particles build up on the media surfaces between pleats. The clean air continues between the two sides of the cell into a plenum in back of the filter and then exits. The pressure drop across the media is constantly monitored by a dual set-point Dwyer Photohelic gauge. When the set point for cleaning is reached for a given cell, that cells belt begins rotating around the pulleys, and a stationary suction plenum underneath the cell is activated. As the belt moves around the lower pulley, the pleats open up and airflow through the media is reversed, allowing the pleats to be vacuumed easily.
February 2001
Advertisement