On Display In Asia
ITMA Asia, 7th OTEMAS competed for exhibitors and visitors in back-to-back exhibitions.
ITMA Asia, 7th OTEMASBy Jim Phillips, Executive Editor On Display In Asia ITMA Asia, 7th OTEMAS competed for exhibitors and visitors in back-to-back exhibitions.For years, the U.S. textile machinery showcase - the American Textile Machinery Exhibition-International (ATME-I) - has been the victim of declining interest and dwindling attendance, due in large part, according to most observers, to the decreasing market share of the U.S. textile industry.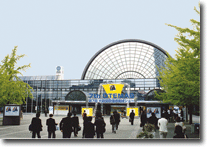 The 7th OTEMAS showed machinery and equipment from 336 companies, approximately half of which were from Japan.The latest ATME-I cycle concluded in April, again with disappointing results. ITMA 2003, which will further reveal the state of the worldwide machinery market - particularly in Europe - is more than a year and a half away and, like ATME-I, has been shrouded in a location controversy.So, it was with particular and timely interest that the industry turned its eyes in October to the Orient, where two well-publicized and much-anticipated trade shows were poised to reveal the interest with which companies the world over would pursue the latest manufacturing technology.The results were, at best, mixed. The 7th OTEMAS, held October 8-13 in Osaka, Japan, experienced a paucity of visitors such as few long-time observers had ever seen. Accustomed to teeming hallways, crowded airports, and long lines, show attendees reported the halls seemed almost deserted by only the show's second day. The impact of the events of September 11 undoubtedly had a major impact on worldwide travel and will likely continue to do so for the immediate future. How much of the decline in attendance and interest can be attributed to fear of terrorism - as opposed to a stagnant market - can't really be determined. There was speculation, however, that this might be the last OTEMAS of worldwide import.The number of textile machinery and equipment-related exhibitors at 7th OTEMAS totaled 336 firms, 165 of which were Japanese firms and 171 from other countries throughout the world. Adding non-machinery exhibitors, the total number of participating companies approached 500. The inaugural ITMA Asia, held October 15-19 in Singapore, was a more difficult show to assess, particularly given the fact that it was the first show of its type and that it began literally on the heels of 7th OTEMAS.Organizers, of course, were calling it successful, especially when comparing attendance to that posted by 7th OTEMAS. A total of 14,023 visitors registered and aggregate daily attendance reached 29,195, according to CEMATEX, which is the European Committee of Textile Machinery Manufacturers and the owner of ITMA.
Visitors attended textile shows in Osaka, Japan, and in Singapore for glimpses of the latest textile machinery and equipment.Visitors from 66 countries attended the show, the majority of whom were from Asia. Indonesia had the most attendees with 2,652. Following next was India (1,565), Thailand (1,376), Korea (1,124) and Taiwan (785)."The exhibition is a success," said Bernard Terrat, CEMATEX president. "The impressive turnout of visitors reaffirmed to us that ITMA is the benchmark event, and its new Asian edition is a logical extension. I am sure that the next ITMA Asia will have more exhibitors and visitors."Nat Wong, CEO of Meeting Planners International, the Singapore-based organizer of ITMA Asia 2001, was also pleased with the results. "Despite the recent challenges, even to the extent of the disruption of some airline services, the strong turnout of visitors to the show has demonstrated that buyers in the region are still upbeat on the potential of the textile market," he said.A total of 802 companies exhibited at the event. Textile machinery manufacturers have complained somewhat loudly over the past few years about the increasing frequency of major textile shows and the amount of resources consumed by showing equipment at the various venues in relative close proximity. The two Asian shows provided a harsh example of what that could mean to prospective visitors. Many European companies declined to transport equipment to 7th OTEMAS, electing representation through their Japanese agents. Likewise, several Japanese companies, such as Toyota Industries Corp. - formerly Toyoda Automatic Loom Works Ltd. - chose 7th OTEMAS to introduce new products and did not exhibit at ITMA Asia.For the purposes of this report, Textile Industries will combine the machinery reports from the shows, focusing on the technology presented rather than the venue. WeavingIn weaving technology, the major players seem to be becoming fewer in number with each passing day. With the recent acquisition of Switzerland-based Sulzer by the Itema Group, parent of Italian weaving machine manufacturer Promatech, the number has dwindled even further. For the time being, the products Sulzer manufactures are being marketed separately from Promatech's Somet and Vamatex brands. Somet and Vamatex, however, now share research and development and manufacturing resources.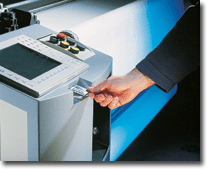 Picanol's OMNIplus air-jet weaving machine can run at speeds of up to 900 rpm.Promatech showed several models of its established looms at 7th OTEMAS, including the Super Excel by Somet and the Leonardo and Leonardo DynaTerry from Vamatex, . At ITMA Asia, however, the company exhibited for the first time in a trade show the Somet Alpha series, a machine designed to combine technology, ergonomics, versatility, reliability and low running costs. Production speed of the Alpha series exceeds 600 insertions per minute for the 190-centimeter (cm)-wide loom. The wider 360-cm model can exceed filling rates of more than 400 insertions per minute on heavy articles. The Alpha is available in single-beam and twin-beam models, with upper-beam and double-beam models under development. The machine is available in dobby version - featuring either the Fimtextile 3080 or Staubli 2670 - or in electronic jacquard version. Fifteen different widths are available, ranging from 1700 to 4600 millimeters (mm).Sister company Sulzer displayed at OTEMAS its new P7300 projectile weaving machine and several models from its rapier line. The P7300 S390 N4 SP projectile weaving machine focuses on the production of industrial textiles made from polyester filament in a working width of 390 cm. With a rotary dobby and a color selector for four weft yarns, it is suitable for a broad range of industrial textiles, according to the company.Rapier looms shown by Sulzer include the G6300, which was demonstrated weaving a woolen fabric. The machine has a working width of 220 cm and is equipped with a color selector for eight weft colors, and a rotary dobby. The G6200 B280 F8J rapier weaving machine for terry fabrics was shown as well.Sulzer displayed much of the same technology at ITMA Asia, adding its M8300 multi-phase weaving machine. The M8300, first presented in 1995, has undergone a continuous improvement process. To expand its range of applications, the thread density in warp and weft has been increased and the range of weaves extended to include four-end twill. At ITMA Asia, the machine was producing a fabric for working apparel with a thread density of more than 40 ends per cm (100 ends per inch) in 3/1 warp twill.Picanol NV, Belgium, showcased two major weaving machine types at ITMA Asia: the Gamma 8 R220 rapier and the OMNIplus air-jet machine.The Gamma machine on display was weaving a high-fashion multi-color worsted silk style. A new rapier and rapier guiding system, specially developed for the weaving of delicate worsted yarns, provides for excellent warp and weft stop figures and, consequently, improved efficiency and quality, according to the company. The machine is equipped with a positive StSubli dobby with 10 harness frames and an Eltex selvage Jacquarette. The Eltex Jacquarette has an independent, electronically controlled motor drive. Optional features included a tucking-in system with pneumatic clamp and a new type of filling detector, which in addition to monitoring the filling stops, displays the filling tension on the microprocessor screen during the insertion and enables it to be checked.Picanol's OMNIplus air-jet machine was weaving upholstery fabric made of polyester (PES) in the warp and cotton in the weft. This machine configuration featured a Staubli dobby (2871) allowing speeds of up to 900 rpm. The harness frames have Picanol patented built-in heddle dampers.Lindauer Dornier GmbH, Germany, exhibited for the first time in the Asian market its EasyTerry air-jet machine at ITMA Asia. By eliminating the complete dancer bar device for the pile warp, the result is fewer mechanical parts, less wear and 20-percent less deflection of the pile warp sheet. The ultimate result, according to Dornier, is reduced frequency of broken ends. Also, with the compact whip assembly and warp stop motions on two separate levels, the thread sheets are cleanly separated, simplifying broken-end repair.Dornier also has increased the flexibility of its air-jet weaving machines with its patented Fast Dobby Change (FDC), in which the positive cam motion can be replaced by a dobby in accordance with the market situation. The conversion can take place in the same time frame as a style change.Dornier also exhibited a rapier machine equipped with an electronic jacquard machine to enable use of eight filling colors. The company demonstrated a pattern change on the fly from a silk tie fabric to an upholstery fabric.The company's presentation at OTEMAS consisted of literature, panels and videos.While the focus of these major European loom manufacturers was on ITMA Asia, both Toyota Industries Corp. and Tsudakoma Corp. chose OTEMAS as their venue for major displays. As with other major Japanese corporations, neither exhibited in Singapore.Toyota Industies Corp., showed its JAT610 series of air-jet looms and the LW600 water-jet models. The JAT610 Air Jet Loom offers efficiency and high-speed operation for a range of fabrics including cotton, wool, denim, filament and fiberglass, according to the company. The loom also features low vibration because of the company proprietary shedding system and a lightweight beating mechanism that offers a balanced load dispersion. The JAT610 all-in-one frame is manufactured by a high-tech production system based on Toyota advanced automotive production process. Toyota's new LW600 Series water-jet looms incorporate advanced electronic controls originally developed for the JAT610 air-jet. The LW600's electronic let-off, in conjunction with a newly developed automatic pick-finding system, achieves the optimum in warp yarn control, sharply reducing start marks and ensuring fabric quality, according to Toyota. Plus, improved jetting water concentration minimizes warp yarn damage in concert with high-speed operation. The newly developed Automatic Pick Finder (APF) and electronic let-off improve ease of operation. As well, the loom incorporates a number of features to lower operating cost.Tsudakoma Corp., Japan, exhibited five sets of air-jet looms and two sets of water-jets.The ZAX-e, Tsudakoma's new air-jet, is equipped with the iT board, which incorporates an automatic setting function to achieve much easier operation. The iT board is a touch-type operation board with a user-friendly color graphical interface. As the functions in automatic data setting, automatic diagnosis and controlling looms are greatly expanded and improved, it is possible to get the necessary information with minimum key operation to take quick action, according to the company.The ZW408, Tsudakoma's new model water-jet, has also improved basic functions of higher productivity, higher operation efficiency and higher-quality fabric weaving. As with the air-jet model, data setting is easier with the iT board.NV Michel Van de Wiele, Belgium, was one of the major European manufacturers that put a considerable emphasis on OTEMAS, primarily because of the company's presence in carpet and velvet fabric production for the automotive industry. At 7th OTEMAS, the company presented its FDF, a three-frame jacquard velvet loom in a typical reed density for Japanese automotive velvet - about 22 dents per inch (9 dents per cm). This density means, first of all, that the already existing qualities can be produced on this machine. For the OTEMAS display, the jacquard and harnesses were extended for double capacity, enabling four backing yarns per reed dent for the top fabric and four backing yarns for the bottom fabric. The FDF is equipped, as well, with a 2 x 4 filling selector, allowing the creation of designs that have a combination of three-frame jacquard pile areas with jacquard flat-woven areas. The company says the FDF is the first implementation of this concept.Yarn PreparationIn spinning and winding, Japan-based Murata was the star of OTEMAS (See "Spinning In Control," page 66). As one observer succinctly put it: "The Japanese company's designers and engineers have recently unveiled important new additions to their product range in the field of air-jet spinning and, in particular, a sophisticated line of innovative, latest-generation automatic winding machines - developments that were enough to prompt the presence in Osaka of a large team of specialists from the company's German and Italian competitors, who had made the trip to Japan with the precise aim of carrying out an intensive 'intelligence' operation." Among the products displayed by Murata were the new No. 21C Process Coner, a new spinning frame, an air-jet spinning machine, an air-vortex spinning machine, an assembly winder, a two-for-one twister, a take-up winder, a draw-texturing machine and a management system for auto winders.It's not only in weaving, however, that acquisitions have reduced the number of autonomous major players. In competition with Murata's vortex spinning technology are both Germany-based Suessen and Rieter, Switzerland. Parts of Suessen are now owned by Rieter.Suessen presented at ITMA Asia its method of retrofitting existing ring-spinning technology with its EliTe¨ Compact Spinning System. In this system, after the fibers leave the drafting system, they are condensed in a subsequent zone. To accomplish this, they are taken over by an air-permeable lattice apron, which slides over an inclined suction slot. The fibers follow the outer edge of this suction slot and, at the same time, perform a lateral rolling motion. Among the benefits of this system, according to the company, are better yarn evenness by up to 1.5 CV percentage points; better imperfection values IPI by up to 70 percent; 30- to 85-percent less hairiness; up to 20-percent greater yarn strength; and up to 20-percent better elongation. Overall, the result is better runnability in fabric-formation processes.Rieter presented its new R40 rotor-spinning machine, the first result of the combination of Suessen/ Rieter technology. Rieter says the machine will improve both productivity and quality of the processed raw material. The automation concept of the model R20 has been combined with Suessen's spinning unit. After a test phase, the machine will be available in a maximum length of up to 320 spinning units and maximum outlet speed of up to 235 meters per minute (m/min).Rieter is concentrating more and more on presenting the image of a systems supplier - as opposed to a machinery manufacturer. The company's presentation at ITMA Asia was in keeping with this new marketing philosophy. Among the multitude of Rieter products on display were: a spun yarn system that demonstrated the company's capabilities in short-staple spinning, and a blowroom system beginning with blowroom lines that operate with low raw material consumption.The venerable C51 high-performance card was on display as well. It is, according to the company, the only card in the world with an automatic cylinder and flats grinding facility. Besides reduced neps and elimination of dirt, card downtime is reduced and the service life of the clothing is prolonged.Rieter showed as well its E72 combers, which operate at 400 nips per minute under mill conditions with high fiber selection; and the RSB-D30, the most widely used drawframe in the world, according to the company.The G33 ring-spinning machine, with SERVOgrip, provides the first cop-changing system without disruptive underwinding threads, while FLEXIdraft enables easy count changes, according to Rieter.For its compact spinning offering, Rieter has made improvements to its K40 ComforSpin machine, first introduced at ITMA '99 in Paris. The ComforSpin machine K44 combines the advantages of the G33 ring-spinning machine with Rieter's ComforSpin process technology, according to the company.Truetzschler GmbHandCo., Germany, presented its CLEANOMAT CXL cleaner, which combines both high production and excellent cleaning, allowing the use of only one cleaner in a production environment that previously required two.For the first time Truetzschler also showed its new pre-cleaner MAXI-FLO MFC, a machine that promises a higher degree of cleaning with reduced waste.The company presented its DK 903 high-production card in conjunction with an integrated draw frame.In winding, Italy-based Savio, owned by Radici's Itema Group, was on hand at ITMA Asia with its Orion I link winder and Geminis S twister. The Orion includes a spindle identification system that, when linked to a ring-spinning frame, enables the detection of the ring frame spindle position when a bobbin triggers an alert on the winding head. The alerts, which are displayed on a computer system, represent all the parameters electronic clearers are able to detect, including cluster; hairiness; yarn count; and thin, long and short defects. The Orion also features integrated Loepfe electronic clearers.The Geminis S twister was exhibited by Savio for the first time at an international show. This machine has been marketed to respond, particularly in the Far East, to market needs in which length of the machine is 200 to 240 spindles and no need exists for an independent side. The S twister requires less space and features different gauges than the standard Geminis.Germany-based Schlafhorst, a member of the Saurer Group, had on display its Autocoro 312, the latest generation in the company's popular line of rotor-spinning offerings. The new Autocoro features 312 spindles, which is a new development. As well, it features the Coromat intelligent automation unit, which performs the piecing operation and yarn-break correction process in the same way as the previous-generation piecer carriage.In winding, Schlafhorst presented the Autoconer 338 linked to a Zinser ring-spinning machine that featured its spinning spindle identification system. Also, the company showed a single-spindle unit Autoconer for winding elastic yarns.SSM, Switzerland, exhibited its PS6-W Precision winder for dye packages. This winder includes a counter-rotating-blade system for smooth treatment, a speed of 1,200 m/min and an individual spindle drive.SSM also featured its DPT-2 and RM2-T air-texturing machines. The DPT-2 is used for fine to medium yarns. Markets for these yarns include knitted fabrics, seamless products, light woven fabrics, effect yarns and combination yarns with spandex. The RM2T machine is used for coarse yarns and technical products, which include automotive yarns, upholstery products, sewing thread and covers.Rieter's Filament Yarn Technologies business unit, which is composed of the former separate units of Rieter ICBT, Rieter-Scragg and Synthetic Fiber Machinery, chose ITMA Asia to debut its new GOAL 1200.This friction twist texturing machine combines existing systems from Rieter ICBT and Rieter-Scragg with new developments: higher process speeds due to a forced yarn cooling system; improved flexibility, allowing manufacturers to run a wide range of materials such as PES, or microfiber, then change production to polypropylene (PP) without changing heaters; and delicate yarn processing by the use of a straight yarn path.Germany-based Barmag, also a member of the Saurer Group, focused on its AFK2¨ texturing machine with automatic package transfer. A newly developed take-up device allows production speeds of more than 1,200 m/min. Barmag's daughter company, Barmag Spinnzwirn, Germany, presented its newly developed babyASW900 winder, which is significantly smaller than the standard ASW900. The winder can be operated at speeds of up to 3,500 m/min.Dyeing, PrintingandFinishingThe German-Swiss Xetma Group, which includes Xetma Gematex GmbH and Xetma Vollenweider AG, presented its Multisystem XREB, a system that offers raising, emerizing and brush sueding, as well as various combinations of processes. Changing between technologies can be accomplished in less than two hours, according to the company.Stork displayed its new range of IPS dispensing systems, developed by Stork GSE Dispensing, The Netherlands, which became a part of the Stork printing group a year ago. IPS alpha 16 has an optimal price/performance ratio for printers using just one dyestuff group, while the IPS delta 32 is for printers that use two dyestuff groups. The IPS lambda, which features up to 64 valves, is marketed for systems that use three or four dyestuff groups. The two smaller systems offer automatic production of printing paste.


December 2001
Advertisement