Comfort TraditionandProtection
Premiere Vision: Fall 2002 Fabric Trends<
Premiere VisionBy Virginia S. Borland, New York Correspondent Comfort, TraditionandProtection Premiere Vision: Fall 2002 Fabric Trends Repercussions from the terrorist attacks on America were evident at the recent Premiere Vision apparel textile trade show in Paris. American attendance was off by about 65 percent, and there was a notable absence of Japanese and Korean buyers. However, the 471 Americans who attended the show represented some of the most creative talent in the fashion industry.Fabric selections were keyed to comfort, protection and tradition. New technologies introduced include fabrics with healing properties; heat-reflective fabrics; and lightweight, supple, and wind- and water-resistant nonwovens for apparel.Denim was shown in all sectors and at all price points. Finishing treatments that give fabrics an aged, worn appearance have been applied to a variety of fabrics. At the couture level, there are tweeds reminiscent of vintage Chanel; six-ply cashmere coatings; heavily encrusted beaded laces that resemble chain mail; and supple, handwoven silk velours.At Solstiss, a French lace company that sells to top designers, Francois Damide, president of the U.S. division, said there was less concern about price than he thought. Customers are buying less, but are still interested in novelty and expensive fabrics, he said. Laces and nets heavily encrusted with beads, paillettes and pearls are sampling well.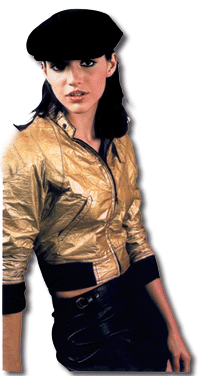 Neotis Reflectra fabric from DuPont's Neotis Studio Division was fashioned into a gold motorcross jacket. Teddy Bear WoolsThomas Brochier, who heads up the American office of French wool weaver de Cathalo, concurred that price is not a factor. He was, however, surprised at the strong interest in soft, thick, comfortable fabrics, with a cozy teddy-bear feeling. Fabrics are less glamorous. There is a definite interest in supple, drapeable, heavily brushed fabrics, he said. Alpaca/wool coatings, and wool/cashmere/angora jacket weights with laser-cut designs are among the favorites.In the Scottish wool sector, Gil Cable of Robert Noble noted there is renewed interest in the companys Teddy Bear Cloth, a bouclith the surface of a well-loved teddy bear. Lofty Shetlands, classic patterns, smooth worsted tartans with bouclver checks and traditional Scottish flannels are the most widely sought fabrics. Popular colors are cool, strong neutrals; ambers; and warm browns. Lavender is the new gray, said Cable. Scottish cashmere specialist Johnstons of Elgin sells 70 percent of its collection to the menswear industry. The Scottish tweed look is very in, said John Gillespie. Our estate tweeds are in demand in cashmere. They have a rich look - some are quite bold. Were doing them in classic Scottish country colors.Ray Eagleson, managing director, ReidandTaylor, another Scottish woolen company at the top end of the spectrum, said worsted suitings are making a big comeback. ReidandTaylor has them in a variety of weights. For the ultimate blazer, there is 14.5-micron super 180 wool. There are double-faced cashmeres, reversing from stripe or herringbone pattern to solid. Six-ply cashmere coatings sell for about $1,000 per meter.Hunters of Brora, Scotland, has new owners and a new look. According to Design Director Valerie Walker, the company continues to knit and weave traditional Scottish tweeds, but it has added a lot of novelty to the line. There are thick, chunky tweeds with splashes of metallic, giant checks and boldly colored rainbow stripes. Classic estate tweeds are selling well. Most are woven of Shetland wool or Peerimere wool, which comes from little sheep. In Scottish, she explained, mere means soft.French weaver AJM does custom weaving for leading designers, including Yves St. Laurent, Oscar de la Renta and Bill Blass. Fabrics are intricate and novel. A majority are thick, ropy tweeds woven in multifiber blends. They are colorful and reminiscent of vintage Chanel. There are boucl#44; chenilles, brushed surfaces, and fabrics woven with mohair or Lurex®.Earlier this year, the Northern Irish linen firm Ulster Weavers purchased Moygashel Linens. The additional loom capacity has enabled the company to produce an extensive range of woolens and worsteds for Fall. The name Moygashel will continue for home furnishings fabrics; all apparel fabrics will be sold under the Ulster Weavers label.For Fall, Ulster Weavers first line as a wool weaver has been created along the traditions of Ulster linens, with a typical Irish look. There are dress- and jacket-weight worsteds of 175 and 200 grams per meter (g/m) in solid shades or heathers with coordinating small patterns. Twill weaves are sampling well. Brushed wools of 240 g/m are soft and misted.Its all about comfort. People want to find peace and tranquility, said Carlos Cubeddu, American representative of the French woolen firm Carreman. Soft finishes, plush coatings, twills and flannels with stretch are among the most heavily sampled fabrics. Techno wools woven with high-twist yarns in blends of wool with nylon microfiber have a feel-good touch. There is a move away from luster. Opaque, performance techno fabrics are hot right now, Cubeddu said.At France-based Isoule, bouclreminiscent of Chanel, mohair in rich colors and boiled or felted wool tweeds are popular. Red and white diagonal weaves, muted and tonal tweeds, and embossed wool coatings with shiny touches are other fabrics pointed up.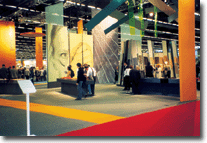 Fabric selections at the recent Premiere Vision show were geared towards comfort, protection and tradition.Milior, from the Prato region of Italy, is into a lot of technical fabrics. It is a major Lycra® user and was showing a group of fabrics containing Thermolite®. There are Thermolite/wool/Lycra blends - the wool gives the fabrics a soft touch. Classic menswear suiting fabrics are woven in blends of wool/Lycra. Light, fine-gauge knits blend polyester with 6-percent Lycra. New Technologies of the 21st CenturyPremiere Vision was the venue selected by DuPont Apparel and Textile Sciences to introduce four new fiber variants. Greg Vas Nunes, European and global ready-to-wear vice president, said, We need to Premiere Vision was the venue selected by DuPont Apparel and Textile Sciences to introduce four new fiber variants. Greg Vas Nunes, European and global ready-to-wear vice president, said "We need to deliver clothes that do more than just look good. We must focus more on value than just on cost.Type 400 (T-400) is a new stretch fiber that DuPont will brand as Lycra. It is suitable for applications requiring moderate stretch, such as denim and shirtings.Type 800 (T-800) is self-crimp nylon 6,6 that generates bulk and texture. Fabrics containing T-800 have a natural touch, slightly frosted appearance, and built-in stretch.The Lycra trademark will be given to fibers that meet DuPonts global certification standards for comfort, fit and freedom of movement, whether or not they contain spandex.TACTEL® prisma is another new yarn. It combines two polymers at the spinning stage to achieve two-color heather effects that incorporate different degrees of shine, sparkle or color tonality (See K/A News, TI, this issue). Tactel metallics, soft fibers with new dye capabilities, are another DuPont innovation. And there is more to come, said Vas Nunes.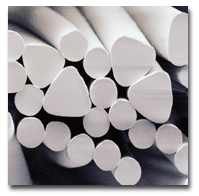 A magnified view of TACTEL® prisma fibers shows two different polymers withtwo differenct cross-sectional shapes.The Neotis Studio Division of DuPont has developed a diverse fabric collection for a wide range of end-uses. The collection of nonwoven fabrics has gone beyond its first offering of protective cloths. For Fall 2002, there is a strong fashion statement. Denim with nonwoven substrate technology is garment-washed to give it a soft hand and antique look. There are aluminum-coated fabrics that reflect or absorb heat, and sandwich-cloth leather looks. These fabrics from Neotis Studio are machine-washable, and wind- and water-resistant.Niki Bosch for Ripopele is based in Spain, and its line is produced in Portugal. For Fall, there are two collections. Omnibus consists of basic fabrics; I+D comprises innovative and technical fabrics. There is a group of fabrics containing Ceramic K12, a thermo-reflecting fiber that was developed in Japan. One fabric in a blend of Ceramic K12/viscose/elastane has the look and touch of a worsted suiting. There are flannels and fleeces with a cashmere touch.New at AGB of Spain are fabrics in blends of cotton/iron. They can be crushed or pleated and smoothed out by hand, and they are available with a casual or a crisp finish. There are moisture-wicking, heavy twills containing polypropylene, and a lot of natural-fiber blends dyed with natural products.At France-based Griffine, supple fake leathers have been finished to give them a vintage look. For raincoats, there are ultra-light fabrics that have a noisy paper touch and slick fabrics with a rubber touch that can be stitched or welded. Knit InnovationBritish knitter Welbeck announced a merger with the fabric and dyeing businesses of Richard Roberts Richard Roberts Fabrics, Berne International and CreativeandTechnical Textiles. The company will be known as Berne-Welbeck International Ltd. The businesses will be amalgamated into the Welbeck site in Derbyshire.New innovations developed by Welbeck are fabrics containing X-Static® and Airpak®. X-Static is a silver-coated fiber developed by Noble Fiber Technologies of Clarks Summit, Pa. It is antimicrobial, anti-static and therapeutic, and has thermal properties to protect the body from temperature extremes. Airpak is a two-sided fabric with a compression-resistant center. It is breathable, moldable and easy-care.The encapsulated fragrance and moisturizer ranges at Welbeck have been extended to 40 variations. Welbeck is working with special customers to produce fabrics with designers exclusive fragrances. Italian knitter Mabu Jersey is selling a range of coordinates in wool/cotton and wool/acrylic. There are yarn-dyes, piece-dyes and jacquards that are double-dyed for tonal effect. Wool jacquards have been boiled to have a bulky look. Some of these have the appearance of bouclnits. There is a Lurex line for evening that is knitted in polyester/nylon. There are pleats, pliss#44; prints and stripes.Another Italian knitter, Marioboselli, introduced a line of big-gauge wool knits. There are cloques, bubble effects, crinkles and tree-bark surfaces. The fabrics are soft and have a dry hand. Some contain Lycra or Elitstretch yarns. A less expensive Marioboselli line is being produced in Slovakia. Most of the fabrics are knitted in acetate/viscose/nylon blends, some with Lycra.French knitter Billon Frs has denim knitted in a blend of cotton/nylon/Lycra. It is available tie-dyed, distressed, torn and printed with metallic oriental flowers. Laces in this line range from ultra-light to heavier crochet types. Some are printed with splattered patterns. Other knits at Billon Frs include stretch corduroy, ottomans, ribs and embossed suedes. There are wool/mohair blends, double borders, jacquards, cloques and a variety of stripes. PrintsPrinted fabrics are becoming more sophisticated. Along with traditional prints and printing techniques, there are burn-outs, flocking, metallic spots and sequin applications. Some of the most popular prints for Fall simulate the look of the real thing. The Italian firm Segalini has tweed patterns printed on georgette that mimic the look of coordinating brushed, wooly tweed fabrics. Some of the tweed prints are flocked in velvet, while others are over-printed with metallic dots. Italy-based Miroglio reported that animal prints are sampling well. Shirting-weight fabrics containing Tencel® are especially popular. Some of the Liberty line is selling to producers of mens shirts. Scattered geometrics and squashed squares are popular. There are wicker patterns and flat flowers that look like woodblock prints.France-based Chain et Trame exports 50 percent of its print line primarily to other European countries. Because the company has its own print and dye facilities, it can work quickly. The companys design team creates new patterns on a continuing basis. Deliveries take approximately two to three weeks. Viscose crepe and viscose georgette are staple base cloths at Chaine et Trame. The companys best-selling print at Premiere Vision was a splattery abstract with a washed-out look printed on cotton/polyester/Lycra. The Silk SectorItaly-based silk weaver Ratti S.p.A. has printed denims of cotton/elastane and printed jersey for T-shirts to go with them. There is a lot of coordination in this line. Brushed cotton/viscose leno bottomweights are shown with a floating layer of floral printed chiffon. Ratti has wool pin stripes and a group of black and white prints on a soft, fuzzy wool/angora blend. Printed velvet is another strong seller. It is available in a blend of silk/viscose. For evening, Ratti has a luxurious silk velvet.Swiss jacquard producer Weisbrod-Zuerrer showed a line of techno-luxe silks and blends that are traditional with modern applications. For evening, there is a cloth called Jeans de Luxe. It is Teflon®-treated metallic stretch denim. There are fake leathers with Lurex and mohair, short-hair fake furs embellished with Swarovski stones and jacquards that resemble chinchilla. There are silk jacquards with romantic tonal flowers, micro-geometric patterns with touches of effect yarns, and holographic patterns on plissbr>The French firm Paul Dulac has silk sandwich cloths bonded with metallic swirling circles, quilted matelasstitched with metallic yarns, cashmere/silk knitted fabrics that are ultra-soft and light, embroidered silk sheers and gossamer mohair net.There are warp prints on light, noisy taffetas at Bianchini, France. Some contain metallic yarns. There are chiffons hand-printed with enormous melting flowers and crinkled pliss For Fall, this French silk weaver has added a line of wool-blend jacquards. Patterns are abstract.The ultimate silk comes from Bucol, a French silk producer that has archives dating back to the 16th century containing 80,000 pieces of fabric. One fabric that goes back to the Renaissance is called Velours dGenes, or Iron Velvet. It is handwoven on antique looms. The fabric is only 70 centimeters wide. One weaver in Lyon has looms in her home that can weave 15 centimeters a day. In nine months, she was able to weave 300 meters. The first day of Premiere Vision, 100 meters sold, at $600 a meter. Other fabrics at Bucol include silk prints reminiscent of the Belle Epoch in dusty colors. There is a new line of wool/silk tweeds. Some have touches of Lurex, others have distressed and torn looks, and some are woven of mohair.The next Premiere Vision salon will be held from February 20-23, 2002, selling fabrics for the Spring/Summer 2003 season.
December 2001
Advertisement