ASF Maximizes Productivity
American Synthetic Fiber pioneers with PC-controlled electrics, machinery.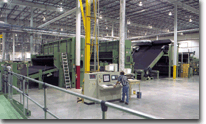 ASF Maximizes Productivity
American Synthetic Fiber pioneers industry with PC-controlled electrics, machinery.
Maximizing productivity is an absolute necessity within the American textile, fiber and apparel complex. The competition for market share is fierce, and margins are slim. Add the ever-growing influx of imports the production of which is often subsidized by foreign governments and even the best-managed company can find itself in a most precarious position.Achieving maximum efficiency can depend upon a lot of factors: market segments; market position; skill of labor force; age and capabilities of machinery; and more. Enhancing competitiveness might be as simple as upgrading machinery, or it might entail entering entirely new market segments. Many U.S. textile companies have found it necessary to curtail production of commodity fibers, yarns and fabrics and concentrate on those specialized niches in which low-cost imports have not yet made much of an inroad.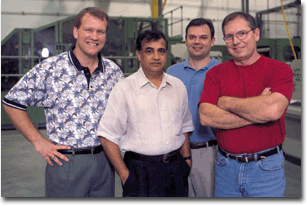 The owners and managers at American Synthetic Fiber(left to right): Jeff Bennett, vice president; Ray Amin, president;Troy Ashe, director, manufacturing; Roger Robinson, director, operations.
Textile Industries
often features companies coping with the challenges of competing in todays global economic environment. In this issue,
TI
looks at a company that has grown by progressively entering new markets and by establishing a sophisticated system of controls that keeps its machinery operating at peak efficiency with a minimum of downtime.In fact, when American Synthetic Fiber (ASF) planned construction of its new 240,000 square-foot fiber extrusion and nonwovens fabric production facility in Pendergrass, Ga., more than two years ago, managers focused on the singular objective of maximizing up time.Our goal in 2000, with the first needle-punch line starting up in May and the second in September, was to ensure a capability of producing 14 million pounds of high-quality, standard and proprietary fabric annually, said Ray Amin, president of ASF. Market demand is significant, with a number of the nonwovens segments experiencing double-digit growth. Location, Vertical Supply, Multi-Drive Machine ControlBuilding from scratch gives you the opportunity to think about everything you want to accomplish in terms of efficiency and operation, noted Amin. The plants location in northeast Georgia puts ASF within just a few hours of its machinery and electrical vendors. Customers, OEMs and other textile manufacturers for ASFs geotextile, agricultural and furniture/bedding fabrics are within easy reach, too.The polypropylene fiber extrusion equipment, which takes up half of the facility, was set up first both as a vertical source of raw materials supply internally, and for producing fiber to sell to other nonwovens manufacturers. ASF has two extrusion lines one by Fare and one by Varemac, both featuring Autefa bale presses. The equipment was purchased through Fi-Tech Inc., Richmond, Va., a company that was instrumental in helping ASF enter the nonwovens business.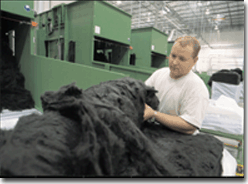 Polypropylene resin, extruded in a number of colors, is stockpiled for standard fabric production, with specialty fibers produced on a custom-order basis.With the success of the polypropylene lines, ASF turned again to Fi-Tech for suggestions about how to enter the nonwovens business, according to Todd Bassett, executive vice president, Fi-Tech. We put them in touch with the Dilo Systems Group [Charlotte, N.C.], from which ASF acquired its two nonwovens lines.The two lines are concepts Dilo recommends for producers of geotextiles, furniture fabrics and other such products, according to Klaus Maitre, executive vice president, Dilo.Opening and blending is provided by Temafa. Dilo supplied the compressive batt feeders, the card (Spinnbau), the cross lapper (an Autefa TopLiner CL4000 purchased through Fi-Tech), the web drafter, and a Dilo OD-II S 60 and an OUG-II S 55 needle loom for each line.ASF also worked alongside systems integrator, Chattanooga, Tenn.-based Electric Systems Inc. (ESI - a wholly owned subsidiary of N.S.C. Schlumberger), to install a combination of PC control and multi-drive AC motor control for seamless operation of all processes from the carding system to the winder. The two lines installed are the largest and first nonwovens production lines to be built this way, with the multi-drive featuring a true, common DC bus.Why this configuration of control Because it optimizes throughput, increases operational reliability fewer power devices are required in a multi-drive utilizes all regenerated energy, and reduces inventory costs of spare parts dramatically, noted Mike Mauney, director of business development, ESI. It is a cost-effective solution for an industry that utilizes machinery and processes that generate significant inertia and regenerative energy.While the common DC bus multi-drive features a total of 43 ABB integrated motor drives to provide progressive draw control for the production machinery, a stand-alone configuration of 16 standard ABB drives operates the motors of ASFs opening and blending process. PC Control Improves EfficiencyGiven that ASF wanted, with its first production line, to run fabric from recipes, ESI recommended PC control of the electrics and machinery. With a PC, the operator calls up the recipe, and the machine pre-loads and starts the entire production sequence, said Martin Wall, director of engineering, ESI. This minimizes changeover time, so that you can stay in production. The operator can concentrate on setting speeds to optimize fabric quality. To build the integrated drive and PC control system, ESI met with each of the six manufacturers supplying equipment to ASFs first two production lines. You have to know how the equipment operates and how events sequence, so that you can connect properly the hundreds of thousands of input/output [I/O] points from machines to I/O boards, and boards to drives and PCs, noted Wall.To integrate the diverse equipment, ESI created a Supervisory Control And Data Acquisition (SCADA) program, utilizing Wonderwares In Touch and In Control platforms. Then, it used a Profibus communication protocol to link SCADA to the individual ABB drives within the multi-drive.The advantages are enormous both operationally and in terms of costs. Processing sequences for recipes are up and loaded in the PC; if theres a problem with the system, you simply plug in a new PC youre back up in minutes, noted ESIs Mauney. The PC, at an approximate cost of $2,500, is your spare part. A traditional PLC control system usually requires a manufacturer to keep six to seven PLC boards in spare-parts inventory, at a cost of $1,000 to $2,000 per board.Its easy, said Troy Ash, ASF Nonwoven plant manager. I can download my recipes to a floppy disk, upload them into the substitute PC and were running. This easier master control of all machinery means drives and motors must be extremely dependable, said Jeremy Nighan, regional manager for ABB Automation Inc., DrivesandPower Products, Duluth, Ga. Manufacturers like ASF expect to run 24/7 year-round, so drives have to provide high reliability, repeatability and require less service.Drives that are easy to read, program, and provide a history of faults also are helpful to ASF operators and service technicians, according to Jeff Bennett, vice president, ASF. Historical performance data is extremely easy to gather from ABB drives via the Profibus protocol, he noted.The common drive platform for ABB AC drives also allows replication of the fine tuning and settings established over time to additional production lines as they are installed. Through ABBs DriveWindow tool, technicians can upload all the drive settings from the first line and download them quickly into the corresponding drives on the newly installed lines. Competitive AdvantageSeamless integration of machinery and electrical control is as critical as attracting high-quality equipment operators and extruding high-quality raw fiber in giving a manufacturer a real competitive advantage. ASF hires carefully, because the best people working in combination with highly responsive machinery can produce first-rate fabric that then can be improved continuously.ASFs goal is to produce an array of proprietary fabrics, in addition to standard fabrics. The machinery is set up so that it can exploit its optimum operational capabilities to allow expansion into fiber blending, fabric coloration and fabric slitting to virtually any size.With lines now in full production, and plans to add more employees over the next three years, ASF seems poised to initiate more new ideas in its pursuit of maximizing up time and optimizing throughput. Multi-Drive Enables Use Of Regenerative EnergyA traditional system of AC-fed drives with a shared bus and bus-regeneration unit was included in the four electrical/machinery control systems ESI proposed to ASF for its first processing line.ASF looked at that option closely, comparing it with the multi-drive featuring a true common DC bus now installed on two of its lines.The multi-drive, built at ESIs manufacturing operation in Chattanooga, Tenn., features 43 ABB AC motor drives, ranging from 3 to 200 horsepower, connected to a common 700-volt DC bus supply. It is the first and largest such configuration for a nonwovens fabric production line.Inherent to a true common DC bus multi-drive is an ability for all drives to share energy within the system, noted Martin Wall, director of engineering, ESI. So all energy can be utilized, rather than excess energy being taken out of the system, via resistors, in the form of heat.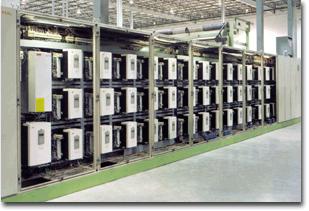 Via the common DC bus within the line, regenerative energy from high-inertia machines, such as the tenter and winder, can be used by other drives and motors. When all drives are regenerating, excess energy returns to the utility line via ABBs Thyristor Supply Unit (TSU).The shift to AC control requires integrators and end-users to be attentive to which machines create regenerative energy, and in what quantity, observed Wall. In traditional DC systems, every drive was a regenerative drive. In conventional AC systems, thats prohibitive cost-wise, so it pays end-users to identify the specific sources of regenerated energy.It is also precisely because so many nonwovens processes create high inertia that common DC bus multi-drive control makes practical sense, according to ESI. These processes also enable a manufacturer to maintain power through a utility power dip.When a true common DC bus multi-drive is powered up, no pre-charge arrangements are required; all drives come up at the same time. The common bus supplies the power to each drive and eliminates the three-phase supply used for each drive in a shared-bus configuration. Input power semiconductors and pre-charge hardware are also eliminated, reducing hardware count and increasing reliability.The true common bus also eliminates the need for additional reactors in front of each drive, to provide filtration, noted Glen Youell, ESIs senior systems engineer. He noted that use of ABBs ACS 600 series open-loop Direct Torque Control technology also eliminates the need to install encoders on ASFs machines (excepting the carder). ABB claims the DTC feature enables each motor drive to calculate the state (torque and flux) of the motor 40,000 times per second, making the drive virtually tripless.Elimination of so much hardware in the construction of this type of multi-drive means a lot less engineering and manufacturing are required, concluded Wall. That makes the common DC bus system cost-effective and attractive to particular types of producers.
August 2001
Advertisement