The Myths And Reality Of E-Apparel
Technology, customer service and management of distribution channels provide challenges for the retailer and manufacturer.
Terri Ross
E-Apparel Show ReviewBy Teri Ross The Myths And Reality Of E-Apparel Technology, customer service and management of distribution channels provide challenges for the retailer and manufacturer. The early analysis for B-to-C (business-to-consumer) e-commerce was obviously based more on wishful thinking and speculation than on well-researched business plans or demonstrated results. Claims that the Internet leveled the playing field for the little guy, and that building an on-line-only retail presence held a distinct advantage over traditional brick-and-mortar retailers, was an enticing proposition for many entrepreneurs. It provided a breeding ground for venture-capital-backed on-line retailers who falsely believed that extensive advertising, building a large customer base and selling out after the IPO were more important than generating a profit.The result of this equivocation might ironically be summed up in one word, boo. Boo.com is the haunting story of a UK-based sports and streetwear Internet-only retailer that burned through $135 million in venture capital in less than two years on a site that generated sales of only $680,000 during its first quarter. The site featured state-of-the-art technology that would allow shoppers to zoom in on a product, spin it around and view it from different angles, or see how outfits look on a virtual mannequin. Critics argued an over-reliance on bells and whistles technology that often failed to work was a contributing factor to the failure of the site. Company founder Ernst Malmsten pointed to this technology as the element that most surprised him about running his on-line company. It took a long time to develop and took so many people to maintain, he said.Boo.com was one of many examples presented at the International Quality and Productivity Centers (IQPC) E-Apparel Conference in San Francisco in late June to demonstrate that technology is not the only challenge to on-line retailing. Customer acquisition, marketing costs, customer service and returns were cited as examples of why results are favoring the click-and-mortar (on-line and off-line) retailing approach. As the statistics show, the most successful on-line retailers of apparel and related products are traditional retailers for whom the Internet is just another channel of distribution.The numbers are enticing. B-to-C e-commerce sales for 1999 reached between $25-$38 billion and are expected to double annually, according to Discount Store News. On-line sales for apparel reached $878 million in 1999 and are projected to reach $1.9 billion for 2000 and $11.7 billion by 2003, according to Forrester Research. It is interesting to note that the percentage of women and men who have browsed the Internet for clothes has increased 80 percent and 40 percent respectively over the past year.The numbers also demonstrate that the on-line distribution channel has many obstacles to overcome. According to a 1999 NPD study of 2,399 people, nearly half those interviewed said they never plan to buy clothing on-line. More than 40 percent of experienced Web users in the survey, many of whom had bought a fashion item on-line and had a good experience, said they would avoid buying apparel on the Web in the future. Eighty-eight percent of those polled said they were concerned about not being able to try on the clothing before buying it. Return policies were an issue for 70 percent.In defiance of projections that B-to-B (business-to-business) e-commerce will be 10 times greater than B-to-C e-commerce, the conference was very heavily focused on the B-to-C sector, leaving manufacturers and suppliers with many unanswered questions. Omissions aside, there was a wealth of valuable information for anyone involved in the industry. Best-Of-Breed WebsiteIt is obvious there are opportunities as well as challenges. It is also apparent that the product and the technology are equally important. With this in mind, what constitutes a best-of-breed website Lauren Freedman, president of the Chicago-based e-tailing group and keynote speaker at the E-Apparel Conference, provided several key points to consider. Armed with 15 years of traditional catalog and retail buying and merchandising experience for department stores and specialty catalogers, her firms experience in providing strategic and e-commerce solutions to on-line merchants yielded a wealth of information.According to Freedman, exceptional customer service and unstoppable fulfillment with post-order customer satis-faction are key. Gap.com offers a broad range of on-line customer service including a getting-started tutorial, a guide to everything you need to know about shopping on-line, size charts and information about how to return items. With convenience, not cost, cited as the primary motivator for shopping on-line, the ability to return items easily is important to the e-apparel buyer. This is where the brick-and-mortar retailers have pulled ahead, allowing on-line customers to return items to the store. Another successful click-and-mortar retailer, Coldwatercreek.com, will send out pre-addressed Priority Mail envelopes for returns and exchanges, allowing the customer simply to drop the items into the envelope and into a mailbox. The cost of the shipping is billed directly to the customers credit card.A user-friendly, easy-to-navigate site (the on-line version of a well-laid-out store) that performs well in peak traffic and is unencumbered by slow security features will prevent visitors from leaving the store, or worse, being unable to enter. While victoriassecret.com appears to follow most of these criteria, it cant quite seem to satisfy the demand for the sites annual on-line fashion show. One million people stampeded the site on the evening of Feb. 3, 1999. The deluge slowed the Webcast to a crawl for many viewers, while others just got an eyeful of error messages. The 2000 show, with state-of-the-art streaming video, merely underlined the vulnerability of live-media technology. Despite new streaming media technology and the benefit of experience, the results were the same. The problem, according to analysts, is that the Internet simply isnt built to handle such traffic.A best-of-breed site should promote impulse-buying opportunities upfront to drive customers further into the site. Check out nordstroms.com, macys.com, and bostonproper.com, each of which offers promotional merchandise from its home page.An effective site offers a combination of interactive tools and value-added content to create a destination for shoppers. Alloy.com doesnt just sell clothes for Generation Y; it is a destination where shoppers can read targeted beauty, entertainment and sports articles, get advice, post on message boards, chat and more. Its a virtual shopping mall.The best-of-breed website imple-ments personalization and loyalty programs into the shopping experience for customer retention purposes. Neimanmarcus.com offers a gift-reminder service that notifies registrants when a special event is coming up and offers gift suggestions. Landsend.com supports virtual model technology that will allow a visitor to see a 3D rendering of selected products on models that closely match the visitors profile. Purpleskirt.com recommends clothes based on the visitors profile. Express shopping features to convert convenience shoppers into repeat shoppers have proven to be a strategic advantage for sites like amazon.com, which offers its patented one-click check-out. With statistics claiming that more than 40 percent of shopping carts are abandoned because they are confusing or poorly executed (or arent on a secure server), the check-out process is an extremely important part of the equation.A site that provides a communal aspect, allowing loyal customers to interact with each other, will keep them coming back. At lucy.com, visitors can chat with stellar women athletes, writers, moms, sisters, movers-and-shakers... Much like alloy.com, this site creates the virtual mall.Simple merchandising, not high-tech bells and whistles, make for a successful on-line storefront, according to Freedman. Its a stretch to make this a romantic medium, she said. The technology is still limiting.There are many emerging innovative technologies that will enhance the on-line shopping channel. Virtual Model Technology will render 3D images of product in the customers actual measurements; ZOOM Server Technology will allow for close-up visualization of fabric and yarns; color management systems will dramatically improve the accuracy of color rendering on different monitors; and Expert System-based technology (artificial intelligence) will supply applications that can be programmed to do the shopping for you. While these technologies alone will not dramatically change the landscape of e-commerce, they will fuel the growth of on-line shopping by improving the customer experience. Managing Channel ConflictWhile early analysts claimed the Internet created a channel conflict that would cannibalize existing channels of distribution, this claim has proven to be yet another dubious assertion. As demonstrated by the success of the off-line catalogers and traditional retailers, the Internet has proven to be a powerful channel against which to leverage their brand, their marketing and their store or catalog presence. On-line, the retailer can leverage its brand with additional products expanding sizing, exclusive brands and pricing specials. As Steve Kernkraut, senior managing director of Bear Sterns, states, The Internet is simply another channel the retailer has to manage. Successfully integrating e-commerce into a multi-channel environment is a lesson that most on-line retailers have had to learn the hard way. Processes, including returns, pricing, markdowns, policies and sizing, must all be consistent. Systems must be aggregated and linked, sales and inventory must be planned en masse, and the merchant must plan for both item and assortment businesses.While catalogers had hoped the Internet would eventually reduce printing and mailing costs as customers moved on-line, the printed catalog has proven to be a very cost-effective vehicle for advertising the on-line store. Multi-channel merchants are learning that advertising and promotions reinforce and complement all channels, which ultimately results in a lower customer acquisition cost for the multi-channel merchant.The results from cross-channel merchants are demonstrating that todays savvy customers shop multiple channels, with convenience being their number-one motivator. E-Tailing For The ManufacturerManaging channel conflict can be a greater challenge for the manufacturer who wants to sell products directly to the consumer on-line without alienating existing distribution channels. Julie Chaiken, president of the young designer clothing company in San Francisco that bears her name, has developed a winning formula that allows her products to be sold on-line through a select group of merchants who reflect the companys image and target audience. As Chaiken states, I choose my on-line merchants with the same scrutiny I do the brick-and-mortar stores. With on-line merchants offering a range of business propositions that include varying consignment arrangements as well as buying goods outright, Chaiken advises a manufacturer to consider all of the fulfillment and customer service requirements before signing up with an on-line merchant to sell its products.Jupiter Communications predicts that by 2005 on-line B-to-B trade in the United States will be worth $6 trillion, or 42 percent of the total U.S. B-to-B non-service market. Currently, 92 percent of the trade takes place in the direct channel model, i.e., one seller, many buyers. Jupiter says that by 2003, 35 percent will have shifted to Internet markets with multiple buyers and sellers, or exchanges.There are currently more than 80 apparel- and textile-related exchanges, each with differing value propositions. The primary benefits for participating in these exchanges, or e-marketplaces, are the ability to negotiate better pricing, the reduction in transaction costs and the broader reach of customers and suppliers. It is estimated that almost 70 percent of the industry will participate in these exchanges, with more than 50 percent expected to join between two and four exchanges, as no single marketplace serves all needs.For manufacturers, B-to-B exchanges will create an open market where processes dominate organizations as opposed to the current business model where organizations dominate processes. These exchanges will create opportunities to collaborate on processes like inventory management, customer service, account management, order management, logistics and fulfillment, and procurement. The exchanges will allow manufacturers to exploit market opportunities and reduce costs through reduced inventory and lower transaction costs. Bottom line, these exchanges are expected to dramatically improve supply-chain management, a significant determinant of competitive strength.In interviews with 20 retailers to obtain their perspective on sharing processes via the Internet, Forrester Research learned what retailers really want from their vendors real-time information to reduce cycle times. Retailers want manufacturers to approach Internet connections to retailers as a collaborative venture. One manufacturer said to DeloitteandTouche, Improving our supply-chain connections is more important than boosting Internet sales.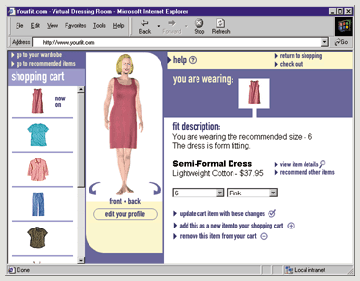 Yourfit.com is one of a growing number of virtual try-on technologies being implemented by on-line retailers.
Editor's Note: Teri Ross is a writer, speaker and consultant focusing on CAD/CAM technology and process improvement strategies for the sewn products industries. She is owner and president of Imagine That! Consulting Group, publishers of the award-winning techexchange.com. She can be reached at tross@techexchange.com or at (952) 593-0776

.
September 2000
Advertisement