New Generations In Seamless And Sliver
Santoni, Mayer showcase new circular knitting machines, while Sapona focuses on yarn development.
Jim Phillips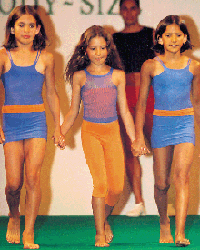 With new, digitally controlled electronic circular knitting machines, knitters can now do more things faster, less expensively and with more meticulous control than ever before. New offerings from Santoni facilitate the production of seamless bodywear fabrics, while Mayer Industries, the U.S. subsidiary of MayerandCie., is on an all-out campaign to gain acceptance for the companys proprietary Fiberknit process.Even yarn manufacturers and finishers are getting into the game, with companies such as Sapona Manufacturing, the venerable North Carolina texturizer, trying so many different blends of fibers that S. Steele Redding, the companys CEO, was prompted to say, "There are days I think Im just in the sample business." The Queen's HosieryIt is somewhat doubtful the Rev. Mr. William Lee, Vicar of Calverton in Nottinghamshire, England, foresaw the fruit of his labor when he constructed what is popularly regarded as the first knitting loom in 1589. It is rumored that the industrious reverend knitted ladies stockings on this loom and presented a pair to Queen Elizabeth I.By the late 1700s and early 1800s, circular knitting machines surfaced in France, and, by the end of the 19th century, they were beginning to see widespread acceptance in the United States. One development in 1847 hastened the acceptance of circular knitting technology on the western shores of the Atlantic the latch needle.The basic design of the circular knitting machine has remained remarkably unchanged since then. Now, some four centuries after the presentation of the great Queens leggings, circular knitting machines have electronic controls that make pro-ductivity, efficiency, ease of design and quality a foregone conclusion. But the common-ality remains. In fact, as is often the case, history is cyclical, and knitting machines are now being used for the very products for which they were originally created.The first knitting machines had a limited diameter. The fabric they produced was used for knitted tubulars that already had the size required for the garments. These were, as Santoni points out, body-size machines. Santoni Goes Seamless"Nowadays, this solution is again in place through sophisticated technical pro-cedures and systems manu-factured by Santoni," said Fiorenzo Sandonini, marketing manager, Santoni. Santoni is a unit of Italy-based Gruppo Lonati.Santoni has developed fully electronic circular knitting machines that produce garments that are popularly called either body-size or seamless."Technological know-how alone was not enough to re-engender this revolution," Sandonini says. The way was fraught with challenges, mis-understandings, inconveniences and, sometimes, just stubborn people.To begin with, Sandonini said, Santoni engineers studied and revised production techniques that have been in place since the dawn of the knitting industry, reworking and updating designs that were specified for equipment that substantially predated the Industrial Revolution. Then, there was the skepticism offered by many throughout the world, particularly in Europe, that seamless bodywear would not find a niche in the market, except, possibly, for a few low-end items.Despite the naysayers, as the world now knows, knitted seamless bodywear is all the rage these days, with more than a few shows in the worlds fashion capitals dedicated to this province of apparel.Sandonini estimates demand for circular knitting machines dedicated to seamless will top 2,500 in 2000. Demand in 1999 was for 1,750 machines, up from 850 in 1998 and 350 in 1997."Without even mentioning the quality of articles one can obtain, one can just look at the brand names already using body-size machines to realize that they have made a difference in the market for knitted goods," he said. Seamless has made inroads into every market point, including the high end, where quality is measured by standards greater than just visible defects.Among just a few of the brands mentioned by Sandonini include Nike, Reebok, Dior, Banana Republic, Armani, Playtex, Jockey and Victorias Secret.Primary products are underwear, particularly for ladies. Slips and briefs account for about 50 percent of total production, while tops and bras total about 30 percent. Bodywear, sleeveless t-shirts and tank tops account for much of the remainder. Sportswear and medical wear represent the areas in which there is the most experi-mentation in new fibers and yarns, Sandonini said.In 1997, seamless underwear accounted for just 1 percent of total demand. That grew to 7 percent in 1999 and is projected by Santoni to approach 11 percent in 2000.Santoni markets its SM8 and SM9 family of machines for seamless applications. The SM8 series are single-jersey machines, while the SM9 series are double-knit. The Seamless MachinesThe Santoni SM8-V.E. is an eight-feed, single-bed electronic circular knitting machine with needle/needle selection on four feeds. The machine can be used for the production of gar-ments with high-pro-ductivity synthetic yarns for underwear, outdoor-wear, swimwear, sports-wear and sanitary gar-ments. The machine, as do most in the Santoni line, features single-garment separation.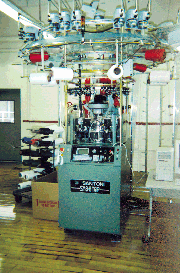 The SM8-V is an eight-feed machine with fixed selection on four feeds for the production of sanitary garments with high productivity syn-thetic yarns. This model also features single-garment separation.The SM8-8 TOP is an eight-feed single-bed machine for the manu-facture of underwear, outdoorwear, swimwear, sportswear and sanitary garments. Terry capability is available, but it is not a standard feature.The SM8-8 TOPplus is an eight-feed, single-bed machine that includes a patented Santoni system to enable the knitting of eight-feed patterns with high definition and sharp colors.Santonis SM8-8 TOP2 includes two selection stitches on each feed, while the SM8-TOP3 has three selection stitches.The SM8-8 CF is an eight-feed, single-bed machine that also pro-duces underwear, out-doorwear, swimwear, sportswear and sanitary garments. Terry is optional. The machine knits garments in con-tinuous fabric with elec-tronic take-down. The SM12-CF is similar but features 12 feeds.Diameters for the SM8 series include 10, 11, 12, 13, 14,15 and 16 inches, except for the SM8-TOP2, which ranges from 12 to 16 inches, the SM8-TOP3, which has a 17- to 24-inch range and the SM12-CF, which has diameters of 16, 17 and 18 inches.The double-jersey offering by Santoni is the SM9, which is available in three models. The SM9 is an electronic circular knitting machine for the production of rib fabric underwear, outerwear, swimwear, and medical wear. The machine can produce continuous fabric or separate fabrics with single welt and separation thread. Any type of rib or interlace can be accomplished because of the capability to select individual needles on the cylinder, on the dial and in the transfer positions.The SM9-S is similar, but it restricts individual needle selection to the cylinder for stitch and transfer feeds. The SM9-ST allows individual selection on the cylinder and dial to create patterns on the fabric face and back. The SM9-ST, according to Santoni, is particularly suitable for the production of body-size stitch for swimwear and underwear knitted with high-end yarns and Lycra®. The stitch is continuous fabric without separation thread.Diameters for the SM9 series are 14, 16, 18, 20 and 22 inches for the SM9 and SM9-S. The SM9-ST has a diameter of 16 inches. Sapona Tackles The Yarn SideWhile Santoni has been pursuing the efficient knitting of seamless, Sapona Manufacturing, Cedar Falls, N.C., has been developing new yarn varieties to give seamless fabrics more enhanced properties. "Were constantly trying something new something to improve yarn properties to give added value to our knitting customers and, ultimately, the end-user," said Redding.Sapona processes mid- to fine-denier synthetic yarn, including textured nylon and covered spandex. Process options Sapona makes available to its customers include stretch or set, false-twist texturing, package-dye tube winding, cone winding, assembly winding, air covering, ring twisting and 2-for-1 twisting. Various options of yarn type, ply, twist, air entanglement, finish and dye are available."As a customer-driven operation, Sapona offers same-day or next-day shipment for stock yarns and immediate action on special orders, said Dean Lail, president."We are continually developing new products and striving for flexibility and responsiveness," Lail said. "Our established markets are in hosiery, narrow fabrics and dye-tube yarn. But we are focusing a lot of our development efforts on the seamless market."To this end, the company has installed its own Santoni SM8-8 TOP circular knitting machine in its R and D department for experimentation."We do a lot of sample work," said Redding. "Some of it is for our customers, and a large part of our sampling is for our own internal development use to try new yarns and combinations to add special effects and properties that we can market to our customers."Obviously, knitters make up a large portion of Saponas customer base for these yarns. Often knitting mills will approach Sapona with the opportunity to solve a specific challenge. But the company is also marketing directly to the designer and retailer."Our objective is to get people closer to the end of the selling cycle excited about what we are doing here," Lail said. Among the products currently available from Sapona for seamless are:tone-on-tone nylon combinations with a wide range of properties, including good luster and soft hand;nylon/rayon blends that have good appearance and hand;nylon/acetate synergistic blends for pleasing aesthetics;nylon/polyester blends for a heather effect;textured and flat combinations for heightened bright luster;metallics, including a silver and copper appearance, for ribbed designs;Nylstar Elite® polyester that provides added stretch and recovery;Nylstar Meryl® 70/68 dull;unbranded and type 6 70/68 dull;knit select products for uniform dyeability; andtextured microfiber nylon for seamless knitting including 1- or 2-ply 30/34, 40/34, 40/46 mid-dull, 60/68 and 80/92 mid-dull.These microfiber nylons and others can be combined with spandex for air-covered yarns that have a superior wind for consistent delivery. DuPonts Clear Lycra at 10, 15, 20 and 70 denier represents the most common combination, Lail said. In addition, the company recently created, in conjunction with Celanese Acetate, a new brand of yarn called Celanna®, a combination of cellulose acetate air-entangled with various other fibers. The results, said Lail, are enhanced physical properties and fashion-design features
(See News,
ATI
, this issue).
The initial offerings of Celanna will feature blends of Celanese acetate and nylon fibers, Lail said. Celanna will also be available in several other combinations, including acetate/ polyester and acetate rayon."This allows for creativity in a full range of bright, clear colors with both disperse and acid dyes," he said. Celanna is available in denier ranges from 40 to 400.For extra stretch, Celanna is offered as an air-covered yarn with spandex."For Sapona," says Redding, "the most important thing is to remain focused on innovation. This company has been nestled alongside the Deep River since 1836. Weve maintained that longevity by both anticipating and adapting to the changing needs of the marketplace. Knitters, designers and retailers can continue to look to Sapona Manufacturing for innovative solutions that add value to their products."Other yarn manufacturers are also working on developing new products for the seamless market. BASF, Charlotte, N.C., for example, recently introduced bright luster partially oriented (POY) and flat filament nylon yarns for seamless intimate apparel and swimwear. The bright yarns are available in a variety of high-filament and microdenier choices. All are marketed under BASFs Ultra Touch® and Ultra Micro Touch® nylon trademarks.
(See K/A News,
ATI
, September 2000).
From fine-denier to mid-denier, a full complement of semidull and dull flat filament nylon yarns is also available from BASF. Mayer Looks To FiberknitOutside of seamless, Mayer Industries, the Orangeburg, S.C., subsidiary of Germany-based MayerandCie., has been working on making improvements in the sliver-knitting process."Weve had as our mission for some time now to develop a process that will add versatility, quality and value to the sliver-knitting process," said Earl R. Quay, vice president, marketing, for Mayer. Mayer introduced at ITMA 99 the FK-18J Fiberknit machine. The FK-18J is a high-production circular sliver-knitting machine for knitting high-quality plush fabric, both plain and full jacquard, from almost any type or combination of fiber in a prescribed length and denier.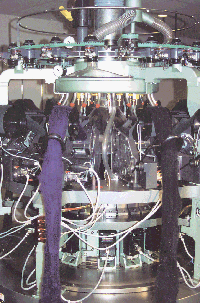 "This machine is a major new development for the plush fabric market and will produce light- to heavyweight plush fabric in most fiber types and blends," Quay said. Weights from 180 grams to 750 grams per square meter are possible.While most knitters eschew short-staple fibers, Mayer designed the Fiberknit machine to take advantage of 25- to 35-mm fibers. "Material con-servation was an essential economic factor in the development of the FK-18J," Quay said. "Fiberknit is the most economical sliver-knit production base ever developed by Mayer, with a fiber loss of only 8 to 10 percent from greige to finished fabric. Short-staple wool and other natural fibers are ideal for Fiberknit. In some cases, these short-staple fibers are even considered waste in other textile production processes."Fabric produced by the FK-18J features a soft drape and hand, he said. The backing yarn and fiber content ratio is 20 percent yarn and 80 percent fiber.Specific production features of the FK-18J include no adjust bolt on components for the following:Fiberknit plain and patterned fabric;Fiberknit and sliver knitting in the same course (high-low);sliver-knit plain and patterned fabric;sliver-knit plain and patterned fabric with patterned lay-in;adjustable-torque magnetic-drive takedown;Coni+ yarn feeders with notched belt drive;fail-safe broken jack/needle detector;high-speed, easy-to-maintain actuator;flat-back, no-adjustment, interchangeable plate, needle and sinker cam boxes; andfull-circumference pattern in 3-meter length with up to 16 colors.The cylinder diameter for the FK-18J is 24 inches, and machine gauges are 10, 12, 14 and 18. Every Cell A Separate EntityObviously, as the chief marketing executive of the U.S. operation, Quay has a vested interest in the success of this machine. He is, however, some-what ebullient in describing the possibilities."The potential for this technology is astronomical," he said. "Every cell or stitch in the fabric is a separate entity without the yarn-knitting problem of doing something with the stitch if it isnt knitted. There is a tremendous advantage in flexibility over yarn- knitting technology."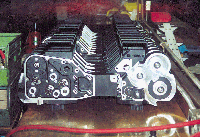 From a cost standpoint, after initial installation, production of traditional fabrics can be accomplished with significant time and cost savings, Quay said. The start-up costs for installation of a sliver/fiber knitting process can be substantial, primarily in materials preparation, but sliver suppliers like Avondale Mills Inc. are eliminating that problem, he said. Fiberknit fabric finishing processes are similar to yarn- knitted processes, so, in the long-term, flexibility and potential profitability make it a viable consideration for traditional yarn knitters, he maintains."For example, I can make for you a beautiful wet-finished wool without having to worry about a worsted card or a spinning frame," Quay said. "I can work with very short staple in fact, its ideal."While sliver knit historically is a process for high-pile fabrics, Fiberknit adds knit fabric versatility to the mix. Mayer is currently working with a variety of knitters and finishers to develop new applications and products for Fiberknit. Among the most promising projects, according to Quay, is development of wet-finishing methods for cotton in conjunction with Cotton Incorporated that will bring Fiberknit into the production processes and fabric qualities of the yarn-knitting industry.Fiberknit lends itself automatically to the desirable burnout feature because each stitch can be knit with or without pile material. This choice enables knitting of natural or synthetics burnout features without the need to remove unwanted material with harsh chemicals. Fiberknit burnout, Quay said, is environmentally friendly.


October 2000
Advertisement