Yarn Fair Focuses On Fashion And Design
A first look at 2001 reveals a trend towards yarns either thick and chunky or ultra-fine and soft.
Virginia S. Borland, New York Correspondent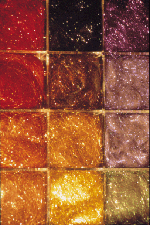 Attendance at the Yarn Fair International in New York City in August was down about 14 percent from last year. About 3,100 people attended this years event, com-pared to 3,600 in 1999. Business across the board is compacting, according to Seth Bodner, executive director, National KnitwearandSportswear Association (NKSA), New York City. The same number of firms covered the show, but downsizing caused most to send smaller groups of people to the Yarn Fair than in previous years.Joan Danno, show director, NKSA, said 223 lines were shown by 158 exhibitors, including 46 international companies from 16 countries. New this year were exhibitors from Australia and Turkey. Germany had a large contingent, along with a separate German Pavilion.Generally, buyers liked what they saw. "The show is focused." said Dan Samuelson, who is in charge of Forstmanns menswear styling. "Its not as large as it has been, but it is very workable. Its easy to find the yarns I am looking for."There were a lot of new design ideas for 2001 and beyond presented at the show. "The focus is more on fashion and design information, rather than on production," said Bodner. "The sure thing is that more of the same wont work."Some of the information centered on new fibers and new yarns. Other exhibitors showed new applications or new product end-uses. At British Mohair Spinners Ltd., Alan Thornber, sales/development executive, said, "It is yarns with character that buyers are asking for." His stand was busy; mohair is the fiber of the moment.Glen Ravens display featured trendy new garments knitted in chunky yarns and ribbon yarns. Seamless garments knitted with cotton yarns were on display at Franzoni. Other exhibitors showed techno yarns that control body temperature or resist bacteria; anti-pill yarns; total easy care wool; and yarns spun with seaweed, carbon or aramid fibers. Corterra, Shells new polyester, turned up frequently. Precious fibers were in demand, with little price resistance.The trend is toward thick, chunky yarns that are bulky and lightweight, or to yarns that are ultra-fine and soft to the touch. Boucles, slubs, nubby tweeds, hairy surfaces, metallics, crimps, twists, and space-dyed and stretch yarns are some of the favorites. Acrylic Fiber With A Modified Cross SectionThe focus at Solutia was on its new microfiber with a modified cross section. Called Ginny, it was introduced earlier this year. It has a soft, cotton-like hand and luster. In apparel, Ginny is going into circular knits, socks and high-pile fabrics. Upholstery fabrics are another major end-use.The random makeup of Ginny fiber diffuses light, resulting in a more natural-looking fiber, according to Gary Peterson, apparel business director, Solutia. Performance fabrics knitted using this new fiber are durable and wont stretch out of shape or fade. The fiber takes vivid color and has excellent moisture transport properties, as well as a luxurious microfiber touch.Ginny was on display at Glen Raven in a sweater with a rayon slub and in a solid-dye, rib-knit skirt. The garments had a rich luster and intense color.National Spinning was selling yarns containing Ginny to apparel and home-fashion producers. MicroSupreme® MicroWhiteSocks were a major thrust at Sterling Fibers, which showed a range going from dress and casual socks to sports and high-performance athletic socks. One new fiber variant for this market is MicroSupreme MicroWhite acrylic fiber. Barbara Montz, marketing director, said MicroWhite takes a processing step out of production by eliminating the need for bleaching.Also on display were socks knitted in a blend of MicroSupreme/alpaca. "The alpaca draws in moisture so MicroSupreme can then move it," Montz remarked. Hosiery on display was soft to the touch and had a luxurious appearance. MicroSupreme is the fiber of choice of triathletes participating in the X-Terra. They cite it for comfort and performance.MicroSupreme, in blends with BioFresh antibacterial acrylic fiber, is selling to the tee-shirt market, and blends of MicroSupreme with wool and cotton are going into thermal underwear. BioFresh is also used in sueded pillow covers and floor mops. Sequined Yarns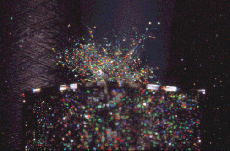 New at Meadowbrook Inventions Inc. is a yarn with sequins that can be knitted into fabrics or sweaters. "The sequins are almost indestructible," said Roberta Ruschmann, vice president. They can be washed, dry cleaned and ironed. Another new yarn is suede, which is made with rayon over a polyester/cotton core.Angelina® fibers, with optical and technical special effects, were best sellers at Meadowbrook. Aluminum, copper, titanium, carbon black, and iridescent fibers were pointed out, as well as sliver for fleece. A yarn from Terrific Pacific containing Angelina fiber was knitted into a fake fur fabric that was described by Ruschmann as having the "look of a starry night sky." Tommy Hilfigers line has Angelina in a fleece fabric.Angelina aluminum fibers give a luminous paper touch to fabrics. They are being blended with merino wool and other natural or man-made fibers. The hand can be soft or crisp, and fabrics can be pleated, crushed or crinkled. Technical special-effects fibers are thermal-regulating. They contain anti-static, anti-stress and UV- protective properties. Brodnax Mills is working with Angelina aluminum, and Linea Tessile Fiorentina is using Angelina carbon black fiber.Ultra-soft, skein-dyed acrylic and microdenier acrylic yarns were best sellers at National Spinning. A hairy, bulky yarn in a blend of acrylic/nylon and a skein-dyed yarn of 80-percent acrylic/20-percent wool were showcased. A crimped yarn called Carisma is twisted with acrylic/nylon. New Focus At Glen RavenAt Glen Raven, the emphasis in apparel was on fashion. New ideas were presented in novelty fabrics shown in a variety of trendy garments. "We are changing our image," said John Frazier, vice president, sales and marketing. "We are focusing on fashion, novelty, quality and service." Knitted fabrics with texture and surface interest were shown in a variety of colorful new fashion looks.There were lustrous, chunky, open-work sweaters knitted in acrylic yarns twisted with acetate. Ring-spun, package-dyed acrylic in ultra-fine yarns; microdenier acrylics; ribbon yarns; long-staple, acrylic-wrapped yarns; and high-twist, ring-spun yarns were shown in a variety of fabrics and garments.Performance fabrics on display featured fine-count, solution-dyed Pil-Trol and Pil-Trol/wool in fine-gauge sweaters. There were ideas for school uniforms, outdoor sportswear and activewear.Color and texture were highlights of the home-fashion display at Glen Raven. "We are design-driven," said Allen Hawks, director of product development. Novelty chenilles, multi-colored jacquards and tweedy textures were among the fabrics on display. Featured yarns included producer-dyed acrylic blended and twisted with cotton and novelty cotton.In another display, Glen Raven showcased fabrics from its automotive division. The company showed air-jet textured polyester; natural-, solution-and packaged-dyed polyester; and melange yarns woven into velvets, boucles and novelty patterns. Chenille Makes A ComebackAt Yarn Mavens, Felise Erdal, president, said the company is selling a lot of yarn to the home furnishings market. "There is a lot of new development going on in fabrics for the home," she said. "Unique chenille yarns, not your run-of-the-mill basics, are strong in both apparel and fabrics for the home." Cables and boucles are two ideas she pointed out.For apparel, Erdal said wool tweeds are number one. "People are asking for wool, which is unusual in this country. Along with 100-percent wool, we are selling wool blended with cotton or linen. Linen is selling for fall. Natural fibers and blends are also in demand." She also mentioned space-dyed yarns, especially in monochromatic and tonal colors.Yarn Mavens is a sales agent for 20 spinners from the United States and Europe. Erdal Yarns, Astro Dye Works, Belding Hausman, North Carolina Spinning and SandO Industries are some of the companys American lines. From Europe, it represents Daniel Illingsworth and Lurex of Britain, and Himiesa of Spain, among others.French spinner Billion-Mayor, represented in New York by Allen Brooks, showed new yarns spun with Corterra. "The fiber has excellent stretch, provides good drape and hand, and dyes well at low temperatures," said Jean-Francis Billion, vice president. He showed Corterra in fabrics woven with high-twist filling yarns and cross dyes with a 70-denier twisted warp and 140-denier Corterra/nylon in the filling. Billion will have yarns spun with 40-denier Corterra.A new novelty shown at Billion-Mayor was a solution-dyed polyester pigtail yarn. It is available in yellow, red, blue or green. Fabrics knitted with this yarn can be piece-dyed for a variety of effects. Other popular yarns included bright trilobal polyester, crepe yarns, and rayon or acetate blended with nylon or polyester.Denis Grassart of Saint Lievin, represented by R&M International Sales Corp., Philadelphia, said the market is buying coarse-count yarns or very fine yarns, but its mostly soft, thick, light-weight, coarse counts. New fancy yarns with Lycra® have been introduced for flatbed knitting from 3 to 12 gauge.A lot of the Saint Lievin line is spun in blends of acrylic with mohair, wool, nylon and Lycra. There are space dyes, high twists, boucles, slubs, brushed and shaggy yarns.First-time exhibitor Australian Spinners showed 100-percent merino wool yarns, single- or 2-ply, in count ranges of NM 25 to 85. They are available solid-dyed and marled. Fifty percent of the companys production goes to the hosiery market, 30 percent to knitwear and the rest to intimate apparel and outerwear. For those concerned with the environment, organic merino wool, from sheep grazing on untreated grass, is available. Color And Fancy Yarns Selling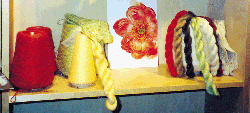 Zegna Baruffa, which always shows a lot of novelty, did not disappoint at this years fair. Thick, bulky yarns in blends of extra-fine merino wool blended with silk and cashmere were ultra-soft and lightweight. There were heathered yarns in alpaca/merino blends, brushed loop yarns of mohair/merino, yarns of 100-percent cashmere or 100-percent cotton with a cashmere touch. One ultra-fine yarn, called Shamir, is 100-percent cashmere taken from a very young goat.The B-Active division of Zegna Baruffa is selling a new yarn called Thalassa. It is 1/15 and spun using a blend of merino/Tencel®/seaweed. According to Renato Costella, marketing, sales area director, the seaweed has thermal properties.Zegna Baruffa showed a lot of stretch yarns. Some contain elastane fibers, others have controlled stretch with Elite®, and some are constructed of treated wool.The company was showing 105 different yarns for Fall. Womens sweaters are the biggest end product. Circular knits, socks and products for the home are other end-uses. Zegna Baruffa offers stock service, with more than 5,000 colors and combinations in the line. It is the biggest spinner in Europe for knitwear.Three British spinners, represented in the United States by BishopandCo., East Providence, R.I., showed heavy- count wool and blends with precious fibers. At ForsellandLittleton, spinners of woolen and worsted yarns, it was bulk without weight. There were machine-washable merino wool, wool/alpaca and wool/silk/polyester with colored nubs. The range is stock-supported for fast delivery.At Samuel Lumb, best sellers were 100-percent lambs wool, multi-colored yarns and classic Donegals. There were boucle yarns in lambs wool, and luxury blends of lambs wool with silk or alpaca.British Mohair Spinners Ltd. sells mohair for knitting and weaving. Although kid mohair is available, Thornber said most of the line is spun with adult mohair because of its lower price. With mohair in demand for apparel, the prices are high.Fifty percent of the companys line is sold to the home furnishings market. There is concern that this industry may shift to other fibers because of the high prices and limited availability of mohair.British Mohair Spinners was bought in January by Dewavrin, a French woolen company. "They made a commitment, with new machinery and a 16-year lease, so you know we will be around for a long time," Thornber said. Current best-selling yarns are brushed mohair for the knitting trades and looped yarns for weaving. Most of the yarns are thick and chunky, some are slubbed, others brushed. In addition to mohair, the company is selling alpaca/wool blends. Cotton In Seamless WearFranzoni Filati, represented by Contex, Ltd., has developed a system of compaction spin-ning called Futura. According to Michele Biza, mar-keting manager, Franzoni Filati, compaction spin-ning is an improve-ment over tradi-tional ring spinning. Because there is less twist and less hairiness in Futura-spun cotton, there is less pilling and better abrasion per-formance; a softer, smoother touch; better elongation; and higher strength for the same cotton count as ring-spun yarn.Very fine Futura- spun cotton yarns are selling to mens shirt manu-facturers including Brooks Brothers. Micro Modal and Pro-Modal Futura-spun yarns are going into mens underwear. MarksandSpencer is selling Futura-spun cotton bed sheets.Futura-spun cotton yarns will soon be available in seamless garments made on Santoni machines. They will be introduced in France at the next Salon International de Lingerie.Franzoni is producing 15 million pounds of Futura-spun cotton annually. The company has a total spinning capacity of 110 million pounds for all fibers at its six plants in Italy. Germans Show Technical And Performance YarnsIn the German pavilion, Gebruder Kock Spinnerei, part of the Spinnkock Group and represented by Howard Scherzer, showed technical yarns for industrial end products. The company is the largest user in Europe of Nomex and Kevlar aramid fibers. In addition to bullet-proof apparel, Kevlar is going into tires and brake linings.Kock sells flame-retardant yarns to producers of uniforms for firemen, pilots and race car drivers. Twaron, produced by Acordis, is one flame-retardant fiber being used.For the past two years, Kock has been developing phase-change yarns using Outlast® acrylic fibers. These have been picked up by producers of ski socks, shoe linings and other apparel where temperature regulation is an asset. NASA uses Outlast for astronauts apparel in outer space. "This is a growing market," said Jurgen Gebauer, sales executive. "We are working with our customers to help them to learn how to weave or knit with this new yarn." Outlast Perpetual Comfort Management fibers and foams are produced by Outlast Technologies Inc., Boulder, Colo.Also in the German pavilion, Schlafhorst, producer of spinning machinery, provided information on certification of Autocoro yarns. Yarns produced on Schlafhorst Autocoro rotor-spinning machines, using Schlafhorst spinning components, are tested for a variety of quality standards. Those yarns meeting Schlafhorst standards are licensed and have the right to use the Belcoro Mark. The company grants a separate certification for textile fabrics.
October 2000
Advertisement