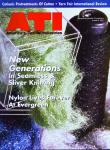 October 2000
On the Cover:
Angelina® aluminum metal fibers from Meadowbrook Inventions Inc., Bernardsville, N.J., and Angelina yarn by Brodnax Mills Inc., Brodnax, Va., were a highlight of this year's Yarn Fair International.
Textile News
Texel Inc Plans Nonwovens Expansion In Canada
Lurgi Zimmer To Build Polyester Plant For TIEPET
EcomTextile And ESASA Com Forge Strategic Alliance
Berkshire Hathaway To Acquire Shaw Industries
American Fibers To Buy RAM Extrusion Filament Assests
Celanese Acetate And Sapona Develop Celanna Yarns
Honduran Textile Industry Celebrates CBI Legislation
Southern Weaving Recapitalized By Blue Point
Cationic Pretreatments Of Cotton
Evergreen Makes Nylon Live Forever
Alexander Machinery Thrives On Innovation
Supplier SpotlightATI Special Report
A Guide To Digital Textile Printing Evaluation
Textile And Apparel Imports Continue To Surge Exports To NAFTA CBI Countries Remain Strong
Cotton Holds Its Own Against New Synthetics
Johnson Controls And Polymer Group Partnership
New Generations In Seamless And Sliver
Beyond 2000: Circular Knitting
BASF And Dystar Amalgamation Approved
Clemson Sponsors Fiber Producer Conference
Four Leaf Textiles Announces Investment In Mexico
ATMI Petitions USTR To Drop GSP Benefits
ATME-I 2000 Takes Center Stage
ATME-I 2000 PreviewATI Special Report
IFAI Expo Highlights New Opportunities
Business & Financial
Producer Price Index Shows Inflation Is Under Control
Federal Reserve expected to maintain current interest rates.
Yarn Market
Customer Wants Level Playing Field
Quality Fabric Of The Month
Worth Its Weight In Gold
Lees Carpets' Celtic Collection wins NeoCon honors for performance, innovation and style.
Dyeing Printing & Finishing
New Developments From Rutland Plastic Technologies
SDC And OCCA Form Strategic Alliance
Apollo Introduces New Cationic Antistat
Monforts Montex 5000 Stenters Installed In Mexico
Ciba IRGAGUARD Receives EP Registration
Kuesters Group Supplies Equipment To Premier Mills
Knitting / Apparel
Glen Raven Yarn Group Features Aurora Glow
CCMI Expands Testing Service Internationally
Federal Trade Commision Votes On Care-Labeling Rules
Lectra And Datacolor Sign Letter Of Intent
St Johns Knits And Sara Lee To Use Movex Fashion
Kellwood Co To Acquire Dorby Frocks Ltd
3D Body Scanning System Introduced By ImageTwin
Yarn Fair Focuses On Fashion And Design
Knitting Machine Manufacturers Pull Out Of ITMA 2003