Rugs Offer Styling Options
Emerging trends and colors are translated into rugs designed to coordinate with surrounding furnishings.
Peggy Whaley
Rugs Offer Styling Options Emerging trends and colors are translated into rugs designed to coordinate with surrounding furnishings.Home furnishings designers and colorists are having a field day with accenting rugs to correspond with furniture, walls and windows throughout the home. Its a fact people should be comfortable in their own homes, living with surroundings that reflect their tastes. The way a home is furnished should also fit the lifestyles of those living there, while making it comfortable, functional and attractive. In todays scheme of things, just about anything goes. Its mostly about a homeowners personal choice and preference. Results can come from a complete re-modeling, new paint and/or carpet, rearranging existing furniture, or just adding a rug to exactly the right place, in precisely the right color.Beaulieu® Knows Rugs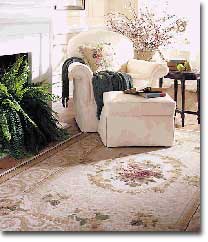 Perhaps adding a rug as an accent to existing decor has become the preferred method of augmenting the ambiance of a home as evidenced by the rapidly growing demand in the United States for area rugs. Beaulieu Home Fashions, Dalton, Ga., a division of Beaulieu of America, has been an instrumental force in the development, design and manufacture of these products. In fact, Beaulieu Home Fashions pioneered the affordable oriental rug by producing in-demand designs using proprietary polypropylene (olefin) yarn systems along with its high-tech computer-aided design capabilities. Beaulieu of America had its beginning in 1959 in Belgium. The name Beaulieu is French for a beautiful place. The first rugs bearing the Beaulieu trademark were woven in 1962 in Belgium. By 1978, rugs were being woven in Dalton, Ga., independently of the European operation. The company manufactures a unique and exclusive line of area rugs, according to Janice Stern, graphic designer, Beaulieu Home Fashions. She said these rugs are styled in colors relevant to home decorating trends, with careful attention paid to todays popular themes, patterns and fabrics. They have been designed to complement other furnishings in a room with warmth, pattern and color.Laura Ashley, Waverly and Raymond Waites are names used for Beaulieus brand name collections. The Laura Ashley line has fine-quality area rugs designed to coordinate with many of the colors in the Laura Ashley Color Collection of interior paints. The firms Silver Label Collection is designed by Raymond Waites. These rugs are machine-woven from premium Beaulon® olefin yarns using a double-point weaving technique that adds an embossed appearance to each of the patterns. Double pointing allows an illusion of many colors made from only eight colors. The rug is twice as thick in the places where double pointing is used because two tufts of yarn per pick are used instead of one.Each of the rugs is serged on all four sides and is available in five different sizes. The Waverly® Royalton Collection is a 100-percent DeepWeave® Plus olefin pile and is available in five different sizes: 2 feet by 4 feet, 2 by 8, 5 by 6, 6 by 9, and 9 by 12.Stern noted that Beaulieu uses a variety of fabrics, styles and designs, from old-world designs to modern prints. There can be up to eight colors in the woven rugs, but double pointing can give the effect of up to 36 colors. In some cases, the colors in a rug are used for inspiration in decorating an entire room.In our Jewel Collection, you will see that historic designs from Europes grandest eras have become todays most interesting and appealing area rugs, Stern said. She gave as examples timeless architectural motifs from the Golden Age of Greece, heraldry from the crusading knights of the Middle Ages, French symbols of royalty and revolution, and the beautiful Chinese fabrics discovered by Syrian traders. All are redefined into new designs reminiscent of fine Axminster carpets found in the grand European ball-rooms and palaces of earlier times.Trends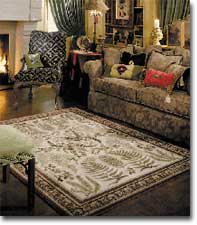 Robin Cole, a colorist for Beaulieu Home Fashions, understands how the transition is made from individual elements to a complete home furnishings pack-age. In determining the focus of the coming year, Cole explained, the emerging trends from areas such as bedding, fabrics, upholstery, furniture, wallpaper, bath, accessories and fashion are studied. Womens fashion is always interesting to watch because a lot of trends in design and color begin here, Cole continued. At this point, Cole translates design ideas from home furnishings to rugs.The botanical look with a tropical tone is emerging as a strong trend, she said. Bamboo, palm leaves, pineapples, palm trees, orchids and textural fabrics are used with distressed woods. Animal prints are still popular; leopard, tiger, pony, snake, giraffe, and zebra are often used with bright colors such as hot pink, aqua and day-glow yellow. The animal-skin trend is present in just about everything from fashion to home furnishings.The botanical look is a new version evolved from the Asian theme that has peaked and now is decreasing in popularity. However, Cole said, interest in the Asian theme, while declining, will still command some market attention over the next year or so.African motifs are also being seen. Everything from elephants to monkeys is popular, including cheetahs, leopards, giraffes and camels. Feathers are trendy and are being used on lampshades, frames, pens and floral arrangements just about anything that can be imagined.Patterns, according to Cole, will be making a comeback. After years of textural fabrics being so popular, pattern is beginning to reappear, she said. It has been seen in many current fashion collections and is called the Pucci look [after Italian designer Emilio Pucci, whose patterned, brightly colored fashions were popular during the 1960s]. How this will work its way down to the home furnishing sector will be interesting to discover.French and English country designs also are emerging as trends, she said. Toiles, florals, plaids, stripes and checks are plentiful, as well as realistic floral motifs that are upscale and more sophisticated than in the past. There appears to be a more traditional look on the scene and [these motifs] should be appearing in the next six to 12 months. However, she doesnt think it will be the stiff, formal look of the past, but rather a look that will mix well with the casual themes seen over the past couple of years. This look will show up, she said, as traditional florals and leaf designs, but just a little more simplified. Damask and less complicated conventional looks will be seen.ColorsColor preferences, of course, wax and wane with the finicky and fickle taste of the consumer, with some seasons featuring fashions in bright primaries, while others see more subtle, muted tones. Cole discussed some of the colors currently shaping fashion in home furnishings. For the next home furnishings season, she sees blues gaining ground in popularity in light to mid-tone hues and in shades infused with green.Black is coming back. It will be used as a base and could be in response to the re-emergence of a 1980s trend that is showing up in various fashions this year. Red has been popular and will continue. There will also be shades of terracotta, orange, melon and, especially, copper.An exotic palette to support the botanical, tropical look includes water blues, peacock, leaf-green shades, ripe melon and sand. Warm purples mixed with greens will show up as iris, dusk, cloud, aloe and sage. Tans accented with warm muted gray-blues will include hazelnut, mudslide, silver fox, lapis and slate.Colors within palettes complement each other and will have sophisticated blends of color rather than contrasting tones. Rich, aged cultural colors will be plentiful in gold, truffle, desert, spice, caviar, artichoke, olive, mustard, harvest, clay, russet and cinnamon.Rug Fibers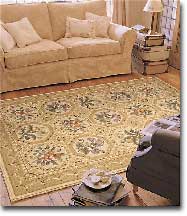 Aside from the plethora of colors and patterns from which to choose, another important factor in the design of rugs is construction. In earlier days, fibers usually were chosen because they were native to the place where rugs were woven. Sheep raising was widespread, so wool became the chief carpet and rug fiber. In the Far East, silk was also woven into rugs and hangings. The hair of such animals as goat, camel and alpaca was used in certain areas. Cotton, jute, and linen have also been used. Today, carpets and rugs are made from both natural and man-made fibers. Wool remains popular, but nylon has been used more frequently in the United States since the 1960s. Cotton has been used primarily for scatter rugs.The leading man-made fibers are filament and staple nylons; acrylics and modacrylics; rayon and polypropylene (olefin); and polyester. These fibers, although they are the same generic types used for apparel and other furnishings, are produced especially for flooring use. There are different grades of density and pile. Man-made fibers are colorfast, non-allergenic and easy to clean.Rugs are often used by those homeowners who want to add a designers touch for decoration but are on a budget. Olefin fibers are used for both pile and backing. Many synthetic and natural fibers are also used to make decorative carpet wall hangings.Rugs And Carpets DefinedFloor coverings of all types are found in homes, offices, churches, restaurants, stores, schools, offices, and other settings. These floor coverings range from wall-to-wall carpet and hard-surface flooring to a large variety of rugs. Rugs, as mentioned previously, are being used more and more in homes because they are rich in color and design and offer many styling options.Sometimes the terms carpet and rug are used interchangeably. Carpet usually is referred to as a wall-to-wall floor covering that has been installed. The two main types of carpeting are flat-woven and pile (woven and tufted). In woven pile carpets, pile yarns and backing yarns are interlocked simultaneously. In tufted carpets, pile yarns are attached to a pre-constructed backing. Pile carpet is the most widely used.A rug, in general, is a textile floor covering that is not fastened down. In home furnishings, rugs are used as accents and decoration. In addition, rugs are used not only over wood, ceramic, and hard surface flooring but often a designer rug is spread over wall-to-wall carpeting.Pile rugs, like pile carpets, have strands of yarn standing erect from the carpet backing to create a soft, luxurious surface. The pile may be a loop of yarn or a yarn tuft with free ends. The thicker and denser the pile, the more wear and service may be expected.Other types of rugs include handwoven rugs, which also include Oriental rugs.Having a warm and inviting home can be achieved by combining the right design elements that go into creating a comfortable feeling. Choosing the right type of rug can be a matter of personal option, although many homeowners seek help from an interior designer. Handwoven RugsAlthough power machinery turns out most of the carpet and rugs sold today, it has not eliminated the ancient craft of handweaving. Most handwoven rugs are Orientals, made in the Middle and Far East. Many are produced in Turkey, Iran and the Central Asian countries to the north and east of Iran, such as Turkmenistan, Tajikistan, Uzbekistan, and Azerbaijan formerly part of the Soviet Union. Specific styles (characterized by local motifs, colors and weave qualities) include Bokhara, Tekke, Yomud, Sarouk and Salor, among others. Samarkand rugs are woven in Chinas Xinjiang Uygur Autonomous Region. With the rise of communism in China, however, the weaving and export of handmade rugs declined.Oriental rugs are usually classified geographically as Persian, Turkish, Caucasian, Turkoman, Indian, or Chinese. Varieties within these groups may be named for towns in the various weaving districts often for their marketing centers. Traditionally, Oriental rugs are woven on upright frame looms consisting of four poles.The weaving methods have not changed in centuries. The warp threads are stretched lengthwise from top to bottom around rollers or beams. The weaver sits on a board facing the loom. To make the silky pile for which these rugs are famous, the weaver loops pieces of yarn to tie knots around the warp threads. A pattern hanging behind the warp guides the choice of colored yarns to fill in the design.After a row of knots is tied, the weft yarn is shuttled across the rug, then beaten with a comb against the knots to hold them firmly. The knot ends are clipped and stand erect as pile. However, in todays workplace environment, rugs for public use are mass-produced using sophisticated carpet machinery.
November 2000
Advertisement