A B C D ERP
ERP, supply-chain management are viable long-term strategies for success in the textile industry.
A, B, C, D, ERP ERP, supply-chain management are viable long-term strategies for success in the textile industry. The ultimate subject of this article, and a planned follow-up in the spring, is the status of Enterprise Resource Planning (ERP) in U.S. textile companies. However, to set the stage for the current state of affairs, it is worthwhile to first explore the historical perspective and defining terms of ERP. Perhaps this information will demystify the role of detailed and enterprise-wide planning in textiles and encourage fiber manufacturers and mills to spend scarce resources to improve decision effectiveness and decrease the industrys compulsive addiction to production efficiency.What is ERP William J. Stevenson, in his textbook, Production/Operations Management, attributes the name Enterprise Resource Planning to the consulting organization, The Gartner Group, Stamford, Conn., although development of current processes took about 50 years and involved thousands of participants. According to tradition, ERP is the natural heir to an evolution in planning processes begun in academe not long after World War II and translated into industry in the late 1960s and early 1970s. Material Requirements PlanningThe first formal step away from back-of-the-envelope systems was development of the Material Requirements Planning (MRP) process, the first effective computer-based information system [able] to handle ordering and scheduling of dependent-demand inventories; e.g., raw materials, component parts and subassemblies [where] requirements for end items generate requirements for lower-level components [O]rdering, fabrication and assembly can be scheduled for timely completion while inventory levels are kept reasonably low (Stevenson, p. 619). For the first time, computer capacity allowed storage of the reams of data needed for an entire production/distribution process. MRP translates a production plan for a specified number of finished products into a list of materials and time required to accomplish the task. Activities generally are limited to internal communications between production and purchasing. There is little, if any, exterior communication beyond program-generated delivery schedule information presented to marketing and sales.MRP offers inventory controls, material tracking, capacity requirement evaluations and a crude means of allocating production time. By the 1980s, as computing and communications technologies surged, an improved system, Manufacturing Resources Planning (MRP II) gradually replaced basic MRP. MRP II added finance, marketing, engineering and personnel to the process participant list and, for the first time, required a demonstration of sufficient inter-departmental confidence to open marketing and production plans to general company view. Total company resources became partners in marketing and production decisions. Increased computer capacity and development of integrated process-solution software allowed somewhat crude what-if exercises in the decision process. This enabled management to evaluate complete business plans with information already optimized by subjection to the parameters invested in the MRP II analytical metric. In addition to increasing customer service by focusing the entire organization on customer requirements, the system was able to predict financial results of every order or manufacturing plan with a high level of certainty, before it was necessary to commit corporate resources to them. Enterprise Resource PlanningNot surprisingly, as technology continued to report huge gains in the 1990s and competition forced upstream and downstream partners into active participation in the value chain, MRP II gradually was replaced by Enterprise Resource Planning. ERP took the tenets of MRP and MRP II and added suppliers and customers to the decision matrix, creating a system focusing on the benefits of enterprise-wide integration of information technology, applications and business processes. The benefits of integrated software solutions from raw material through final consumer in finance, human resources, accounting procurement, manufacturing, data mining (information retrieval), marketing and logistics proved to be key actions in improving the velocity of money, in addition to preserving its historical value. Supplier rationalization i.e., partnering with fewer but more involved suppliers permitted, and almost demanded, sharing of marketing/production and other data across traditionally sacred corporate boundaries. ERP is defined as the ability to deliver consumer-centric, open, personalized and collaborative inter-enterprise solutions on demand [P]arts of your company that didnt talk together in the past talk together now (Fact Gap Fuels ERP Investments and Invites Printer Vendors to Ride the Wave, I.T. Technologies, Boston, Mass., 2000).The technology development that most encouraged ERP was the integrating software pioneered by SAP, the German software developer. SAP soon was followed by Baan, a Dutch company recently purchased by Invensys of London, and Oracle Corp., Redwood City, Calif. These suppliers offer backbone (integrating) programs into which functional area modules order entry and sales forecasting, production and order planning, controlling, finance, asset management, etc. are plugged. While these software suppliers also provided their own versions of functional area software, they were, however, foresighted enough not to insist their software be used with their backbone programs. The backbones adapted to most existing legacy or competitive systems. In fact, rare is the commercial integrated system that does not incorporate at least one outside functional area module. This advantage saves computer and retraining investments, but it comes with a cost. The backbone is highly structured and creates a tension that has delayed adoption of the integrating software in many industries, including textiles. The system often requires the user to dramatically alter traditional business methods and adopt procedures dictated by the software and software developers. There is a certain amount of the Not Invented Here syndrome evident in this, but some of the tension is real. ERP In TextilesA number of knowledgeable textile industry observers generally consider that fiber and fabric manufacturers in the U.S. textile complex are halfway between MRP and MRP II in adopting the principles of process planning. These same observers suggest that companies in the apparel and made-up items segments of the business those intimately involved with retail and final consumer demand have been much more aggressive in adopting the principles of integrated ERP. The difference between commitment to ERP in the fiber/fabric and apparel/retail segments of the industry point to a serious disconnection centering on the natural industry break between greige and finished fabric production.This disconnection makes sense. There are at least two distinctly different supply chains in the textile/apparel complex. The first, featuring fibers and textiles, represents an industry high in capital investment that has machinery-driven capacity bottlenecks and relatively low production flexibility. Admittedly, fabric manufacturers have made much progress in adapting to the tenets of Quick Response, but, in comparison to apparel manufacturing, the value chain still is quite different. In apparel, capital requirements are low, labor is the capacity bottleneck and production flexibility is relatively high. Its quite logical that only the rare manufacturer can create value-chain systems incorporating both ERP models.Even the casual observer of the textile/apparel scene will recognize that continued presence of excess retail floor space, estimated at up to 20 percent, has created pressures on suppliers to provide more supplier inventory control/stocking programs that relieve the retailer of following and counting sales and stock. Further, retail and manufacturers, linked by their common dependence on labor vis-a-vis capital, were forced long ago to adapt to the requirements of supply-chain management by the sheer energy needed to plan sourcing thousands of miles away in Southeast Asia. Survival Versus Long-Term InvestmentRecent fiber and fabric industry performance probably creates the worst of all worlds in the decision to adopt new business methods. Lewis Holland, a regular panelist on the Friday night PBS production, Wall Street Week With Louis Rukeyser, stated the problem in simple terms on a recent show: Technology is a capital item. This clearly points to the tension between the rock (survival investment) and the hard place (long-term investment). A glance at recent financial reports of many fiber and textile manufacturers, compounded by shutdowns and consolidations, suggests that the industry is not providing growth and reinvestment level returns. This raises the specter of suppliers struggling to stay alive. It probably is fair to say that, in a market as tough as the one for the past 10 years, as imports virtually ate up apparel, and home furnishings quickly became saturated with output from mills shoved out of apparel, investment decisions focused on short-term survival and ignored strategies for long-term business-operating opportunities. It is hard to justify the large investments needed to integrate complex business processes like textiles, but, long term, that investment must be made. A bridge must be built across the capital/labor divide, and the fiber manufacturer and fabric mill must become active participants in their respective futures, leaving nothing to chance. ERP and supply-chain management are viable long-term strategies. In the long term, industrial fibers and fabrics will offer increased opportunities. However, they traditionally develop slowly and are not likely to provide nearby relief.In this market, what is a producer to do Since productivity drops in the short term, losses are likely during installation and the subsequent learning curve. Can that period be survived Can inventory be traded for information Can the supply chain be cut by 50 percent Can customer response be improved by 25 percent Can downtime be cut and the impact of either overstocks or stock-outs be reduced Does a company invest in an unproven technology that will bear fruit in the long term, or does it invest its limited capital resources to improve efficiencies in market and production areas with which it is familiar Based on only a cursory look at the emphasis reported by industry members and demonstrated at industry exhibitions like ATME-I and Bobbin Americas, the answer is obvious and reasonable: efficiency currently is winning.The issue continues to grow. Recognizing that efficiency is a short-term investment, as world competitors soon can imitate even the best efficiency development, investments to make more effective operating decisions become needed, if not mandatory. Unfortunately, the diminished capital creation by the industry creates a Hobsons choice. If investment is for long-term benefit, will the company be viable for the short term If investment is for the short term, will the company be around for the long termIn the past, the industry almost was able to avoid these decisions by transferring emphasis among apparel, home-fashions and industrial segments, depending upon short-term market conditions. Unfortunately, one leg of the three-legged textile stool, apparel, already has moved offshore. An element of the new economy, supplier rationalization, is a concept quite inconsistent with opportunistic shifts between market segments. Today, the words are commitment and specialization: can a company remain a viable supplier and not use all available technologies Success StoriesThis article is designed to set the stage for future exposures of ERP. Based on current information, there are few major successes with ERP in textiles. One obvious winner is VF Corp., Greensboro, N.C., which made a significant commitment many years ago and, to date, has spent multiple millions of dollars implementing a very sophisticated system (See News, ATI, July 2000). It is built around a SAP backbone mounting the industry-specific SAP Apparel Footwear Solution (AFS), with functional modules provided by a number of suppliers, including, but not limited to, i2 Technologies, Gerber and Logility.The VF story is probably the most visible in textiles. Many fiber and fabric manufacturers are experimenting with capital-intensive functional modules, but VF appears to have gone farthest in bridging the capital/labor gap, areas that impact its success. A lack of industry-specific successes, however, should not dissuade an examination of success in other industries, successes that should be available to textile manufacturers. i2 Technologies highlighted the following achievements in its 1998 Textile and Apparel Industry Conference:Timken Steel cut work-in-process (WIP) by 30 percent in 12 months, Whirlpool Corp. cut WIP by 50 percent, and Bell Helicopter increased total inventory turns by more than 14 percent.Timken Steel increased due-date performance by 25 percent, and Herman Miller met customer-request dates 99 percent of the time.Herman Miller cut planning cycle time by 75 percent, Mary Kay Cosmetics by 85 percent.These improvements are significant and stand as beacons for successes that textile companies can achieve. ERP System SuppliersThe following list is a partial itemization of current ERP software available to textiles. Some producers offer industry-specific solutions, and some are willing to adapt pre-configured programs to customer-specific problems. Not all supply all functional area modules; some specialize in discrete business areas. Some suppliers provide installation consulting and training, and some use outside vendors for that portion of the process. Nonetheless, all should be considered by a serious investigator of business improvement technology.
Power Curve Corporation, Westborough, Mass.
Enterprise Systems, Greensboro, N.C.
i2 Technologies, Atlanta, Ga.
Manugistics, Rockville, Md.
The DAMA Project, Cary, N.C.
Datatex TIS, Inc. Alpharetta, Ga.
Logility, Inc., Atlanta, Ga.
SAP, Newtown Square, Pa.
PeopleSoft, Pleasanton, Calif.
J. D. EdwardsandCo., Denver, Colo.
Baan Corp., The Netherlands
Oracle Corp., Redwood Shores, Calif.
ABB Presents Industrial IT At Automation World 2000With the watchwords, Defend Yourself, ABB Automation Inc., Wickliffe, Ohio, opened Automation World 2000 in Atlanta. The presentation and conferences were built around the concept of system integration in the form of Industrial IT.Mike Zaharna, president and CEO, stated the concept and solutions of Industrial IT are about capturing information, turning it into knowledge and making dollars with it.Dick McAllister, senior vice president, Business Area and Control Products, stated, [Industrial IT] is a great solution for textiles where affordability has been a issue. The scaleability of the new systems makes them price-competitive to traditional PLCs. Zaharna added, As an affordable solution, it allows the user to automate plant operations and later pick up other areas to integrate.ERP and production integration were difficult to implement, McAllister said. Industrial ITs adherence to open standards lets us look forward to something fun-damentally different than the old systems, while being open to new approaches from SAP and others.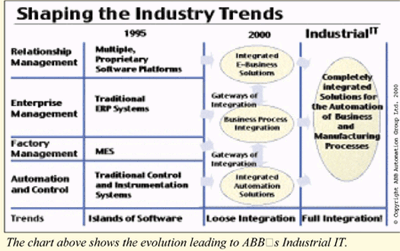 Editors Note: John E. Luke is owner of Five Twenty Six Associates Inc., Bryn Mawr, Pa., a consulting firm specializing in strategic marketing and operations facing textile fiber and fabric manufacturers. He is also a professor of textile marketing at Philadelphia University, Philadelphia.
November 2000
Advertisement