OTEXA Data Reveals Export Opportunities
OTEXAs mission is to foster U.S. exports and enable fair competition.
OTEXA Data Reveals Export Opportunities OTEXAs mission is to foster U.S. exports and enable fair competition.Regular readers will recognize the normal data source, The Fiber Economics Bureau, a division of the American Fiber Manufacturers Association. www.amfa.org). Its fiber shipment data provide important unit (poundage) measures of the U.S. man-made fiber industry.This month, ATI features another regular data source, The Office of Textiles and Apparel (OTEXA) in the International Trade Administration (ITA), U.S. Department of Commerce. Readers should become acquainted with this organization and the services it provides. The mission statement of ITA reads in part, to encourage, assist and advocate U.S. exports ensure U.S. business has equal access to foreign markets [and] enable U.S. businesses to compete against unfairly traded imports and to safeguard the competitive strength of American industry.OTEXA is the point organization for textiles, yarns, apparel and made-up articles in advocating this mission. A visit to the organizations website (www.otexa.ita.doc.gov) is quite educational and provides an extensive tour through detailed analyses of low- or no-cost textile export programs, comprehensive statistical compilations of export and import data and regular updates on U.S. trade agreements. Textile organizations seriously interested in establishing international operations must become familiar with OTEXA; not to do so is like leaving money on the table in a swish game.In addition to the website, OTEXA can be reached at Room H3100, 14th St. and Constitution Ave., Washington, D.C. 20230. Individual representatives can be reached through direct-dial telephone access at numbers listed on the website.Net ExportsOTEXA tracks yarn, fabric, made-up items and apparel exports and imports on a monthly basis in its Major Shippers Report. The data is relatively current, having an approximate two-month lag between happening and reporting.This month, ATI features data from the OTEXA report and uses it to examine changes in trading activities in several major areas of textiles. Specifically, net exports will be examined by product class, yarn, fabric, made-up items and apparel, and then the sources of some of these products by geographic area will be reviewed.In a previous issue of ATI, the poundage balance of trade in fibers was reviewed (See NAFTA: Six Years Of Fibers, ATI, September 2000); this month we will explore the dollar trade in textiles downstream from the fibers and fabrics. We remain convinced that analyzing trade balances on a unit basis is more revealing of trends than is obtainable through dollar analysis. Unfortunately, however, the frag-mentation of downstream distribution channels virtually guarantees that unit analyses are so loaded with assump-tions as to be unuseable, and it is necessary to rely on economic i.e., dollar assessments. In truth, this is not all bad, as it allows one to un-derstand the impact and share of dollar textile trade in the widely reported dollar statistics of the trade deficit.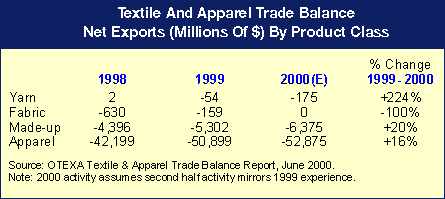 Table 1Table 1, using data from a recent OTEXA report, details dollar textile trade for the 1998-2000 period. It shows convincingly that what most feel about textile trade is, in fact, true.Absolute values for the several product classes, buried in the net calculation, are important in placing a perspective on the major elements of trade; net yarn exports and imports in 2000 are composed of approximately $1.5 billion flowing in each direction; fabric trades represent $6.8 billion in each direction; in made-up articles, $8.4 billion is coming in, while only $2 billion comes from exports; apparel, the 800-pound gorilla of textile trade, nets $7.8 billion of exports against more than $60 billion of imports. It is not the intention of this article to rehash the apparel import balance. It is important, however, to showcase the suc-cessful results of trade-committed fabric manufacturers in driving a negative export balance to zero over the past three years.Fabric Trade ImprovesFabric trade represents almost 40 percent of export trade and only 9 percent of imports. While this improvement obviously contains significant efforts by many fabric mill organizations, it clearly demonstrates that positive results are obtainable through a combi-nation of strategic commitment and border freedom in this case the Mexican and Canadian borders covered by the North American Free Trade Agreement (NAFTA).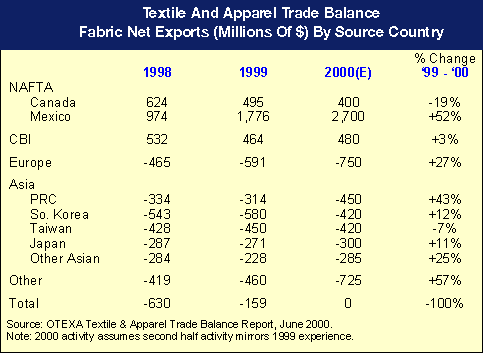 Table 2The data in Table 2, taken from the same OTEXA trade balance report, points to the roles of legislation and geography in the U.S. success in fabric trade. It is important to note that the assumption included in the calculations probably understates the role of fabrics in late-year-2000 activities with the nations covered by the Caribbean Basin Initiative (CBI).Recent passage of CBI trade equity will enhance substantially the export of fabric to that region. It is true that 807 and 807A programs were quite effective in supporting apparel trade with CBI, but the indecision over CBI parity for the past several years appears to have left a depressing effect on expansion of CBI activities. Removal of the indecision will allow for orderly, planned expansions. Fabrics should enjoy growth similar to that demonstrated by the NAFTA relationship between the United States and Mexico.It has taken several years for Mexico/U.S. fabric and apparel trade to generate a head of steam. Recent data shows how 1994-to-date ground-laying by fabric producers with garment sources has enabled net exports of fabric to Mexico to grow 177 percent between 1998 and 2000, including a 52-percent growth this year alone. The positive value of net exports with NAFTA partners exactly matches the negative value of net exports with the rest of the world. Without the opportunities offered by NAFTA, it is safe to assume that U.S. fabric trade would be substantially smaller, with its total position a large negative value.It is almost axiomatic to say that world wage inequities will drive garment manufacturing offshore. NAFTA is structured to provide the U.S. fabric industry with opportunities to share in world trade, unencumbered by policies that may only assist our international competitors. For example, the $3-billion-plus negative trade balance in fabric happens despite heavy duties and quotas. It appears to have taken a bold step like NAFTA to provide U.S. fabric manufacturers with a chance to survive by being able to source garment manufacturers in Mexico, who now have relatively free access to the U.S. market.ConclusionTrade analysis is at best an inexact science. That does not mean, however, that U.S. textile manufacturers should hide their heads in the sand and refuse to acknowledge cross-border trade. Trade, particularly in an era of increasingly rapid com-munication that enables the rest of the world to admire our success, is a reality. It is necessary to examine its every facet and bring to bear any and all data that can be uncovered.The Fiber Economics Bureau and OTEXA provide reams of data; it is the obligation of industry to use these and all available resources to adjust strategic vision to changes in the macro-economic climate.
November 2000
Advertisement