Surface Finishing Gains New Precision
Trends in the latest surface finishing technology
Surface Finishing Gains New Precision Trends in the latest surface finishing technologyIn recent years, surface finishing technology has taken a hi-tech approach triggered by new fibers and fabrics that entered the market, and, of course, customer demand for new products. ATI invited the major machinery manufacturers to participate in a general update on finishing machinery technology. The following article covers the suppliers that have responded to our invitation.Over all, there seems to be a trend towards lighter weight fabrics with surface refinement. This trend incorporates the demand for very soft fabrics, a typical application of sueding of woven and knitted fabrics. Sueding also seems to take the lead in bottomweight goods over napping. Furthermore, customers are looking for innovative surface finishes that include patterns. Microfiber fleeces are another interesting field that opened up new applications, and the upholstery industry is still looking for great surface appearance and a soft hand. The biggest problem of older finishing machinery was the incapability of achieving the high precision settings that todays finishes require. Furthermore, 100-percent repeatability of all settings and constant settings just seemed unachievable in high-production environments. Today, with the introduction of sophisticated computer control systems and inverter drives, many of the old problems are solved with new and very precise finishing machinery. Ultimate tension control permits the processing of the lightest and most delicate fabrics. Since lead times are much shorter than in the past, and many textile producers and textile finishers get beaten by imports, there is no way around the fact that investing in the latest state-of-the-art surface finishing machinery separates the winners form the masses.Fine Finishing MachineryBiancalani S.p.A., Italy (Symtech Inc., Spartanburg, S.C.), has provided innovative finishing technology to create the newest fashions in the textile industry for many years. Well known in the industry is Biancalanis Airo tumbling process, which developed new applications in apparel, upholstery and automotive applications that improved the look, hand and drapeability. Biancalanis product development and customer input lead to the recently introduced machine called Petra, which is used to create a new finish on a wide range of fabrics.The Petra machine offers a unique process that incorporates the use of a series of synthetic pumice bars on the surface of cellulosic fabric to remove the color. The fabric is impregnated with water as it reaches the treatment area, while the pumice bars oscillate back and forth at a speed of 600 to 800 movements per minute. This high-speed movement and the specially designed surface of the bars allow the fiber ends to be raised and then removed with each oscillation. The end result is a uniform, continuous stone-washing treatment that can be used on many products like denim, all kinds of cotton fabrics, linen, Tencel® and various blended fabrics.The Petra technology is being used in the industry as a pretreatment of fabrics prior to garment finishing or as the final treatment during the finishing stage for home furnishing products. The process has assisted many garment producers in minimizing and even eliminating costly enzymatic treatments, and has helped in minimizing defects. In the home furnishing markets, Petra has created new looks and different hands which have opened new markets to Biancalanis customers. Caru, Italy (The Patterson Group, Charlotte, N.C.), offers the sanding and sueding machine, model CSM/6-B. The machine introduces patented, lightweight carbon composite sueding rolls. This innovative six-roll sueding machine features AC inverter drives and PLC control, offering numerous advantages over conventional machines, including speeding up the rolls to 2,800 rpm for maximum production rates. It also drives individual sueding rolls in pile and counterpile directions for special sueding effects.The PLC control assures uniform and repeatable processing. The special pneumatic paper-clamping system automatically recovers any paper loosening due to wear and temperature and gives a constant adjustment to the paper tightness. An oscillating motion of the third and sixth rolls even the pile and hide eventual microdefects from prior processes. All of the features of the CMS/6-B machine for dry sanding are also available on the AS/4 machine for wet sanding.Cibitex Srl, Italy (The Patterson Group, Charlotte, N.C.), offers the Cibitex shrinking unit (Cibi-Shrink) for woven fabrics, open-width knitted fabrics and denim fabrics. It incorporates some of the highest precision manufacturing and latest technology to guarantee precise and consistent shrinkage control.Cibitex uses the latest electronic technology and AC inverter drive systems for a perfect synchronization. The Cibi-Shrink unit gives perfect shrinkage control and an excellent improvement to the hand of the fabric. It is especially effective in the enhancement of the soft fabric character of pigment-printed fabrics and knitted fabrics containing Lycra®.Cibitex recently introduced the new compact version Cibi-Compactex, primarily used in-line with tenter frame operations. This unit offers reduced floor space requirements and is used for small corrections in shrinkage and hand enhancement. Cibitex has recently installed seven units in the United States, working in-line and off-line. In production environments, the Cibi-Compactex has proven to be economical, reliable and most effective in the processing of knitted and woven fabrics. Comet SpA, Italy (Burlington Textile Machinery Corp., Burlington, N.C.), offers the Polara, a combined raising and shearing machine that is electronically controlled. The operators control panel with touch screen carries out instant and easy adjustments. Settings that were difficult to achieve in the past are adjusted on Polara by inverter-driven motors, such as setting the shearing height and synchronization of all functions.The machine also features trouble-shooting functions and programmed maintenance control. All process parameters and machine set-ups can be saved in process receipts that can be easily retrieved if the same style is processed again. The process receipts can of course be modified if a similar fabric style would require this.Polara features a drum with 14 pile-raising rollers and two contact areas of the drum. The shearing cylinder, with a certain number of spiral blades, is suited to all types of processing. The machine features a variable fabric speed from 0 to 30 m/min, and has seam detection by electronic sensors for the displacement of the shearing table and the velveting comb. The velveting unit itself consists of a brush and the equipment for the pile preparation for shearing. The shearing height and the velveting brush depth are adjusted by electronic means. Options include a variable shearing cylinder speed, a cleaning counter brush, a sliding hoist for the replacement of the shearing unit and the device for pneumatically lifting the shearing cylinder from the ledger blade for sharpening and cleaning. Also available are a "piano" rest on the velveting brush and the shearing head, the automatic lubrication of the shearing cylinder felt and expanders for knits. Jaume Anglada Vinas, Spain (The Patterson Group, Charlotte, N.C.), offers the Turbang TMS continuous open width tumbler. The new TMS system (fourth generation) was debuted at ITMA 99 in Paris. It has proven to give results equal to those machines using labor-intensive and costly batch processes. The Turbang is one of the most unique finishing and drying machines on the market today, according to the company. The new TMS system produces maximum softness on all types of fabrics. It is especially effective on difficult fabrics such as upholstery, printed, jacquard, 100-percent cotton apparel, woven velvet for automotive use, flocked upholstery, toweling and 100-percent synthetic woven fabrics. All fabrics finished on the Turbang receive a very soft and pleasant natural feel.Aging effects can also be achieved and pile fabrics such as velour and terry cloth achieve excellent volume and pile orientation results. Pile fabrics that have eventually been distorted through prior processes can be restored on the Turbang. Company officials mentioned that more than 500 machines are running worldwide.Kusters, Germany (Zima Corporation, Spartanburg, S.C), has years of experience in the development and production of singeing machines. Successfully installed in many countries, the Kusters machine processes all types of fibers and fabrics. Kusters burners are 100-percent stainless steel, water-cooled and equipped with ceramic flame-deflection blocks.A sequence of alternating compression and expansion processes for the gas-to-air mixture ensures a homogenous flame. This results in a uniform and reproducible singeing effect. The flame properties include a high thermal and kinetic energy through which the steam/air cushion on the fabric is penetrated. The short flame has a very brief contact with the fabric to prevent fiber damage. The high energy produces a residue-free combustion, thus easily removing the protruding fibers and delivers a uniform singeing. Because of the special burners, it is possible to singe nearly all fabrics. In addition, fibers can be singed with only one burner per face and back, which saves energy at a remarkably low gas consumption. The machine features three different singeing positions based on the type of fabric being processed. For singeing on free-running fabric, the flame impinges on the fabric at right angles, facilitating an intensive singeing effect. This position is especially suitable for heavier weight natural and blended fabrics, as well as for high singeing speeds.For singeing on water-cooled rolls, the flame impinges vertically on the fabric while the back of the fabric is guided over water-cooled rolls, therefore avoiding an overheating of the fabric. The burner is well-suited for polyester and blends as well as lightweight webs.For tangential singeing, the flame impinges tangentially on the fabric, singeing off protruding fibers only, but does not penetrate the fabric. This position is especially suitable for very lightweight and sensitive fabrics.All processing parameters fabric speed, singeing intensity, singeing position, the effective width of the flame, temperature of the cooled rollers and more can be pre-selected through a PLC, so a uniform, reproducible singeing effect can be achieved at varying speeds. This is especially important when the singer is part of a continuous finishing line.A great number of production safety features are incorporated in the machine, such as where the burners automatically swivel away from the fabric if the fabric speed falls below a pre-set value. In addition, the company offers a lot of options such as brushing and beating rolls, vacuum slots, dry and wet filters to remove impurities and impregnating saturators with squeezing units for desizing.Lafer SpA, Italy (SGA, Charlotte, N.C.), is one of the leading suppliers of raising, shearing and sueding machines. For its worldwide customers, Lafer offers a wide range of surface finishing solutions for knitted and woven fabrics.Lafer pioneered the double-drum technology on the raising machine and was one of the first suppliers to introduce automation on raising machines. The company based its GSMI sueding machines on the multiple roll drum technology (24 or 48 rollers), compared to conventional sueders that use only four to eight sueding rollers. The drum technology allows greater versatility on light- to heavyweight fabrics with minimal loss of tensile strength.Streaking, which is a critical problem on conventional sueders, has been solved by the combined action of the 24 sueding rollers. The company emphasizes that the rotating drum will not cause any streaking and will actually enhance sueding uniformity. Flexibility is a key factor of Lafers finishing machinery. Lafer is introducing a new type of sueding machine that widens the range of sueding effects.The Aquasand can be used to process fabric in wet or dry form. Dry sueding gives a soft handle and will raise a certain pile surface (hairiness), whereas with wet sueding the water creates a lubricating effect that gives a soft handle but without raising the pile. Subsequently, there will be a minimal change of appearance, but the fabric softness will be remarkably enhanced.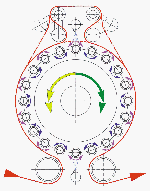 Lafer's Aquasand function principle of the sueding machineThe Aquasand is supplied with an impregnation mangle at the entry and a squeezing mangle at exit, so that fabrics can be processed wet or dry. Aquasand can process woven, knit and stretch fabrics made of natural, synthetic or blended fibers.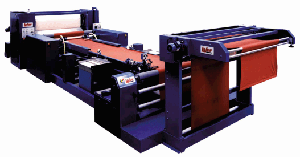 Lafer also offers the K-Compactors. The demand for dimensionally stable cotton knit fabrics in recent years has created an increase in investments in compressive shrinking machines, or compacting calenders. Today, buyers expect dimensionally stable goods from all their suppliers. Lafer has introduced a felt-compacting calender that was mainly designed for knitted fabrics in open width, but it can also process tubular knit goods. The machine is available as an independent unit (KSB), or complete with pin chain tenter inlet (KSA). Lafers goal was to design a machine with low energy consumption and that runs faster than conventional felt compactors, while improving the hand of the fabric. To achieve this, the Lafer felt-compacting calender model KS is equipped with larger calendering rolls compared to other machines. The larger contact surface also processes fabrics at a lower temperature and handles delicate fabrics while lowering running costs.The Lafer compactors can be equipped with the patented Softplus system that maintains a bulkier fabric hand and reduces the luster effect considerably on synthetic blends.Lindauer Dornier GmbH, Germany (American Dornier, Charlotte, N.C.), offers several circular systems for wet and surface finishing. Dorniers circular singeing machine type EcoSinge allows uniform singeing of tubular knit goods of all diameters without stripes and without selvedge marks.The infinitely variable expansion of the tubes on the circular expander allows an optimum ecological singeing of grey goods. The singeing effect is maintained up to the final product. Also singeing of yarn-dyed articles assures remarkable quality improvements. A calender drum behind the singeing section guarantees that every spark which might remain on the fabric after singeing is extinguished. Tube diameters of 250 to 1,200 mm (9.8 inches to 47.2 inches) can be processed. The singeing speed is adjustable from 40 to 120 m/min. The machine is offered with a beating box, Lycra traction device, blow-off device and wet filter for exhaust air cleaning. EcoFix is Dorniers new thermosetting range. The company claims it is the first machine of its type on the world market capable of performing a heatsetting operation on circular knits in tubular form. Dornier offers this solution to heatset synthetic and elastic circular knits.The demand from retail customers is still growing for seamless leisurewear and underwear that require improved rebound elasticity and exact fabric weights. Until now, presetting of knitwear with elastic fiber content has been performed on stenter frames with the fabric cut open. Apart from the process of sewing the seams, this procedure causes additional labor and material costs because of fabric slitting, fabric loss due to selvedge glueing and cutting, fabric doubling and sewing to avoid selvedges to curl during dyeing, fabric re-slitting and following processes. With this solution, all of the common hosiery widths can be continuously steam-relaxed, thermoset with hot air and then treated with cold air.The Dornier automatically adjustable circular expander system ensures that the tubular fabric is held in its compressed condition with maximum control during the EcoFix treatment. Opening the stitches of the circular expander enables the hot airflow to pass uniformly around and through the tubular fabric. This system sets new standards in the field of heatsetting with shape stability, stretchability based on predefined elasticity, plus the required specific weight all ensured on a reproducible basis.m-tec Maschinenbau GmbH, Germany (Zima Corporation), offers the pile shearing machine model SFS, System Sistig. Years of experience and development has led to the new design and construction of the SFS, resulting in an optimum combination of high efficiency, technical superiority and easy handling. The machine can be used universally for natural, synthetic and blended fibers.The SFS was designed for textile pile-type fabrics such as woven and knitted velours, raschel velours, needle felts and flocked fabrics, going into many market segments such as upholstery, outerwear, home textiles, technical fabrics, blankets, automotive, terry fabrics, etc. The machine features a large shear cylinder of 210-mm diameter, which can be equipped with up to 28 spirals. It has a fine regulation of fabric tension throughout the shearing zone, which is especially important for stretch-type fabrics. The shear table is automatically lowered to allow seams to pass through without fabric damage. During this passage, the position of the shear tool remains in place while the fabric tension remains constant.The effective removal of shear lint by vacuum is ensured by the high-quantity of exhaust air and optimized airflow. This allows for uniform cooling of the cutting tool, and greatly increases the live time of the shearing tool.Another important factor of the longevity of the shearing tool and for trouble-free shearing process is a cylinder lubrication system. Instead of the manually operated lubrication, a special patented lubrication system is in place which assures a uniform application of the lubricant. This is achieved through a traversing applicator, which ensures automatic and continuous lubrication. The automatic lubrication system can be adjusted to the shear width. The amount of lubricant and the lubricant time periods are both program-controlled. This prevents excessive lubricant application when fabrics of different widths are processed.The m-tec unit is equipped with a PLC; it controls parameters like fabric speed, fabric tension, shear height, shearing gap, speed of shearing cylinder and more. The shear can also be integrated with up to two tiger units, model System Sistig, to allow for raising of the fiber prior to shearing. Other pile preparation equipment such as a pile polisher, cross brush, drum raising unit, steaming device and/or electric radiators, are also manufactured and integrated into the system by m-tec.Mario Crosta, Italy (PSP Marketing, Charlotte, N.C.), offers a wide variety of surface finishing machinery, including: type MC universal and special raising and sueding machines; type FKR and CHD two-drum raising machines; type SSC single-, twin- and three-cylinder shearing machines, continuous lines for combined shearing and raising; type SD sueding machines; type Ctd carpet-shearing machines; type GST napping and pile opening machines; type DSS discontinuous dry decatizing machines; type RVT shrinking-steaming machines; and type SPV brushing machines.The company claims that at ITMA 91, Germany, it was the first in this field to use inverter drives. Today, all of its machinery uses 100-percent inverter drives.Mario Crosta claims to be the world leader in its field with sales of 200 machines per year in various models and types. The highly specialized technical staff is led by Emanuele Crosta, son of the founder, and pays great attention to the technical needs of their customers.Prototypes of new machinery are thoroughly tested before they are launched in new markets to ensure their reliability. This flexible approach to technological problems has led to the development of state-of-the-art machinery. For example, the first raising machine with full inverter controls was exhibited at ITMA 87 in Paris. The machine was put on the market in 1988, only after passing extensive tests and trials. Since then, more than 900 machines in various models have been sold and supplied around the world.Monforts Textilmaschinen GmbH, Germany (American Monforts Corp., Charlotte, N.C.), offers the latest generation of Toptex Sanforising units. These include a complete range of modular attachments for the compressive shrinking devices, a new jet cooler (which extends the life of the rubber shrinking belt) and improved PLC controls to ensure reproducible shrinking values.Toptex operates at speeds of 20 to 30 m/min in single operation, and up to 65 m/min in tandem configuration. This is valid for a wide range of knitted fabrics. It meets all international shrinking standards.Attachments for the new Toptex range of compressive shrinking devices are now available as modular-designed units, including the steaming drum, the heating drum and the felt calendar. The modular attachments can be installed to existing or new Toptex machines without requiring additional floor space. A new jet cooler also extends the life of the rubber compressive shrinking belt on narrow fabric runs when the belt is not covered by fabric and runs against the heating drum.All Toptex units are now fitted with an Auto Shrinking Control to provide reproducible shrinking values. The introduction of the Qualitex PLC technology for shrinkage control was a major step forward in technology. Monforts claims to be the leader under the suppliers of sanforising machines.Sperotto Rimar SpA, Italy (Speizman Industries, Charlotte, N.C.), offers the Plurima wet-sueding machine. Compared to the traditional dry-sueding technique, the wet-sueding distinguishes itself in achieving new and different effects, such as surface softening without pile formation perceivable to the touch and surface appearance similar to discoloration and/or aging typical of aged and/or worn fabrics. These effects are now required by the market since they are meeting the current fashion trends.The water presence in the Plurima wet-sueding machine carries out a fiber lubricating action on the fabric. This allows more superficial abrading action, less fibrous material to be removed, a lower pile raising and the development of short and thick pile.The fabric types that proved to be particularly suitable for the wet-sueding processing are the woven fabrics, from the lightest poplin to the heaviest cloth with drill weaving construction. In the cotton sector, the application is for 100-percent cotton and cotton/polyester, cotton/polyamide, cotton/viscose blends and denim fabrics. In the synthetics fiber sector, typical applications are for 100-percent polyester, 100-percent polyamide and their blends with viscose/rayon and 100-percent viscose/rayon. In the wool sector, 100-percent wool, wool/viscose/rayon blends and wool/silk blends are typical applications.Sperotto Rimar also offers the Velura raising machine series, which was developed based on technical studies and technological evaluations of factors and parameters that are crucial for carrying out raising and napping treatments. The goal was to substantially improve the overall performance by considering qualitative, productive and operative points of view.The Velura raising machines feature automatic adjustment of the fabric tension at the inlet and the outlet side of the drum. This allows a consequent productivity increase by more than 50 percent compared to conventional machines. Further advantages are the full control of the selvedge tension, the automatic correction of misalignment, automatic control of the brushing phase and the protection system for stooping the machine if a seam should split.According to the company, the Velura machine technology can achieve a better covering effect of the fabric surface, very low fiber removal from the fabric , negligible reduction of the fabric width and weight, as well as even and reproducible raising effects.Sucker-Muller-Hacoba, Germany (Hacoba Textile Machinery, Charlotte, N.C.), offers the Multicut MC-5 shearing machine. It is a machine for surface treatment of a variety of fabrics, such as velours, blankets, milled cloth and pile fabrics. In the Multicut MC-5, the arrangement of the shearing spirals on the shearing cylinder has been changed when compared to conventional shearing machines. The company claims that the patented shearing cylinder enables the user to step up production by up to 100 percent, compared to conventional machines. The speed advantage depends on the type of fabric, while at the same time, the undesirable moire effect in short-pile fabrics can be avoided. This relates to velvets, cut- and woven piles, terry cloth, warp knit velours, velveteen fabrics and others. The shearing spirals of the Multicut MC-5 have been arranged asymmetrically on the shearing cylinder. This prevents periodic variations by interrupting the uniform, constant cutting sequence. Peaks of periodic variations are no longer apparent in spite of substantially higher fabric speeds.The MC-5 is a compact shearing machine that takes up little space and has short fabric passages, which does away with the problem of edge curling in styles where fabric tension is a critical factor. The machine can handle short- and long-pile fabrics and can be used to establish a multi-purpose machine. It is available as a basic module just for shearing, but a polishing module, bed-raising module, or pile-lifting module, including a cleaning feature, can be added. The modules are interchangeable and can also be retrofitted at a later time.The cloth-shearing machine is used as a stand-alone unit, which can also be complemented to form a shearing line by connecting additional shearing modules.Finishing AccessoriesSimTek, Greensboro, N.C., offers an important accessory for the finishing mills the patented Rabbit Runner. This is a highly sensitive, quick-response data acquisition instrument that records the actual measured temperature profile of a fabric or web as it moves through an oven. With it, the finisher can accurately track and record the temperature of a fabric moving through an oven at 200+ ypm.The Rabbit Runners components are rugged enough for use on the production floor. It is available with an assortment of ultra-fast response J-type thermocouple temperature probes. Each probe and locating jig is sized and configured for a particular fabric type, production speed range and process application. The Rabbit Runner can be used to determine actual distances to dry and subsequent fabric/web heat-up rates. It determines maximum fabric temperatures in oven locations, dwell time above any user-defined critical temperature and fabric cooldown rate. It can also identify side-center-side fabric temperature differences, assist in establishing production settings to achieve a desired fabric thermal exposure and troubleshoot oven and process issues.Typical applications where the Rabbit Runner has been used to document product thermal exposures in various types of production ovens are sheeting, scrim, lace goods, flocked fabrics, scrape-coated goods, carpet, upholstery fabrics, highly napped materials, air bag fabrics, apparel fabrics, fiberglass, Lycra-based fabrics and industrial fabrics.The Rabbit Runner has been successfully used in the industry since the 1980s in applications on tenter frames, relaxed dryers, print ranges, curing ovens, carpet dryers, fiberglass ovens, multi-pass ovens, infrared units and suction drum dryers.
May 2000
Advertisement