Color In Fashion
MarksandSpencer perfects color measurement and management systems.<B>By Teri Ross</B>
CItdA ShowBy Teri RossColor In FashionMarksandSpencer perfects color measurement and management systems.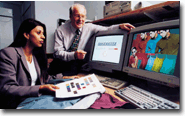 With annual sales of $12 billion, MarksandSpencer (M and S) is irrefutably one of the largest retailers in Europe.Their product mix of mens, womens and childrens clothing, which is supplied from more than 500 vendors in 70 countries and distributed to more than 600 outlets worldwide, presents some challenging color measurement and management requirements.The 116-year-old London-based retailer had traditionally managed the color approval process based on creating fabric swatches to represent the colors, issuing them to the producers, and visually checking 20,000 plus submission per year against them. According to Chris Sargeant, specialist manager, Colour Management, this process took from six to eight weeks, during which time all production fabric orders were withheld for color approval.This process also caused the company repeated delays, frustrations and arguments, forcing management to seek an alternative solution.In the early 90s, the company began a color initiative that focused on harnessing available technology in a way that would allow the company to achieve a clearly defined set of goals. These goals included the ability to specify color by numbers, to set clear and measurable pass/fail limits for color approval, to allow the suppliers to make decisions and to manage exceptions. MarksandSpencers moniker was Creation, Communication and Control.With the projected benefits of consistent quality, supplier self approval, the elimination of delays and reduced costs, the objectives mandated precise color standards, accurate and reliable measuring systems, accreditation of users, support and training, and correct first-time at dyers. Defining Color StandardsThe MarksandSpencer Precise Color Standards were developed based on 16-point spectral reflectance measurements. While the principles of reflectance measurement go back to the 1930s, M and S was the first to exploit them commercially.The process measures the amount of light from a standard source reflected by the object color at each point across the visible spectrum of red, orange, yellow, green, blue, indigo and violet. Black is measured as 0 percent and white as 100 percent.The result, measured with a spectrophotometer, yields a 16-point number reference that is used to define a specific color. (See Table below).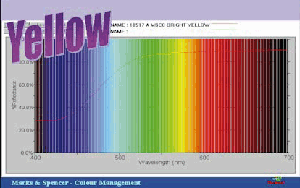 In order to qualify as a preferred supplier, vendors must pass a comprehensive accreditation scheme that demonstrates the supplier has suitable measuring equipment and understands how to use it effectively. Precise working practices have been developed and users are required to demonstrate their abilities annually in order to become accredited for self approval of color.Color Accreditation is now a requirement for Preferred Supplier Status to M and S. A total of 22 individual accreditors representing five international testing organizations now provide worldwide support across 500 suppliers. The accreditation scheme has been operating for more than three years. More than 100 major suppliers are now fully accredited.The process has involved standardizing spectrophotometers across the globe using ceramic tiles the most stable reference material available. It is supported by organizations such as the United Kingdom National Physical Laboratory and the Ceramics Research Association (CERAM) to ensure international traceability and comparability with other national standards bodies worldwide.Color Tolerances are specified using the M and S Color difference equation, MS 89 with appropriate variations from norm for particularly critical merchandise. All dyed colors are measured after conditioning in the Vindon Ultrasonic conditioning cabinet, a refrigerator-like device that standardizes the fabric to 65-percent relative humidity, 20ºC, with 30 minutes of exposure to D65 daylight.M and S also specifies the lighting standards at the retail level so as to assure color consistency throughout the process.With color being only one of many variables needing to be measured and managed, it should not be overlooked that the full M and S product specification also embraces performance criteria, color fastness, stability to laundering, as well as the need to satisfy environmental considerations.Pioneering Color MerchandisingHaving developed the concept of numerical color specification, communication and control, M and S found they were able to run more colors from more sources around the world in a shorter time frame with better quality and coordination. However, in order to realize these benefits, they learned they must be able to precisely determine which colors they wanted to produce, which was often the most difficult part of the process.With the companys growing use of computer-aided design systems, they now set their sights on the ability to create and modify colors on the computer monitor, while still retaining the ability to specify colors by numbers.Their research lead them to the ImageMaster System, the result of work sponsored by M and S and their suppliers at UMIST, the University of Manchester Institute of ScienceandTechnology in the United Kingdom. The system was commercialized in 1997 when Datacolor bought the fledgling company Colorite that had been formed by the University the previous year. Datacolors Colorite ImageMaster enables the M and S selectors to display photographic quality images on a fully calibrated screen and to modify them as required. It allows simulation of color effects on various substrates and textures, and colors can be copied from physical swatches and applied to any new substrate. Screen colors can be accurately converted to synthetic reflectance data which dyers can input into their instrumental match prediction systems and obtain dye recipes. Companies such as Dayton Hudson, Burlington Industries and Fruit of the Loom have also benefited from the color management capabilities of Colorite technology.To compensate for the color discrepancies in different monitors, as well as the fluctuation in color display, all monitors are calibrated every 8 hours using the Minolta Color Analyzer CA100. This step assures color accuracy between visualization and results.Pushing The EnvelopeSargeant states that M and S is starting to exploit this technology in three areas. Their first objective is to reduce the need for physical lab dye submissions and to work primarily from virtual lab dyes. They also plan to enable both suppliers and company employees to remotely approve accessories and trims as well as whole garment appearance. They also plan to exploit the possibilities in color range development. All of which leads to correct first-time production, an end result that will save the company significant time and money.Virtual, or digital sampling may never replace all physical samples but it can help eliminate a great deal of potentially wasted effort by concentrating and focusing attention to what we really do want to buy, claims Sargeant.By doing it in this fashion, the process is sped up and costs are reduced. While their priority to date has been in plain colors, which constitute 70 to 80 percent of their clothing product, the same principles can be extended to prints, packaging, display boards and Internet shopping.The company is further planning to exploit the use of the Internet as a primary means of communicating color to and from suppliers. Numerical specification is an essential base from which to make this possible, adds Sargeant. The benefits will be seen in the High Streets of the world through greater choice and variety in the merchandise being offered. The unseen benefits of consistent quality, quicker production and lower costs will benefit both the producer as well as the consumer.
May 2000
Advertisement