Higher Energy Prices Spread To Other Sectors
By Dr. Constantine G. Soras, Economics Editor
Possible Recession Looms As Energy Prices Go Up And Stock Market Gets Volatile
Most of the latest monthly government reports show that overall the economy was in the fast lane during the first quarter. The sharp upturn in energy prices, which was confined before only to energy goods, appears to have spread to other sectors of the economy in March. This, coupled with strong growth well above the trend, means that the Federal Reserve is likely to continue raising short-term rates.

Nonfarm jobs soared 416,000 jobs in March after rising by 7,000 jobs in February. The March gain includes 117,000 temporary census workers. Without the temporary gain, employment growth in the last two months was only 153,000, well below the 233,000 monthly rate of the last year.

The producer price index for finished goods jumped 1.0 percent in March. The price index rose only 0.1 percent in March, a sign that there are no inflationary pressures outside the energy sector.

Consumer prices skyrocketed 0.7 percent in March as energy prices shot up 4.9 percent in March and 4.6 percent in February. The core index rose 0.4 percent in March, the largest since January 1995. While the core gain is likely to reverse course next month, financial markets around the globe went on a tail-spin and the volatility is likely to continue.

The combination of higher energy prices, higher interest rates and increased volatility in the stock market will begin to hurt the economy and has raised the odds that the economy could ultimately go into recession.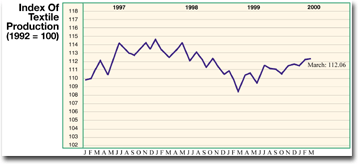 Sales By Textile Manufacturers Are On The Rebound; Retail Sales Rise For Ninth Consecutive Month
Results for textiles and apparel were mostly positive. Textile output increased 0.2 percent in March following a gain of 1.0 percent in February. The operating rate for textiles inched up to 84.9 from 84.8 in February. Sales by textile manufacturers rebounded 2.4 percent in February after falling 2.3 percent in January. Inventories grew 0.4 percent. Thus, the ratio of inventories-to-sales dropped to 1.54 from 1.57 in January.

Industry payrolls inched up 0.1 percent in March, after no change in February. The jobless rate for textile mill workers jumped to 6.0 percent from 4.9 percent in February.

Retail sales rose for the ninth month in a row, with an increase of 0.4 percent in March. Retail sales in the first quarter shot up 15.8 percent at an annual rate, up 10.5 percent from 1999. The acceleration in consumer spending has fueled the economy's growth in the first quarter. Apparel and accessory store sales grew 2.3 percent in March.

Producer prices of textiles and apparel declined 0.2 percent in March. Prices rose 0.6 percent for carpets; 0.3 percent for synthetic fibers; 0.1 percent for finished fabrics; and were unchanged for home furnishings. Prices fell 3.0 percent for greige fabrics and 0.6 percent for processed yarns and threads.
Industrial Production Is On The Rise; Industrial Output Shows Increase
Industrial production rose 0.3 percent in March, after edging up 0.1 percent in February. Unseason-ably warm weather led to a 2.5-percent drop in utility output in March. Factory output grew 0.4 percent following a 0.1-percent increase in February. During the first quarter, industrial output grew 6.4 percent at annual rate up from 5.3 percent in the fourth quarter.

The operating rate edged down to 81.4 percent from 81.5 percent in February. This is about one-half percentage point under its average in 1967-1999. With ample capacity and fierce competition from abroad, manufacturers will have a hard time raising prices.

Housing starts plunged 11.2 percent in March to 1.604 million units. This was the largest monthly decline in six years. The drop was brought about by a 41-percent plunge in multi-family units. Starts for single-family homes were unchanged.

Exports declined 0.2 percent to $84.19 billion as shipments of aircraft and capital goods lost ground. Imports jumped 1.5 percent to $113.43 billion. Excluding oil, imports declined 0.6 percent.

Business sales increased 0.3 percent in February, while business inventories grew 0.5 percent. The inventory-to-sales ratio edged up to 1.32 from 1.31 the previous month.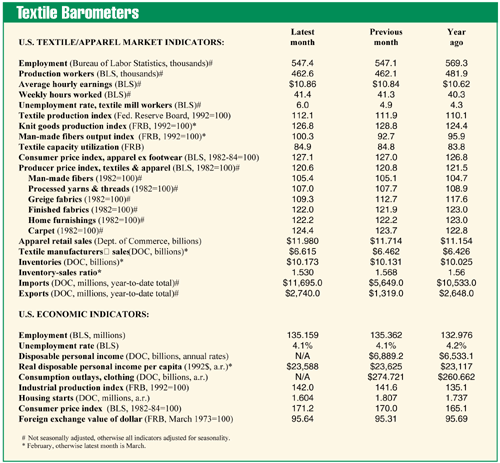 May 2000
Advertisement